Cookbook #160: McCall's Cook Book, by the Food Editors of McCall's, McCall Corporation and Random House Inc., 13th printing, NY, 1963.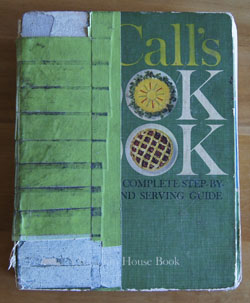 My McCall's Cook Book falls apart in my hands as I open it. The binding is held together with green tape. The pages are almost water-logged and have quite a few stains. I had this book in California before we moved to Colorado in 1973, so I probably bought it (or was it a gift?) when I was attending UCI or at my first job. After all these years, it still resides in the cabinet next to my stove. And I still use it!
McCall's Cook Book was my first very own thick, comprehensive cookbook. It precedes the other aged cooking tome I keep in the kitchen: Joy of Cooking. McCall's is the kind of cooking I grew up with, and to this day, I am very comfortable with this book. The Joy of Cooking has a lot of character and bossiness, but McCall's makes me feel at home. Both books belong in my kitchen!
McCall's used to be a women's magazine. On Wikipedia, I learn that that McCall's was one of the Seven Sisters, "a group of magazines which have traditionally been aimed at married women who are homemakers with husbands and children, rather than single and working women." I remember all of these magazines so well (and I don't let myself buy them anymore, too many recipes in my files!):
Better Homes and Gardens
Good Housekeeping
Family Circle
Redbook
Woman's Day
Ladie's Home Journal
McCall's
McCall's magazine ceased publication in 2002, and today McCall's is best know as a brand of sewing pattern.
I've always used this cookbook as a reference for cooking methods and times, and for researching how to cook something new. The yeast bread section is well used! A couple of the recipes I marked: Ginger-Sugar Cookies and McCall's Best Cheesecake (I notes to use deli cream cheese if possible). The Sweet-and-Sour Pork recipe is one of my favorites. In this recipe, the pork is battered and deep fried. It is delicious that way, but I usually cook pork chunks unbattered in a little oil (to save calories). But the recipe for the sweet-and-sour sauce is right on in its balance of vinegar and sugar. I've referred to it tons of times.
Lasagna! I associate lasagne with this cookbook. I first cooked McCall's lasagne while still living in California. Though I was a fledgling cook, it came out absolutely wonderful. I remember it as my first dish that I could always count on to "wow" my diners. Let's see, where is that recipe? I check the index for "lasagne". No, it's not in the "L". Now I remember, this cookbook has a quirky index. I put on my thinking cap and recall that the lasagna recipe is in the "International Cookery" section. Sure enough, when I look under "Italian" in the index, I find "baked Lasagna".
This recipe for lasagna (below) is what I call a "full-on lasagna recipe". It uses none of the shortcuts I often employ these days, like no-bake noodles, sauted ground meat, and a quick can of tomato sauce and herbs. In this recipe, you boil regular packaged noodles, a time consuming process, but I think it makes a better lasagna than the no-bake noodles. And this lasagna recipe has wonderful meatballs, sauted briefly and then simmered a long time with canned tomatoes, tomato paste, onion, garlic and herbs to make the sauce. Finally, the requisite mozzarella, ricotta, and Parmesan cheeses.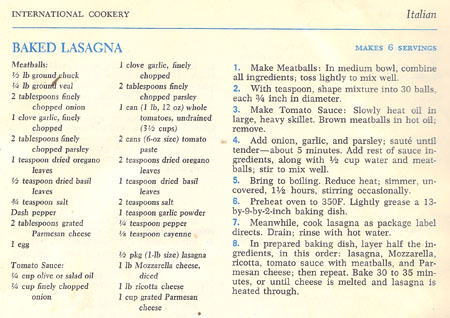 Yes! This is what I want to make for this blog. The recipe says it serves six, so I'll make it in two pans and have some to share with my son and his wife and their new baby!
meatballs
1 pound hamburger
2 tablespoons finely chopped onion
1 clove garlic, finely chopped
2 tablespoons chopped fresh parsley (or use 1 tablespoon dried parsley)
1 teaspoon dried oregano
1/2 teaspoon dried basil
3/4 teaspoon salt
2 tablespoon grated Parmesan cheese
1 egg
tomato sauce
olive oil to saute meatballs (a couple tablespoons)
1/4 cup chopped onion
1 clove garlic, finely chopped
2 tablespoons chopped fresh parsley (or use 1 tablespoon dried parsley)
1 28-ounce can diced tomatoes
1/2 cup water
2 6-ounce cans tomato paste, or use 2 12-ounce cans tomato sauce and skp the 1/2 cup water
2 teaspoons dried oregano
1 teaspoon dried basil
1 teaspoon garlic powder
1/8 teaspoon cayenne pepper
1 teaspoon salt (or, salt the sauce "to taste")
black pepper to taste
the rest of the ingredients
1/2 of a 1-pound package of lasagne noodles
1 pound mozzarella cheese, chopped into dice or grated
1 pound ricotta cheese
1 cup grated Parmesan cheese
Combine all meatball ingredients and toss lightly to mix well, then make about 30 3/4-inch meatballs.
Heat the olive oil in a large saucepan. Brown the meatballs on all sides, then remove them from the pan and reserve.
Pour some of the grease out of the pan, if you like. Then, add the onion, garlic, and parsley and saute until tender, about 5 minutes. Add the rest of the sauce ingredients and stir together. Then, add the meatballs. Simmer, uncovered, about 1 1/2 hours, stirring occasionally.
While the sauce simmers, boil the lasagna noodles according to the package directions. Drain and rinse with a little water. Handle carefully, as sometimes they like to fall apart.
Set out a 9×13-inch baking dish. (I used one 8×8-inch dish and one a bit smaller; there was plenty of sauce and noodles and cheeses to fill both dishes.) I like to put a smear of tomato sauce down first onto the baking dish, under the first layer of noodles. Alternatively, you can lightly grease the bottom of the baking dish.
Layer half the ingredients, in this order: lasagna noodles, mozzarella, ricotta, tomato sauce with meatballs, and Parmesan cheese; then repeat.
Bake 30-35 minutes at 350˚, or until cheese is melted and lasagna is heated through. (The directions do not say to cover the lasagna, but I usually do cover it with foil, until the last 10 minutes or so of baking.)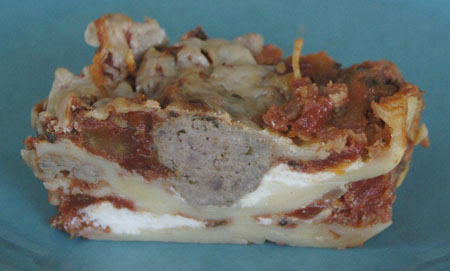 This lasagna was "a cut above" and "amazing", comments from my millenium-age son and his wife. I give it a big "yum"!