Cookbook #162: Fagor Pressure Cookers, More than 50 Recipes, Fagor America, Inc., Lyndhurst, NJ., publication date not given.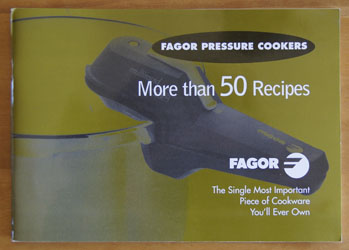 Fagor Pressure Cookers, More than 50 Recipes is the instruction/recipe booklet that came with the stove-top pressure cooker that I bought sometime in the 2000s. This cooker has one pressure lid that covers two sizes of nice, heavy pots. I bought it as a replacement for my old broken pressure cooker. Somehow I quickly broke this pressure cooker too! I ruined the gasket and/or pressure regulator, and the replacements I ordered did not fit. (Unusable as a pressure cooker, the pots as still usable as cooking pots.) A couple years ago, I bought an electric pressure cooker that works great. So, I can still use the recipes in this booklet, I'll just have to adapt them to my new electric cooker.
Shall I keep this cookbook? It has "More than 50 recipes". Let's see if this booklet has enough good recipes to warrant saving.
The first recipe is for tomato sauce for pasta, with carrots, celery, garlic, 3 cups canned tomatoes, herbs, and wine. Hey, this is pretty much how I make stove-top sauce! But in a pressure cooker it only takes 10 minutes, not an an hour or two stove-top simmer. Maybe I'll try that next time. I like the "German Potato Salad" with just 2 minutes cooking time! "Country Style Potatoes", with mushrooms and onions, take only 3 minutes. This recipe for potatoes would go well with the grilled meat I have planned for dinner. "Everyone's Favorite Meatball Stew" sounds good to me – given my love of meatballs in general. I have a Cornish hen in the freezer, so I might try the "Oriental-Style Cornish Hen" or "Cornish Hens Braised in White Wine". "Mom's Rice Pudding" would be a homey dessert.
But that's it. I decide to make the Country Style Potatoes for dinner, scan copies of the other recipes, and recycle this booklet. It has served it's purpose!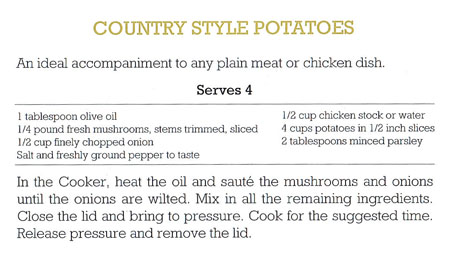 The "suggested time" in the above recipe is indicated by a little chart below each recipe. I perused the instruction pages of the booklet and figured out that I should set my current pressure cooker to "high".
Country Style Potatoes
serves 2
this recipe is written for an electric pressure cooker
scant tablespoon olive oil
1/4 pound sliced fresh mushrooms
1/4 cup finely chopped onion
2 cups potatoes cut into 1/2-inch slices
1/4 cup water
1-2 tablespoons chopped fresh parsley
salt and pepper to taste
Saute the mushrooms and onions in the pressure cooker (my cooker has a "saute" setting). Add the potatotes, water, parsley, and salt and pepper.
Close the lid and set to "high pressure" and set the timer for "3 minutes". When the timer beeps, quick-release the pressure.
Voila!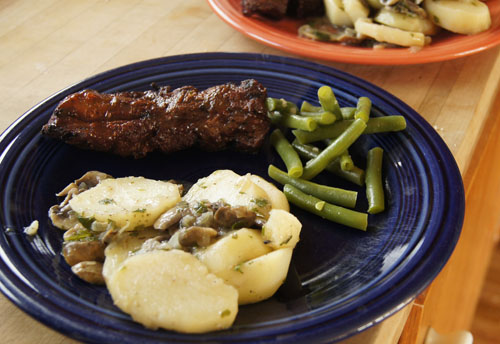 These were very good! And so fast and simple. I have to remember that it's often worth the effort to carry the pressure cooker up from the basement. It really is time-saving, and clean-up is easy. I will make these again!