Cookbook #163: M'sieur Crêpe Electric Crepemaker, Sunbeam Appliance Company, 1976.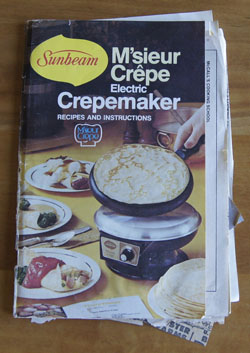 This cookbook came from my mother's collection. Someone must have given her a M'sieur Crêpe Electric Crepemaker back in the late 1970s. I was already on my own and living in Colorado by that time, and I don't remember her ever talking about making crepes. She didn't mark any of the recipes, but she stuffed a lot of crepe recipe clippings into this little instruction/recipe cookbook!
The M'sieur Crêpe Electric Crepemaker was a "dip and cook" type of crepemaker. It came with a hot plate, a pan that fit over it, and a large flat dish to hold the batter. To use this set up, first, you pre-heat the pan – inverted – on the hot plate. Then, take it off the hot plate, dip the bottom (the outside) of the pan into the batter and hold it there for a few seconds. Finally, put the pan, again inverted, on the hot plate. In about a minute, the crepe bakes on the top of the underside of the pan. (Details at about.com.)
Below is a photo of the M'sieur Crepemaker that I pulled from the web. Unfortunately, I don't have my mother's crepemaker in my possession. It would be fun to try!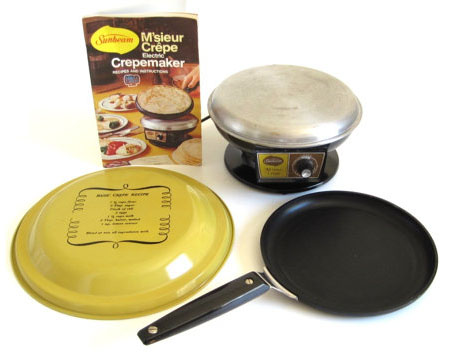 You can no longer buy this Sunbeam M'sieur Crêpemaker, although I saw a few vintage ones for sale on a couple sites accessed June 2016. The Day, a New London, Connecticut paper, includes this crepemaker in a July 28 1976 article entitled "Versatile French crepes are latest food fad everywhere". It cost $29.95. Dip-and-Cook crepemakers are available new: for instance, the CucinaPro cordless crepemaker for $35.99.
I am a big fan of crepes and have already posted several crepe-dish recipes on this blog. Last fall, we travelled to Paris and thoroughly enjoyed street crepes.
Crepe batters are made from eggs, flour, and milk or water, and often a little butter or oil. Some batters include sour cream, baking powder, cornmeal, whole wheat flour, sugar, and even chocolate. The exact ratios of these ingredients vary; French crepes are thin, some of the American ones I make are thick. I have a little 7-inch crepe pan that I use for everyday crepes. I have also made French-style crepes (a recipe from Cooks Illustrated) In a 12-inch skillet.
For this blog, I decide to try one of the recipes that my mother tucked into this booklet: Ham and Sour Cream Crepes.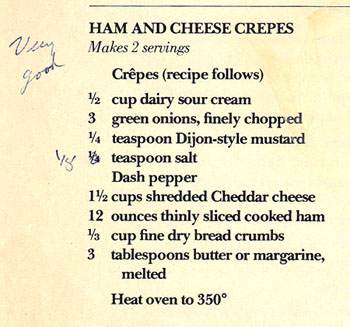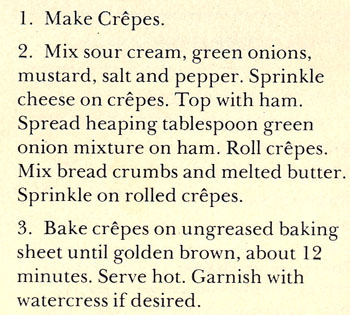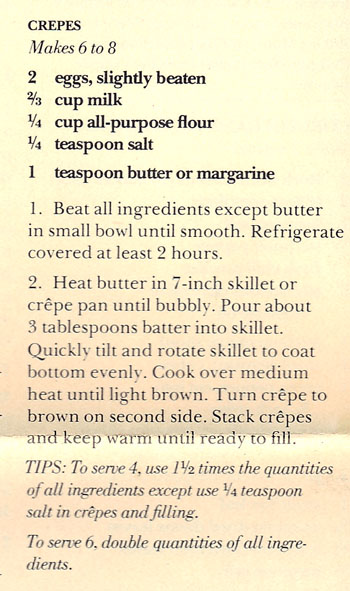 Ham and Sour Cream Crepes
serves 2
crepes (recipe follows)
1/2 cup sour cream
3 green onions, finely chopped
1/4 teaspoon Dijon mustard
1 1/2 cups grated cheddar cheese
12 ounces chopped ham
1/3 cup bread crumbs
3 tablespoons butter, melted
Mix the sour cream, green onions, and mustard. Sprinkle the cheese on the crepes. Top with ham, then spread a heaping tablespoon of the sour cream mixture on top of the ham. Roll the crepes and place in a baking dish.
Mix the bread crumbs and the melted butter and sprinkle this mixture on the crepes. Bake at 350˚ about 12 minutes, until golden brown.
Crepes
makes 6-8

2 eggs
2/3 cup milk
1/4 cup flour
1/4 teaspoon salt
Mix in a blender and let stand an hour or so. Use about 3 tablespoons batter to cook each crepe on a hot skillet or crepe pan. (More crepe-cooking instructions are here.)
These were indeed "very good"! I will definitely make them again. A good way to use leftover ham.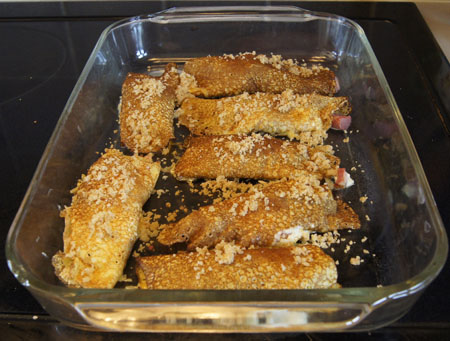 Note: Later in the week, I made chocolate crepes following a recipe in M'sieur Crêpe Electric Crepemaker. Filled with fresh strawberries and whipped cream and drizzled with chocolate sauce, they too were delicious!