Cookbook #164: Recipes from Donna's Board, Sierra Cahuenga District #15, 1980-1981.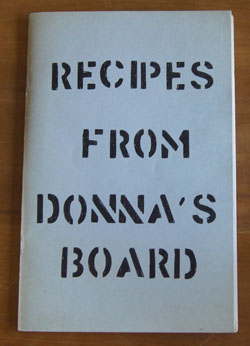 This little community cookbook was compiled by Lorraine Moore, the vice president of the Sierra Cahuenga District Women's Club Board in 1980-81. Donna Smith – "Donna's Board" – was the president at the time. My mother was a member of the Sun Valley Women's Club, one of the clubs in the Sierra Cahuenga District. I remember her talking about going to those meetings for years, and I think she served for a time as secretary – she was an excellent typist and great at organizing. The California Federation of Women's Clubs is still an active service organization, although the Sun Valley chapter no longer exists.
What jumps out at me the most when I open the pages of Recipes from Donna's Board is THAT IT IS IN ALL CAPS! Since it was written in 1980, I know it must have been prepared on a typewriter. Someone sure liked the 'caps lock' key.
The recipes are interesting. Lura Lovick, a friend of my mother's, contributed Date Nut Bread. I'd like to make the Green Chile Cornbread and the Poppy Seed Strudel. The Fresh Apple Cake with Good Frosting sounds good too, although I'd leave off the frosting.  Over half of the book is desserts! "Mom's Applesauce Cake" sounds like a recipe that I used to make, but lost. Sun Valley Woman's Club contributed Yum Yum Cake and Chicken Florentine. "No Name Dessert" is made from butter, soda crackers, chocolate chips, coconut, and sweetened condensed milk – sounds weird to me. Baked Chicken Sandwiches sound particularly yucky: you mix mushroom soup with chicken, put between crustless white bread slices, dip in egg, then roll in crushed potato chips before baking. The casserole recipes abound with canned soups. Several molded salads are included, food favorites of the 60s and 70s. The Beef Stroganoff has cream cheese in it as well as sour cream. I'd like to try the Tostada Quiche.
I decide to try Donna's Carrot Cake for this blog. Carrot cake is a standby of many American cooks – at least those of us who grew up in the second half of the twentieth century. The basic recipe has lots of eggs, sugar, oil and carrots. Sweet and delicious, especially with cream cheese frosting! Some versions of carrot cake include pineapple, as in Donna's recipe (below), but I have never made that type before. I like Donna's version because it also includes coconut (love it) and walnuts (a bit of nutrition).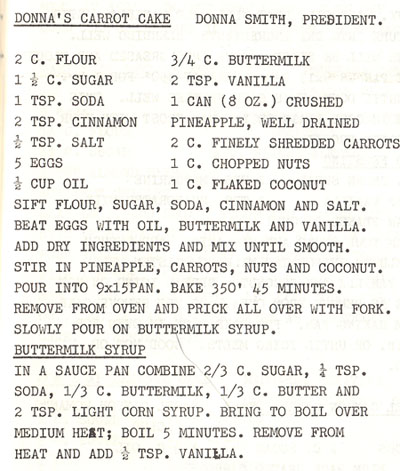 I decide to make half of this as "muffins" to qualify this treat as breakfast food. The other half of the batter will go into one 8 1/2 x 4 1/2-inch loaf pan. I research cooking times using a favorite online reference. I skip the "buttermilk syrup" topping. Since the muffins cooked better than the loaf, I've written this recipe as "muffins".
Carrot Cake Muffins
makes 24 (but yes, make a half recipe and 12 muffins if you wish)

2 cups flour
1 teaspoon baking soda
1/2 teaspoon salt
2 teaspoons cinnamon
5 eggs
1/2 cup oil
1 1/2 cups sugar
3/4 cup buttermilk
2 teaspoons vanilla
1 8-ounce can crushed pineapple
2 cups finely grated carrots
1 cup chopped nuts
1 cup flaked coconut
Stir together the flour, baking soda, salt, and cinnamon. Set aside.
Beat the eggs with the oil and sugar until fairly light. Add the buttermilk and vanilla and mix again. Add the flour mixture and mix just until all the flour is incorporated. Stir in the pineapple, carrots, nuts, and coconut.
Spoon the batter into 24 muffins cups. Bake at 350˚ for 30 minutes, or until they test done with a toothpick.
Well, these were absolutely delicious! They have enough sugar in them to make me want "more, more, more!" But hey, they are dense with carrots and nuts and pineapple in them too, good healthy foods . . . I only had one for breakfast even though they called to me for awhile.
This batter is really dense, which is probably why the loaf that I cooked was a little un-done in the center, even after careful toothpick-testing. If you prefer loaves, cook the batter as two 8 1/2 x 4 1/2-inch loaves at 350˚ for at least 55-60 minutes.