Cookbook #173: The Crockery Cook, Mable Hoffman, Fisher Books, Tucson, AZ, 1998.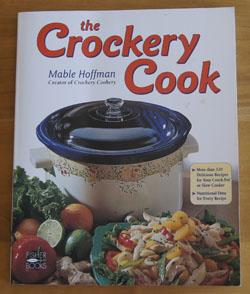 A crock pot has been a staple in my kitchen for a very long time. I have 10 crockpot cookbooks! I even have another cookbook written by Mable Hoffman, Crockery Cookery. (See my first crockpot blog entry for a little on the history of crockpots.)
I picked this book off the shelf because a long-cooking meal fit into my schedule one day. Lately I just use the crockpot to cook pots of pork green chile and shredded beef. Time to shake up our meal times with a new recipe.
The Crockery Cook is nicely formatted and illustrated, with a large variety of recipes. I think I could always find something to cook from this cookbook, so I decide to keep it. And for this blog? I decide to make "New-Style Pozole".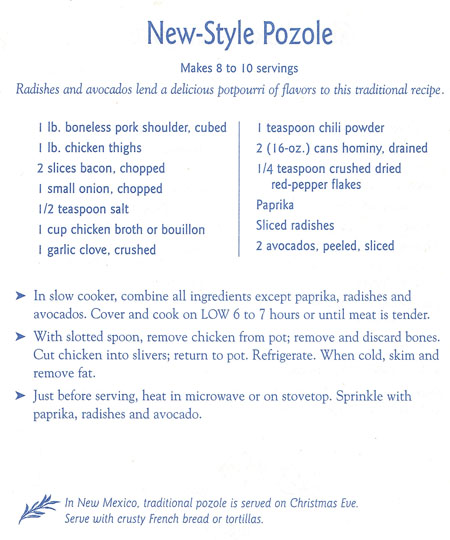 I like hominy, and the bacon should add a nice twist. I have some hot peppers (my daughter grew them!) in my refrigerator, and we like things hot, so I'll add them to the pot.
It's best to prepare this recipe the day before to allow time for cooling the pozole so that you can skim off the fat.
Crockpot Pozole
prepare the day before
1 pound boneless pork, cubed
1 pound chicken thighs (bone-in or boneless)
2 slices bacon, chopped
1 onion, chopped
1 clove garlic, chopped
1/2 teaspoon salt
2 cups chicken stock
1 teaspoon chili powder
2 16-ounce cans hominy, drained
dried pepper flakes (1/4 teaspoon or to taste)
fresh hot chili peppers to taste, chopped (optional)
garnishes such as: cilantro, avocado, sliced radishes, chopped red bell peppers, chopped red onions, chopped tomatoes, paprika
Mix all ingredients in a crockpot and cook on low 6-7 hours or on high for 3-4 hours. Add water as necessary to keep it soupy. Check seasonings and add salt and peppers to your own taste.
Let the pozole cool, then remove the chicken thighs. Bone them (if necessary) and chop into small pieces.
Put the pozole in the refrigerator overnight, then skim any fat from the top. Re-heat and serve with garnishes of your choice.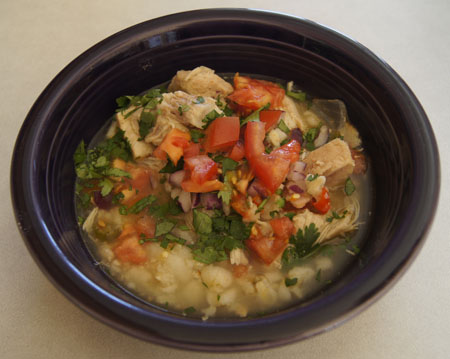 This was good, but not perfect. I thought the hominy was overcooked, too mushy. I couldn't decide if it was a soup or a stew, but that doesn't really matter! We like our Mexican food spicy, so if I make it again, I'll add more peppers.
I served it with grilled quesadillas and it was a satisfying meal.