Cookbook #239: Italian Regional Cooking, Ada Boni, Bonanza Books, NY, 1969. Translated by Maria Langdale and Ursula Whyte.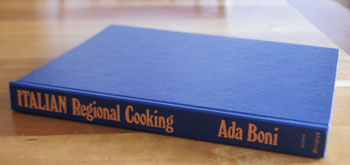 In my "250 Cookbooks" data base, I entered the publication date for this book as "1969?" Huh? Why the question mark. I went to the copyright page of Italian Regional Cooking and found "© MCMLXIX". Oh, I see, and sure enough, when I read the whole field in my database, it reads "1969? MCMLXIX". I had translated the Roman numeral to an Arabic numeral as "1969", but didn't check to see if I was correct. Turns out I was: search engines today quickly pulled up the conversion of MCMLXIX to 1969. Kids today no longer need to learn those rules in school, I guess.
Italian Regional Cooking was a gift to my husband and me on 5/25/77 from a couple-friend of ours. We were living in our trailer in Boulder at that time – opening this book brings back memories. But have I ever used this book? I don't think so. It is a lovely book to page through, with full page glossy photos of regions in Italy. We have always loved Italian food, and I love to cook, so it was (in theory) a perfect gift.
I looked up Italian Regional Cooking online. It is still for sale as a used book; I do not see a newer edition. On thriftbooks.com, several people wrote reviews about this cookbook. I learn from them that this tome is considered a classic Italian cookbook, kept for years by families and cooks alike for its authentic Italian recipes. Readers of this book who had traveled to Italy write that it reflects accurately the cooking of the regions of Italy in the 1960s.
The "perfect gift" and a "classic" cookbook. So why haven't I used Italian Regional Cooking a lot? Let's see. I take Italian Regional Cooking and settle in a comfy chair and begin to read, to learn what book I hold in my hands, and to wonder why I have never embraced it as a favorite cookbook.
Each of the 14 chapters covers a different region of Italy, and the first region is "Piedmont". Here are the first paragraphs in Italian Regional Cooking: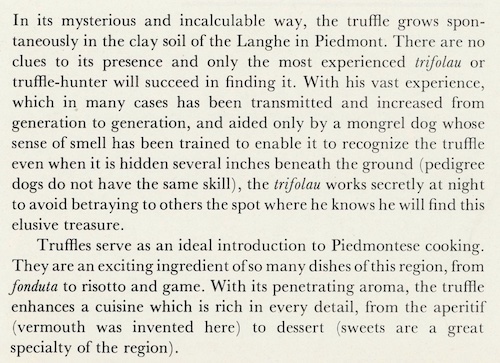 To me, this is an abrupt beginning. It had me looking on the previous page, to see if I missed something. And I looked for an introduction to this book, but, there is none.
I continue through the Piedmont region. The print at the beginning, informative part of the chapter is in a large font, accompanied by glossy pages of photos. Like this one: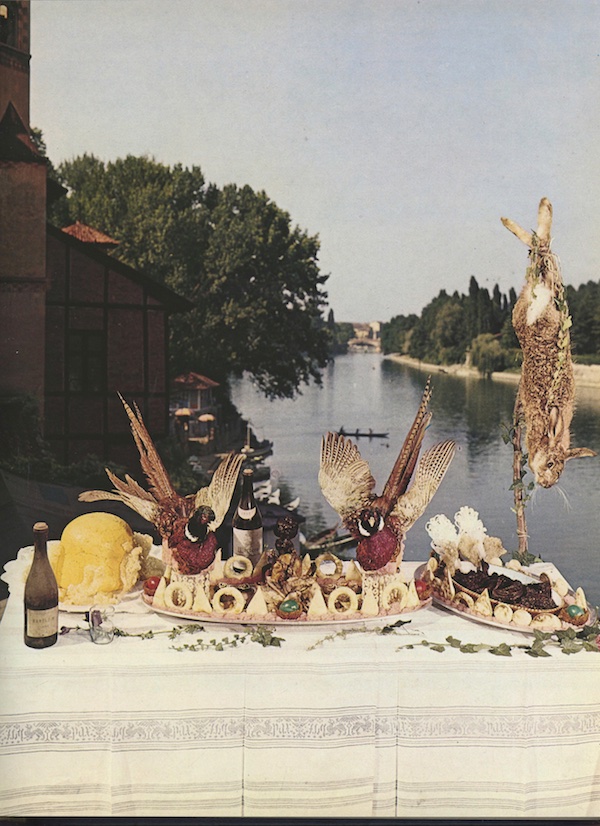 I see what might have turned me off about this book: the dead rabbit staring at me from a stick placed above a plate of its cooked bunny friends. And the handsome dead birds on the table. Ironic, since the friends who gave us this book were vegetarians.
After these written and photographic descriptions of the Piedmont region are several pages of recipes. These are printed on rough, grey paper in a smaller font. Bolded recipe titles are in Italian, with the italicized English translation beneath. Here is an example. Recipes for gnocchi (two types, and made from scratch), rarebit (learned about in my Encyclopedia of Cooking), fondue, and polenta.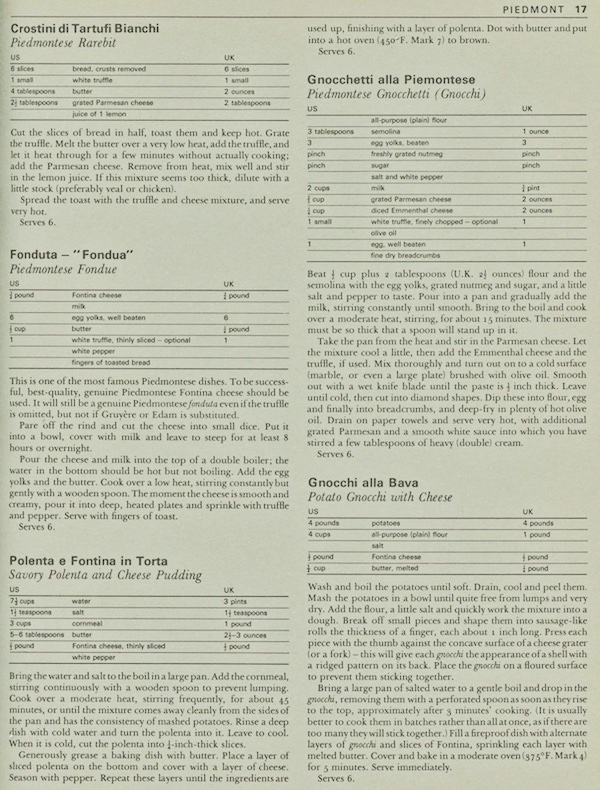 Here is another example of recipes in the Piedmont chapter. These ingredients aren't as "Patty-friendly" as they are sweetbreads, oxtail, and frogs legs.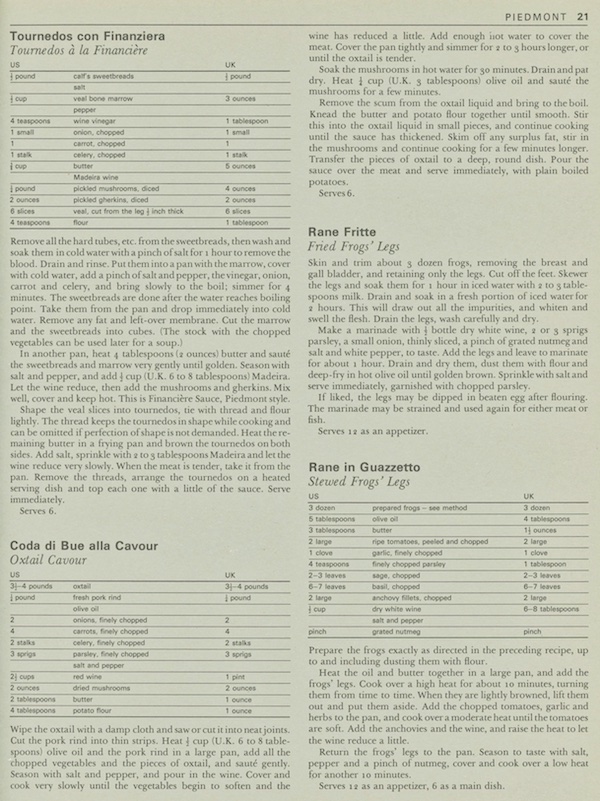 I come to the second chapter, on the region of Lombardy. This time, I look forward to the informative first pages: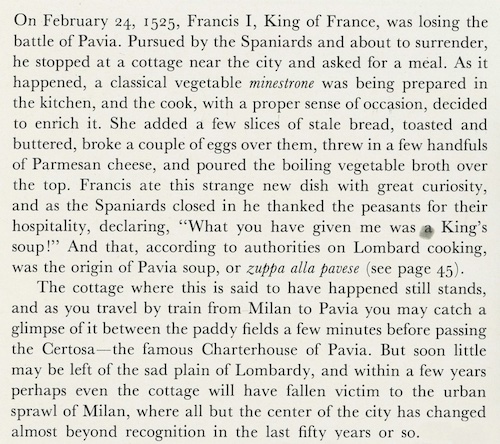 "King's soup". Now I begin to appreciate that Ada Boni is starting each chapter with an interesting story. I look up the Certosa, the great Charterhouse of Pavia. The author is probably correct as to what has happened to the cottage near the Certosa, because the current website states that the Certosa "was once located on the border of a large hunting park belonging to the Visconti family of Milan, of which today only scattered parts remain."
Saffron colors many of the dishes of the Lombardy region. When we traveled to Turkey, I bought some saffron at the Spice Bazaar. Saffron today is one of the world's most expensive spices, at about $13 per gram (gold today is about $45 per gram). But in fourteenth-century Milan, saffron began as a simple paint pigment, not a "spice". It was adopted as a culinary ingredient to color food a gold color: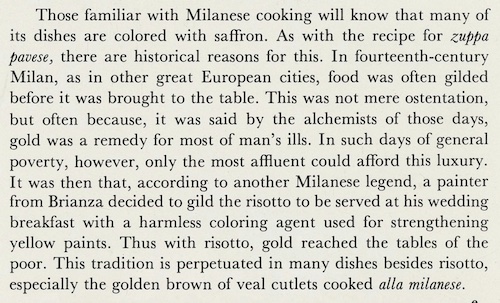 I turn to the third chapter, the region of Veneto. Ida Boni tells the story of how corn came to Italy. Corn "caused a sensation" in the market of Rialto in the Veneto region: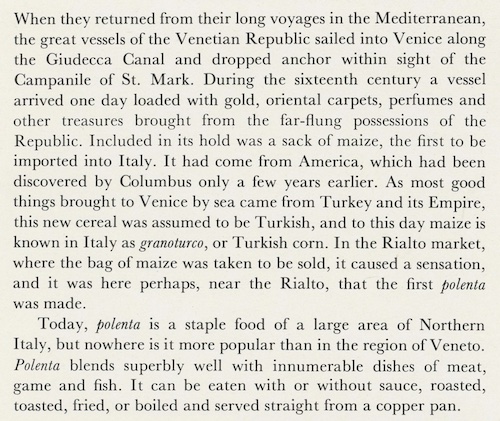 To this day, polenta, made from corn, is a popular dish in the region of Veneto. And polenta, as a grain or pre-cooked, is easily available in our local supermarkets. Even I have served it as part of an Italian meal. The recipes in the Veneto chapter include polenta recipes, recipes for noodles from scratch, and recipes that call for ham, duck, mutton, chicken, pork sausage, shellfish, beef, lamb, pigeon, rice, liver, tripe, cod, guinea fowl, turkey, snails, eel, and a variety of vegetables.
Pesto is the traditional sauce of Genoa, in the Liguria region.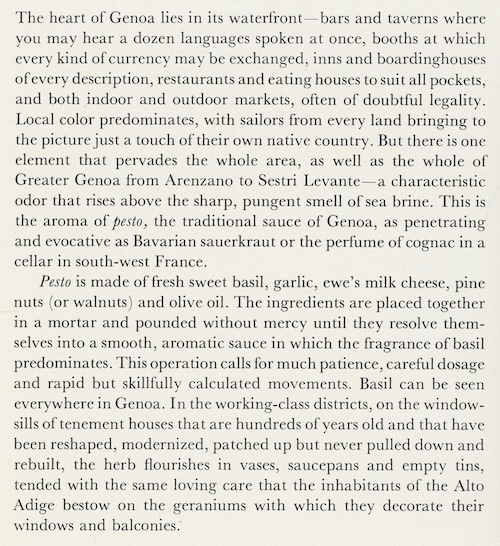 Here is a recipe for pesto: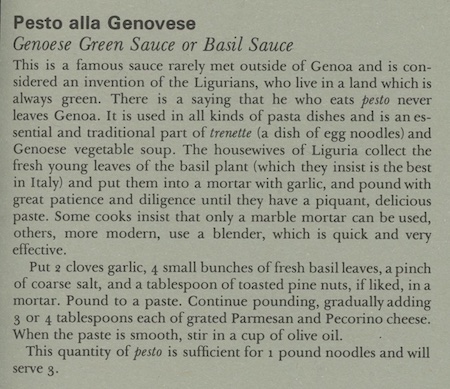 I find a recipe for zabaglione, mentioned in my Encyclopedia of Cookery Volume 12.
And so Ida Boni's Italian Regional Cooking continues. I turn the pages and enjoy new stories, and more wonderful photos of the regions of Italy. It is a very good read.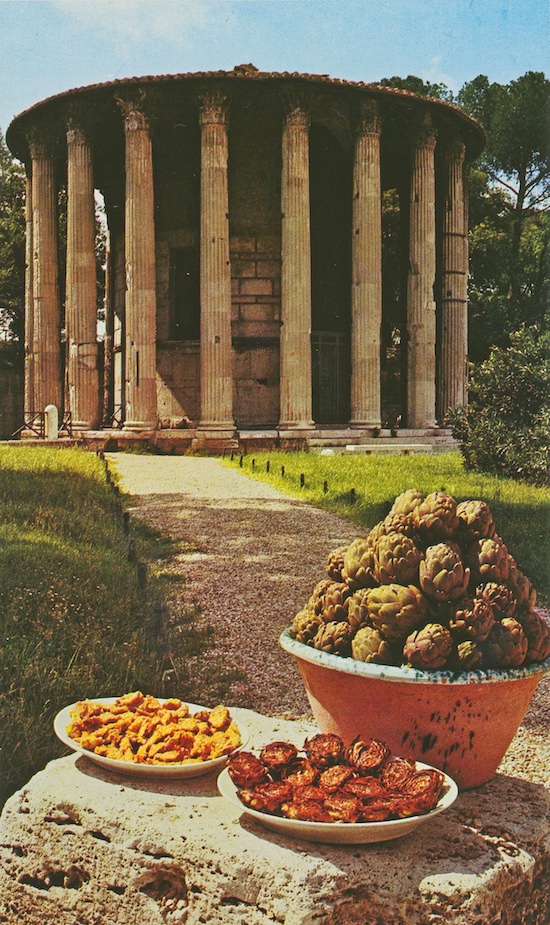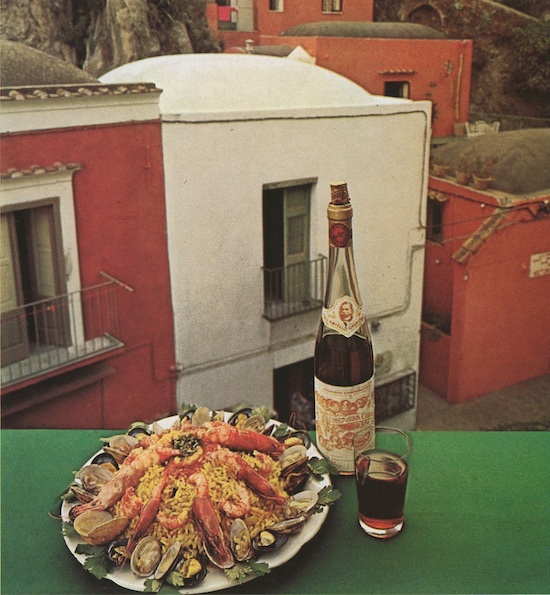 The recipes? I can't get the ingredients for a lot of them (even if I wanted too) and many require a lot of work (making your own pasta and gnocchi). I now have the time and ability to make my own pasta, so eventually I may try a few of the harder dishes.
I will definitely keep Italian Regional Cooking as a "classic" Italian cookbook. Back in 1977 when we received this cookbook, I would have only been looking for recipes for pasta and pizza, because that's all I thought of when I thought of Italian cooking. But now I have traveled to Turkey, near Italy, and have savored the very fresh vegetables and seafood ubiquitous to that country. I have made my own pasta, and learned how to make a very good tomato sauce. I have cooked polenta, and used saffron. I understand and appreciate how Italian regions' cooking depends on the very fresh game and fish surrounding them – what they ate was controlled by what they could harvest, not by a huge food industry. I can appreciate that this book reflects older Italian cooking, now often overtaken by convenience foods in the current busy cultures.
Note: I covered Italian Light Cooking a couple years ago. In it, the author states that "light" cooking is the more traditional Italian cooking, with less red meat and cheese. That is what this book is all about too.
For this blog, I will make Pallottoline in Brodo, or Sicilian Meat Ball Soup.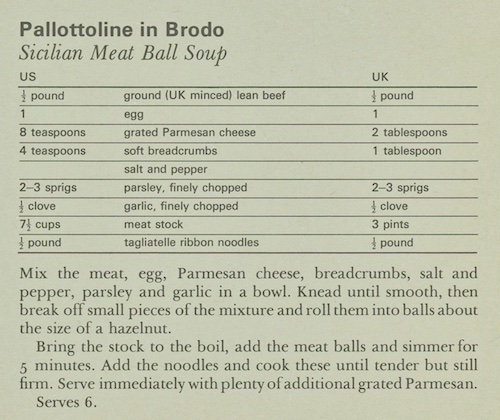 This is a simple soup, just meat balls and noodles in broth. The only herb is parsley. As I was preparing it, I had to keep my hand from grabbing my usual Italian spices, like oregano, basil, and thyme. I also had to stop from adding vegetables to this soup, like carrots, celery, and onions. The only change I made was to halve the recipe to serve only two people, but keep the amount of ground beef the same (1/2 pound). Oh – at the last minute I added about 3 tablespoons tomato sauce. I'll leave that as optional.
Tagliatelle noodles are similar to fettuccine noodles; if possible, find flat noodles about .25 to .375-inches wide.
Sicilian Meat Ball Soup
serves 2
1/2 pound ground beef
1 egg
3 tablespoons (freshly) grated Parmesan cheese (plus more for the top of the soup)
2 tablespoons soft bread crumbs
chopped fresh parsley, about 2-3 sprigs
1 small clove garlic, finely chopped
salt and pepper
4 cups meat stock (I used a combination of beef and chicken stock)
(3 tablespoons tomato sauce; optional – this is largely for color)
4 ounces ribbon-style noodles (see above)
Mix the meat, egg, 3 tablespoons Parmesan cheese, breadcrumbs, parsley, garlic, and salt and pepper in a bowl. (I used a mini food processor to make the bread crumbs and chop the parsley and garlic.) Knead until smooth, then break into pieces and roll into balls about the size of a hazelnut.
Bring the stock to a boil. Add the meatballs and cook about 5 minutes. Add the noodles and cook until the noodles are tender but still firm. Serve immediately with plenty of freshly grated Parmesan cheese.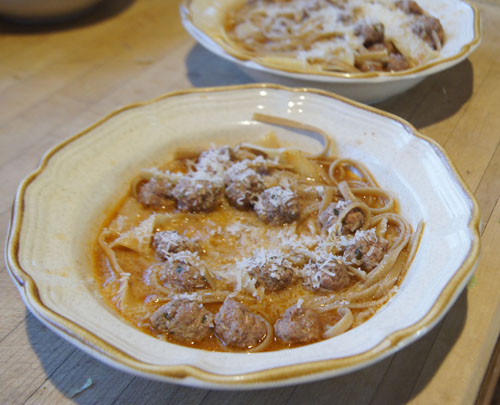 This was a very thick and very filling soup. It was good, but actually too much for the two of us. I might make it the same way again, or I'd use half the amount of meatballs and serve it as a first course. The flavor was good and I always like meat balls, so I wasn't complaining!