Cookbook #176: Cooking for Your Dragon, a cookbook for chocolate lovers, Randal Spangler, Fantastic Art (Books), Kansas City, 1996.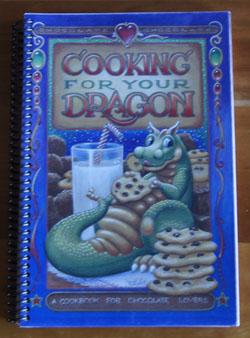 I've been a fan of Randal Spangler's art for decades. On the wall above my computer I have two framed Spangler prints. One is a cat chasing a computer mouse that a "dragling" is using to lure her in. The other is a white-haired scientist pedaling a bike in a crazy contraption. Draglings are a Spangler creation, and cats and computers and cookies are among his favorite subjects. (Mine too!)
Cooking for your Dragon is full of Spangler's artwork and every recipe has chocolate in it. Chocolate is a dragon's favorite food! Legends of the mythical world of dragons are throughout the cookbook. It's a delight to read.
The recipes are all very rich. I don't think I've ever cooked a single one from this book! Mostly I enjoy the illustrations and whimsical stories. For this blog, I decide on "Brownie Cupcakes".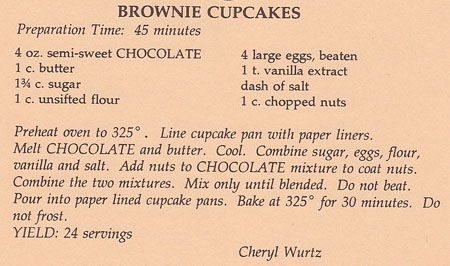 Well. Here is how my cupcakes turned out: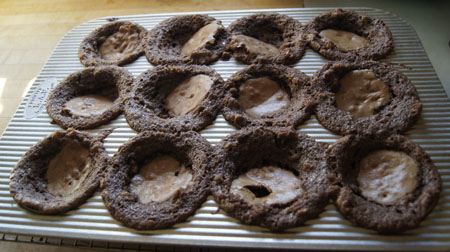 Total failure! They look terrible. Rose up, fell down.
The recipe does not explicitly state: "Pour into 24 paper lined cupcake pans", although it states "24 servings". I cooked them in two batches. The first batch, I probably filled them too full. I cooked the second batch after I scraped the first batch out of the pan, and I made sure to fill each cupcake only half full of dough. Baked, and same result as above.
Why did they fail? Not sure. But there is no baking powder in the recipe. Compare this recipe with the one I have for "Fudgy Brownies" in Baker's Book of Chocolate Riches. That recipe is almost exactly half of the above recipe, except it has baking powder in it and is baked in an eight-inch square pan.
The only other reason for failure (that I can think of) is that we live at high altitude and I didn't make any of my usual altitude-dictated adjustments.
Win some, lose some! These did taste good, as "crumbles". But I won't try this recipe again – I'll stick to Fudgy Brownies!