Cookbook #177: Cover and Bake, by the editors of Cook's Illustrated, a Best Recipe Classic, America's Test Kitchen, Brookline, MA, 2004.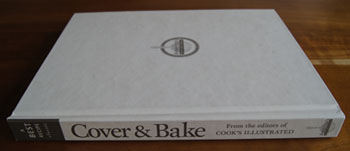 I discovered my first Cook's Illustrated magazine sometime in the early 2000s. This magazine has no ads – what a treat! I clipped and saved several recipes, then I subscribed to Cook's Illustrated online. (It's the only cooking magazine I subscribe to.) I ordered this book, Cover and Bake, and I use it a lot.
Christopher Kimball founded the enterprise that includes Cook's Illustrated and America's Test Kitchen, where they develop the recipes in their publications. This "Kitchen" is located in Brookline Massachusetts, and is where the TV show "America's Test Kitchen" is filmed. Most of my friends who are into cooking love this show!
Cook's Illustrated recipes always include a lengthy discussion. In their test kitchen, they try each recipe many different ways, and report on their findings. This appeals to my scientific side! Plus, when I follow the directions, the recipes always come out excellent. For instance, their recipe for pie crust taught me how to finally make a tender, easy-to-roll crust. I often browse the site for new ideas, or how to cook . . . anything! I also use their reviews of kitchen equipment to help decide on a new purchase.
The chapters in Cover and Bake are: Assemble and Bake (casseroles), Pot Pies and More, Oven Braises and Stews, Skillet Casseroles, Savory Side Dishes, Breakfast and Brunch, and Slow-Cooker Favorites. My favorite chapters are the pot pies and oven braises and the slow-cooker recipes. I have so many notes in this cookbook!
It will be easy to find a recipe to cook for this blog. I start flipping through the pages. What catches my eye is "Chili Mac", from the first chapter, Assemble and Bake. I haven't made many of the casseroles in this book, and it's time to try one.
Chili Mac is an American comfort food, although I've never made it before. It even has its own Wikipedia entry. Briefly, it's made with meat-bean chili, noodles, and topped with cheese. Sounds good to me!
Because of copyright issues, I am not scanning in this recipe. It's a relatively recent publication, and the editors are still actively publishing. The original recipe is on pages 80-81 of the Cover and Bake. Page 80 is a two-column discussion of how they got this recipe "perfect"! Page 81 gives the recipe in 1 1/2 columns. This is the typical layout of Cook's Illustrated recipes: not a fast food publication! I changed their recipe a bit (my adaptation is below).
Chili Mac: adapted from Cover and Bake, America's Test Kitchen
makes a 9×13-inch casserole, enough to serve 8, depending on appetites
8 ounces elbow macaroni
3/4 cup reserved macaroni-cooking-water
1 1/2 pounds hamburger (I used 90% lean)
2 onions, chopped
1 red bell pepper, chopped
2 tablespoons finely minced garlic (4-8 cloves)
2 tablespoons hot chili powder
1 tablespoon ground cumin
1 14.5-ounce can diced tomaotes
1 28-ounce can tomato sauce
1 tablespoon brown sugar
8 ounces grated cheese, preferably "colby Jack" or a mixture of cheddar and Jack cheese
Cook the macaroni in salted boiling water until al dente. At my altitude of 5300 feet, this took about 10 minutes; it would take less time at sea level. (It's important not to boil the macaroni too long, as it will continue to cook when the casserole is baked.) Before draining the pasta, reserve 3/4 cup of the pasta water; this will be used later when the casserole is assembled.
As the macaroni cools, cook the hamburger in a large pan or pot, salting to taste. (The original recipe recommends cooking the hamburger in a little oil; it's up to you.) When the meat is cooked, drain it in a colander to remove (and discard) the fat. Set the meat aside.
Add a little oil to the now-empty pan and cook the onions, red bell pepper, garlic, chili powder, and cumin, stirring, until the vegetables soften and begin to turn brown (about 10 minutes). Add the diced tomaotes, tomato sauce, brown sugar, the 3/4 cup reserved pasta water, and the drained hamburger. Simmer 20 minutes.
Stir the cooked macaroni into the pot and season to taste with salt and pepper. Pour the mixture into a 9×13-inch rectangular casserole and sprinkle with the grated cheese. Bake at 400˚ for 15 minutes, or until the cheese is melted.
Oh yes, this was good! Yum!
I will definitely keep this cookbook. (And tucked inside is the little Rival Crock-Pot Cookbook that I mentioned in an earlier post.) With fall coming on, I am sure I'll be back to Cover and Bake soon, looking for warm and hearty meal ideas.