Cookbook #178: Elam Biggs Favorites, Elam Biggs, Grass Valley, CA, 2009.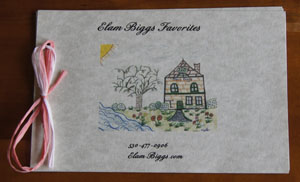 We stayed at the Elam Biggs Bed and Breakfast Inn while visiting family in Grass Valley in 2009. The breakfasts there were amazing! Fruit, juice, eggs, sausage or ham or bacon, and breakfast pastries, served at a fancy table setting. All homemade and wonderful. It was so pleasant to sit and chat with other guests as Elam showed us his card tricks. The rooms are ornately decorated with antiques. A great stay!
I couldn't resist buying one of the little booklets of breakfast recipes that they offered. Seven years later, though, and I haven't cooked a single recipe from this booklet. The reason is that they are a little more calorie-laden than we usually have for breakfast (when not on vacation). Elam Biggs Favorites has sat on my shelf as a souveneir of our visit, rather than as a "cookbook".
There are only eight recipes in this booklet, so it won't take long to decide which to make for this blog:
Dutch Babies (my chosen recipe, below)
Corn Flake Potatoes (hash browns, mushroom soup, sour cream, cheese topped with cornflakes and baked)
Breakfast Omelette (butter, eggs, flour, baking powder, green chiles, cottage cheese, Jack cheese, baked in the oven)
Stuffed French Toast (sourdough bread, cream cheese, raisins, milk, eggs – start the night before)
Brunch Enchiladas (flour tortillas rolled around ham, onions, green chiles, and cheese, topped with eggs and half-and-half and baked – start the night before)
Scalloped Corn (canned corn, butter, eggs, sour cream, corn muffin mix)
Overnite Strawberry French Toast (bread soaked in eggs and milk overnight, next morning put strawberries and bananas in a pan and cover with the soaked bread and bake)
Elam's Eggs (cheese and eggs baked in a ramekin)
I decide to try "Dutch Babies". These are Dutch pancakes, or pannenkoek. Many versions are available on the web – basically, they are a mixture of eggs, milk, and flour poured into a hot buttered pan and baked. They puff up and then fall, leaving the edges fluffy and the middle gooey and rich. You can serve them with powdered sugar or fruits or syrup. I found 4 clipped Dutch baby recipes in my old "clips" database – and noted that I made them once and loved them. They have always intrigued me, but they rarely fit into our eating pattern. Time to change that!
Below is my adaptation of Elam Bigg's recipe for Dutch Babies.
3 eggs
3/4 cup milk
3/4 cup flour
1/4 cup butter
Put the eggs in a blender and blend about half a minute. Then, with the blender open, add the milk and then the flour and blend another half a minute. This batter can rest a while if your pan is not yet ready.
Choose a pan that holds 2 quarts and is at least 2 inches in depth. Add the butter and heat the pan in a 425˚ oven until the butter melts.
Remove the hot pan from the oven and pour in the batter. Put it right back into the oven and bake for 20-30 minutes, or until puffy and the edges are well browned.
Here is my Dutch baby right out of the oven: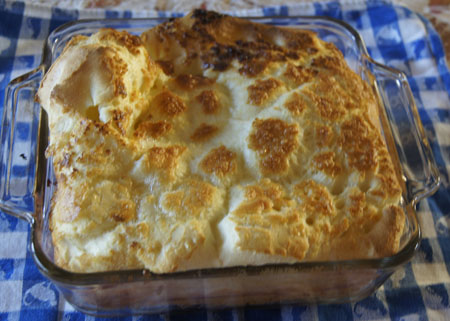 As it cooled the middle fell (as expected). As soon as it was cool enough to eat, we cut chunks and smeared them with fresh peach jam and enjoyed. Very eggy and very buttery. I think you could use less butter (and save a few calories), but this Dutch baby tasted great as is!
Note
Elam Biggs' directions for other sizes of Dutch babies:
4 eggs, 1 cup milk, 1 cup flour, 3 quart pan
5 eggs, 1 1/4 cup milk, 1 1/4 cup flour, 4 quart pan
6 eggs, 1 1/2 cup milk, 1 1/2 cup flour, 5 quart pan
ramekins or any size pan: fill one-quarter full with batter