Cookbook #217: Crockery Cookery, Mable Hoffman, H. P. Books, Los Angeles, CA, 1975.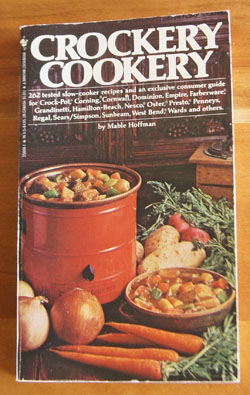 I just now realized: This paperback book has the same title and cover photo and publication date as my hardcover book Crockery Cookery. This paperback is from my own collection, while the hard back version was my mother's. I didn't mark or note any of the recipes in the paperback. The information on the use of different brands of crockpots is the same in both, but some of the recipes are different. And, the hardcover edition is better illustrated.
In all, I have eleven crockpot cookbooks in my database. See my first crockpot blog entry for a little on the history of crockpots.
Before I realized that this cookbook was a duplicate, I spent some time poring over the recipes. This time they struck me as "definitely severnties" in content. For better or worse! To me, seventies style foods can be both comfort foods and over-fatty over-packaged over-salted foods to avoid. Today I will take them as comfort foods. I choose to make "Hungarian Goulash", with ketchup, Worcestershire sauce, brown sugar, mustard, paprika, and garlic and onion.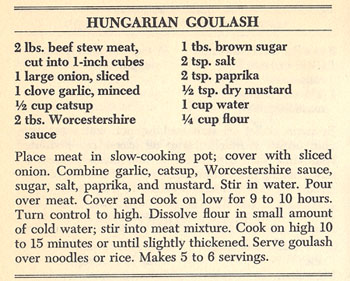 The recipe calls for beef stew meat, but I have a quantity of pork loin in the freezer so I decide to use that instead of beef.
Hungarian Goulash
serves about 4
2 pounds beef or pork stew meat (I used cut-up pork loin)
1 large onion, sliced
1 clove garlic, minced
1/2 cup ketchup
2 tablespoons Worcestershire sauce
1 tablespoon brown sugar
1 teaspoon salt
2 teaspoons paprika
1/2 teaspoon dry mustard
1 cup water
1/4 cup flour mixed into a small amount of water
Put the meat in a crockpot and then add the onion. In a bowl or measuring cup, combine the garlic, ketchup, Worcestershire sauce, sugar, salt, paprika, mustard, and 1 cup water. Stir to combine,then pour over the meat/onion mix in the crockpot.
Cover and cook on low from 9-10 hours, or on high for 4-5 hours, until the meat is very tender. Taste and add salt and pepper to your taste. Then, with the crockpot on high, add the 1/4 cup flour mixed with a small amount of water. Stir in, then cover and cook on high for 15 minutes, until the sauce is thickened.
Serve over noodles or rice.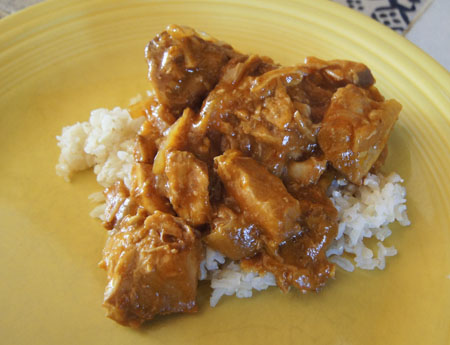 This was very good. I'd make it again!
I am going to recycle this paperback, though. The hardcover version is more pleasant to use, largely because of the color photographs.