Cookbook #218: Encyclopedia of Cookery, Vol. 11, Sou-Ton, Woman's Day, Fawcett Publications, NY, 1966.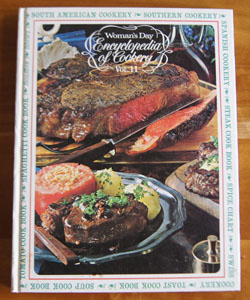 I have a set of twelve Encyclopedia of Cookery volumes and this is the eleventh of that set – I covered the first ten in previous posts. This volume covers curious and helpful information about foods from (sou)fles to (ton)gue.
Souffles. We do like my Cheese Souffle, and I always follow the recipe in my Joy of Cooking. I usually add ham to it too. I have been making this souffle for decades. The trick is to have everyone ready to eat as soon as it comes out of the oven – because souffles always fall quickly. And this fact is reiterated in the Encyclopedia of Cookery:
"When the cooked souffle is taken from the oven, it should be taken to the table and served at once. It is a rule of the kitchen that a souffle should be served immediately. If there is any waiting to be done, let it be by the guests."
I love that: "a rule of the kitchen"! This volume of the Encyclopedia of Cookery has a lenghty and good explanation of how to make a basic entree souffle, suggesting many variations. And, it includes a recipe for Liqueur Souffle with suggested variations.
The Soup Cookbook is 8 big pages long. The last entry is a soup garnish called "Twist Toast".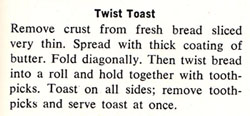 Sour Cream in its simplest form is "unpasteurized heavy sweet cream that has been allowed to stand in a warm place until it has become sour". Commercial sour cream is made from "sweet cream chemically treated with lactic-acid bacteria to produce a thick cream with a mild tangy flavor". The South American Cook Book begins with an interesting essay by Jean Gormaz on the widely varied cooking of this continent of many climates. Vatapa, a fish stew from Brazil, illustrates the variety of ingredients in South American cookery.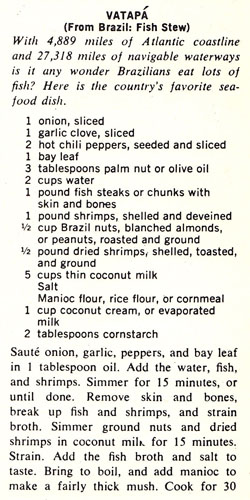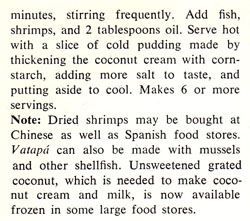 Cook books called Southeast Asian Cookery, Southern Cookery, and Southwest Cookery follow each other with no short entries between. (This volume of the Encyclopedia of Cookery sure has a lot of cook books in it.) The Southwestern cook book  includes few dishes familiar to me, except chili sauce, tacos, and sopapillas. Carne Adobada is an example of a recipe I have never heard of before, and it takes days to make.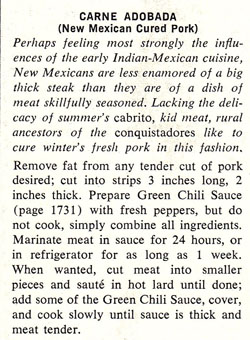 Finally, I come to a short, non-cookbook entry: Soybeans. "The soybean is one of the world's oldest plants. It has been cultivated in China for over 4,000 years." "Bean curds" are mentioned, but are not called tofu. Most of the recipes in this section include soy sauce as the "soybean" ingredient.
Spaghetti, Spanish Cookery, spare rib, spearmint, spice. The spice section is rather short, recipe-wise. It has a two-page illustrated chart, but only includes 12 spices. "Spices – Nature's Flavor Magic" is an essay on the importance of spices in history.
A sprat is a small herring, often sold canned or smoked. A squab is a young pigeon that is not allowed to fly before it is eaten. Squirrels are found in the US and "occasionally eaten as food, particularly in some rural sections. The flesh of sqirrel is light red or pink in color and has a pleasing flavor."
The section on steaks includes a charcoal broiled cookbook. It's writtten by Philip S. Brown, and I like it. He comments in the first person throughout the recipes. I'd like to try his "Teriyaki", made from marinated round steak strips woven back and forth on skewers and grilled.
Sterilize, stew, stir (entered as "stir, to"), stock. Stollen is a sweet, fruit-filled yeast bread baked in the form of a folded-over roll. That sounds like a recipe up my alley.
Strawberries are native to both the old and new world. The Encyclopedia of Cookery claims wild strawberries are the best – I've never had a wild strawberry! I have had small-farm grown fresh cultivated strawberries, though. I grew up in Southern California, where strawberry fields were abundant. Strawberry shortcake was an oft-made dessert at our home.
Strudel, stuffing, sturgeon, sucker (a fish), suet (hard fat from around the kidneys), sugar, sundae. A cookbook on Swedish Cookery. Sweetbread is "The thymus glands of lamb, veal, or young beef (under 1 year; the thymus disappears in mature beef). Sweetbreads consist of two parts: the heart sweetbread and the throat sweetbread." According to the entry, sweetbreads are widely available year round fresh and frozen. I've never seen them in stores. Then again, I've never looked.
Sweet potatoes are the root of a perennial vine of the morning glory family. Sweet potatoes are not yams – yams are a completely different botanical species. Sweet potatoes are native to America. Many recipes are in the Sweet Potato Cook Book. Sweetsop refers to both a small tropical American tree and its sweet pulpy fruit, also called the sugar apple. Swiss Cookery is a collection of recipes authored by James A. Beard.
Syrup is a sweet, thick, sticky liiquid. It is made from a concentrated solution of sugar and water, and can be flavored with chocolate or the juice of a plant, for example, corn syrup, or from the concentrated juice of plants like sugar cane or maple trees. (It does not mention 100% maple syrup.) The taffy entry has a recipe for homemade taffy.
This entry is for my daughter: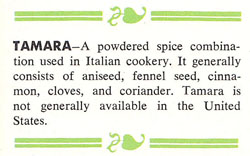 A tangelo is a hybrid of the tangerine and garpefruit. Tangerines are named after Tangiers, but originated in China. Tapioca is made by heating the starch of the manioc tuber. I find that manioc is also known as cassava and yuca. Tarts are filled pastries, often sweet, but also savory. Here is a recipe for Frankfurter custard tarts.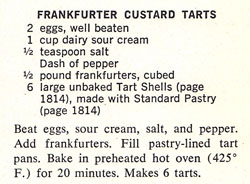 I would never make these, they do not sound tasty to me. And "taste" is an entry: "one of the senses of man". Tea is honored with an essay by James Beard on "the pleasures of tea drinking", and I like his era "B. T." – before tea: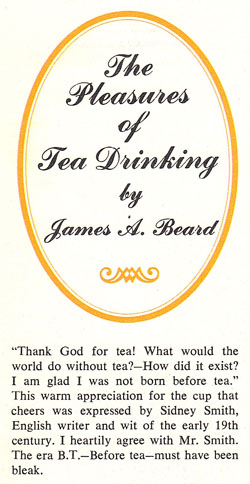 Tetrazzini is a dish I discussed in All-Time Favorite Casserole Recipes. Thanksgiving includes an essay and many traditional recipes.
Toast again! Toast was really popular in the 1960s. The "Toast Cook Book" is 5 pages long. A tomato is a fruit native to South America, and the Tomato Cookbook gives lots of recipes for its use.
Tongue is the last entry. It is a "nourishing and appetizing food, good hot or cold". I don't think I've ever cooked or eaten it. But according to the Encyclopedia of Cookery, it is an "old favorite". "Tongue Twisters" is a collection of recipes by Iris Brooks: "No, nothing to do with P. Piper and his produce, but new twists on that old favorite, tongue. Have it pickled or corned, smoked or fresh; canned or in jars, plain or in vinegar; beef, calf, pork, or lamb; but by all means, have it. Whether hot or cold, whole on the platter or in even pink slices, tongue is always a delight to the eye and a joy to the palate."
Well. On that note, I end volume 11 of the Encyclopedia of Cookery.
Now, what to make for this blog? I decide on "Strawberry Shortcake".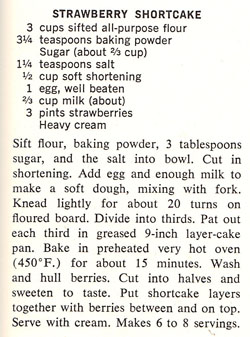 Why did I choose this recipe? I have been making strawberry shortcake for years. But I have always started with my mother's basic biscuit recipe, and just added "a bit" of sugar. This is an actual "shortcake" recipe. Plus, I like the way the dough is rolled out into a big circle and baked in a cake pan. Saves a step in cutting out the biscuits. And finally, I had some strawberries in the refrigerator looking to be used!
I made a one-third recipe for the two of us and had enough for dessert for two nights.
1 cup flour
1 teaspoon baking powder
1/2 teaspoon salt
1 tablespoon sugar
1/6 cup vegetable shortening (2 2/3 tablespoons or 32 grams)
1/2 egg (whisk one egg, put in a measuring cup, and use half)
1/4 cup milk, about
strawberries
whipped cream
Stir together the flour, baking powder, salt, and sugar. Cut in the shortening. Mix the half egg and milk, then add to the flour mixture slowly, mixing with a fork, just until it makes a soft dough.
On a floured board, knead the dough lightly for about 20 turns. Roll or press into a 9-inch circle. Place in a lightly greased 9-inch cake pan.
Bake at 450˚ for about 15 minutes, until golden brown.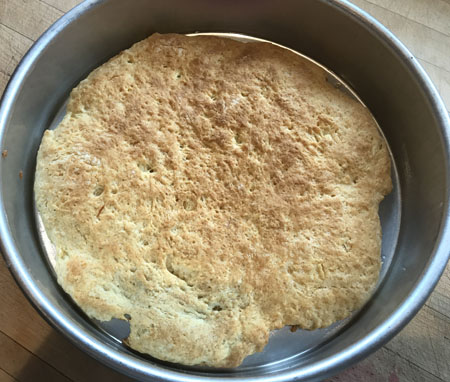 Meanwhile, slice the strawberries and add a tablespoon or so of sugar. Stir and allow to macerate until you serve the shortcake.
To serve, split the baked shortcake into two layers. For us two, I first cut the shortcake into two half circles, then quarter circles. I took two quarter circles and split each quarter into two layers.
Layer one shortbread, half the berries, another shortbread layer, the rest of the berries, and then put whipped cream (real or fake) on top.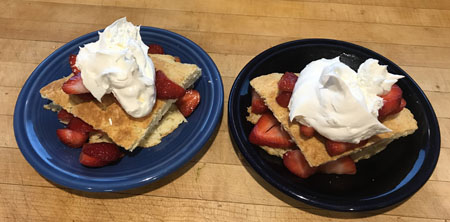 This was excellent! I like the egg in the dough, and I like rolling it into one circle instead of biscuits. My dining partner said "yum, but not enough!" I take that as a thumbs up.