Cookbook #224: The Chinese Cookbook, Craig Claiborne and Virginia Lee, J. B. Lippincott Company, Philadelphia and New York, 1972.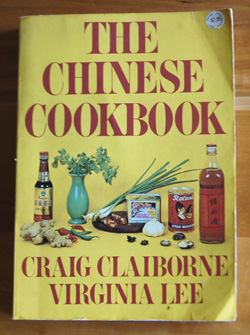 The Chinese Cookbook is one of my favorite cookbooks. I always keep it in my kitchen for ready reference!
I turn first to Craig Claiborne's introduction. He writes "I was trained in depth in French cookery in a Swiss hotel school, and it appealed to me from the beginning as a form of cookery that could be, let us say, wholly embraced . . . it seems so logical." But Chinese cookery? He writes: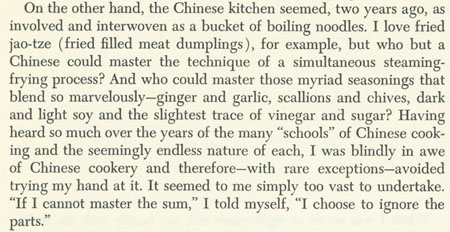 Claiborne goes on to talk about his fourteen year stint as the food news editor and restaurant critic for the New York Times, saying "I was tired. I neeeded rest and a respite from cooking. And then I met Virginia Lee."
Virginia Lee was a renowned Chinese cook who came to the US in 1967. Claiborne interviewed her for an article, and ended up applying for her cooking class. She only taught ten students at a time! But she accepted Claiborne, and eventually they wrote this cookbook together.
I want to share another excerpt from the introduction, because it says so much about Chinese cooking.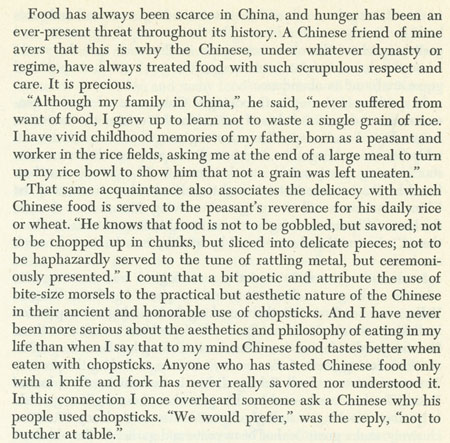 I learned how to make most of my current repertoire of Chinese dishes from The Chinese Cookbook. The recipes are easy to follow, even though the ingredient lists might look daunting with exotic ingredients. For instance, Hot and Sour Soup: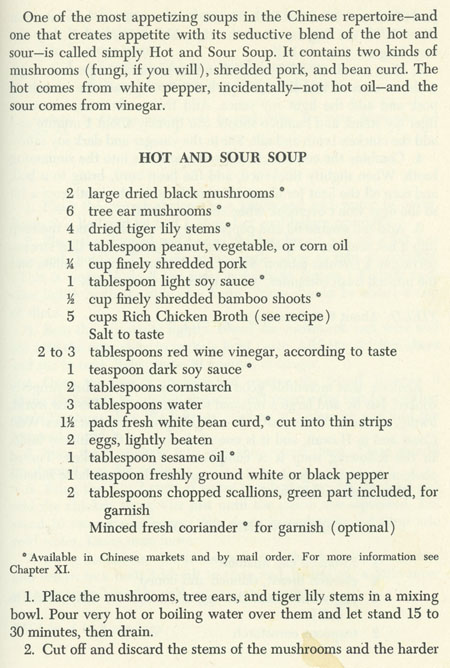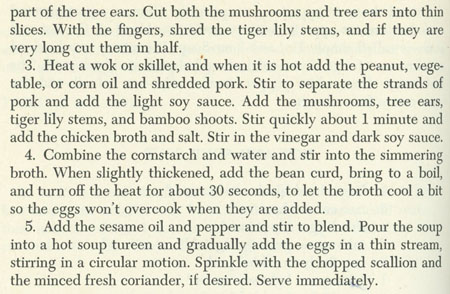 I've made this Hot and Sour Soup many times. Dried black mushrooms, tree ear mushrooms, and dried tiger lily stems! Ages ago, I had to go all the way to Denver to a Chinese market to find all of these ingredients. Nowadays I go to the Asian Seafood Market in Boulder. Sometimes I leave out these exotic ingredients, if I have none on hand, or I use fresh shitakes and skip the tree ear and black mushrooms tiger lilies. Not as much fun, but still a good soup.
Claiborne mentioned Fried Jao-Tze in the introduction (excerpt at the top of this page). Jao-tze (or pot stickers) are little round wonton-type skins, filled with pork and shrimp and vegetables, that are first fried to get the bottoms brown, and then doused with a bit of water and covered and steamed until done. They are served with a dipping sauce made from soy sauce, vinegar, sesame oil, ginger, garlic, sugar, and hot oil. Years ago, before I had ever heard of Jao-Tze from other than his cookbook, one adventurous day I decided to try these. And they were amazing! It was only later that I saw Jao-Tze pot stickers appearing at restaurants, at University event buffets, and even in the frozen food section of markets. I have made Claiborne and Lee's recipe at home many, many times and they are much better than any I have had out.
Another dumpling I learned about in this cookbook are "Shiu May". I use square wonton skins, fill with shrimp and pork and vegetables, then steam them. The Chinese Cookbook's Kung Pao Chicken is extremely tasty and extremely easy. It calls for raw, shelled fresh unsalted peanuts, and I find them at the Asian Seafood Market. It also calls for bean sauce, hoi sin sauce, and chili paste – these ingredients are usually in supermarkets, and they have a long shelf life once opened, kind of like ketchup. If you put enough dried hot peppers in it, your Kung Pao Chicken will please a guest who really likes hot food.
I did a google search to see what others thought of The Chinese Cookbook. A couple bloggers (Undercover Caterer and Collectible Cooking) raved about "The Best Fried Rice", so I looked it up in my copy of the book. "This fried rice is a bit of a masterpiece" state Craig Claiborne and Virginia Lee. Whoa. I am going to have to try this masterpiece soon.
A couple other recipes I'd like to try are "Beef with Oyster Sauce" and "Beef with Peas and Peanuts".
Note: I covered another Chinese cookbook that I like in this blog: The Cooking of China, by Emily Hahn and the Editors of Time-Life Books. I put lots of photos of ingredients and one photo of my bamboo steamer in that post.
For this blog, I'll make the Sesame Seed Pork Chops.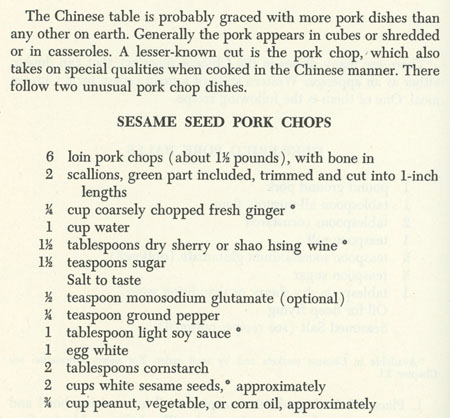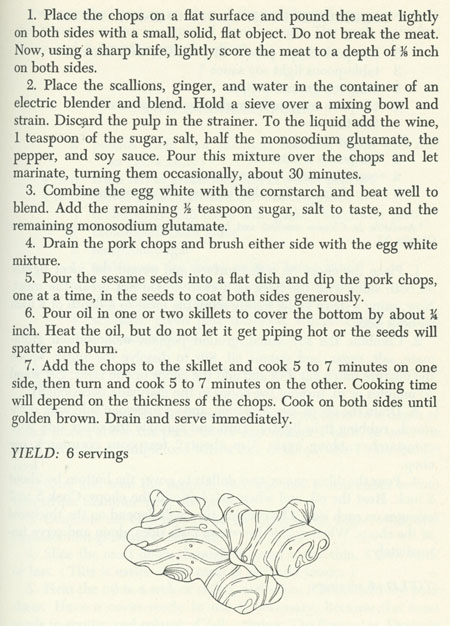 I made these pretty much as per the above recipe, except I left out the monosodium glutamate, and I halved the recipe for two people, but did not halve the amount of egg white/cornstarch mixture. I used bone-in pork sirloin chops, but actually, next time I'd prefer to use boneless pork sirloin.
Sesame Seed Pork Chops
serves 2 as a main entre
2 pork chops, bone-in or boneless (about 12 ounces if boneless)
1 green onion, chopped roughly
2 tablespoons coarsely chopped fresh ginger
1/2 cup water
1 tablespoon sherry or shao hsing wine
1 teaspoon sugar
2 teaspoons soy sauce
salt and pepper to taste
1 egg white
2 tablespoons cornstarch
1 cup sesame seeds (about)
vegetable oil for frying
Pound the pork chops lightly, then make cross hatches on both sides, using a sharp knife and cutting down to about 1/8 inch deep. Set aside.
Place the green onion, ginger, and water in a blender (I used a mini-processor). Blend well. Pour through a strainer into a bowl; discard the pulp. Add the sherry or shao hsing wine, sugar, soy sauce, and salt and pepper. Pour this mixture over the prepared pork chops in a flat dish or bowl. Marinate at least 30 minutes, turning occasionally.
Combine the egg white with the cornstarch and beat well to blend. Add a bit of sugar (about 1/4 teaspoon) and a little salt.
Put the sesame seeds into a flat dish. Pour oil into a skillet to cover the bottom by about 1/4 inch, then heat, but do not let it get "piping hot or the seeds will spatter and burn".
Drain the marinade off the porkchops. Put them in the egg white mixture to coat both sides, then dip them in the sesame seeds to coat both sides generously. Put the coated chops in the heated skillet and cook 5-7 minutes (or until golden brown) on one side, then turn and cook 5-7 minutes on the other side. Cooking time will depend on the thickness of the chops.
Serve immediately.
These turned out well. I especially liked taking the green onion-ginger mixture out of the blender – it was green and smelled wonderfully of ginger. The sesame seed layer on the pork chops tended to lift off when cutting them, but it was delicious. I think that boneless pork chops would work better, because they would cut easier into pieces, although the bone-in ones were particularly juicy.
Here are my cooked sesame seed pork chops: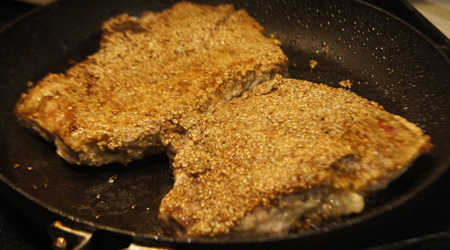 To serve, I sliced the cooked chops into large chunks. It was messy because I had to avoid the bone. But, the pork was very, very juicy and flavorful. I served with fried rice and snow peas and fresh shitakis.
Delicious!