Cookbook #235: Best International Recipe, Cook's Illustrated, a Best Recipe Classic, America's Test Kitchen, Brookline, Massachusetts, 2007.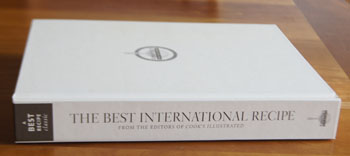 Cook's Illustrated is one of my favorite producers of cookbooks. It is relatively "modern", one of the five newest books in my database. Another Cook's Illustrated Best Recipe book that I have is Cover and Bake. I talked about the style of Cook's Illustrated books in that post. Briefly, you don't just get a recipe, you get a page of talk about how that recipe was developed – what they tried that did and did not work. Further information about ingredients and techniques is often presented in boxes or side notes. I find that a Cook's Illustrated recipe might take a bit more concentration to follow than common recipes, but the recipes always work for me.
I know that it will be easy to find a recipe to cook from this book. In fact, when I open to the first chapter "Mexico", I want to cook the very first recipe! It is "Melted Cheese with Poblano and Chorizo", or Queso Fundido. This is a "table dip" meant to be scooped up with warm soft tortillas. Three printed columns discuss how they developed this recipe, and two boxes with "pantry spotlights" give information on Mexican cheeses and chorizo sausage. What does the test kitchen discuss in this article? How to get the proper "gooeyness" of an authentic queso fundido. In a specialty shop, they found the traditional Mexican cheese, queso asadero, but what is the American cook to do if he/she can't find that cheese? They discovered that Monterey Jack cheese is the best substitute. Next, should the cheese be shredded or cubed? They tried freshly shredded, purchased shredded, and freshly cubed jack cheese. The purchased shredded was the least favorite, as it is sold coated with an anticaking agent and the cheese "seized up" almost instantly once out of the oven. Between the freshly shredded or cubed jack cheeses, the shredded one melted "far too quickly, so that by the time the last shreds had melted the rest of the cheese had overcooked". Cubed cheese melted fine, and they noticed the importance of removing the cheese from the oven as soon as it was melted, "as soon as the last chunk had flattened".
And so you see what Cook's Illustrated and the American Test Kitchen is all about. I'd love to make Queso Fundido, but it's on my no-no list of foods this January.
I continue leafing through Best International Recipe. Here are the countries/areas covered in this book, each in a separate chapter.
Mexico
Latin America and the Caribbean
British Isles and Ireland
Central Europe and Scandinavia
France
Spain and Portugal
Italy
Greece and Turkey
Russia and Eastern Europe
Africa and the Middle East
India
Southeast Asia
China
Japan and Korea
I noted quite a few recipes I'd like to try. Jamaican Jerk Chicken from Latin America and the Caribbean sounds like an adventure. If I ever want to make real Fish and Chips, I'd use the recipe in the "British Isles and Ireland" chapter. " Sweet and Sour Red Cabbage from Central Europe and Scandinavia, Braised Leeks from France, Spanish Tortilla from Spain and Portugal, and Classic Bolognese Sauce from Italy all sound interesting to try. The "Italy" chapter is particularly long.
Hmmm. It dawns on me: this book is very scientific. Where are the discussions of how the author found a particular dish in an off-road little restaurant that it took days to get to? Who were the people who cooked for them? What were their traditions? What adventures did they have in discovering new foods? Where are the stories by writers like James Beard, M. F. K. Fisher, Emily Hahn, Joseph Wechsberg, Rafael Steinberg, and Nika Standen?
I continue through this "science" book (it's a long, large tome!). I'd like to try Chicken in Walnut Sauce from Turkey and Green Beans with Cilantro Sauce from Russia. Ethiopian Flatbread uses "teff" flour, and I study different types of grains for my personal curiosity (and a future blog post). Tandoori Chicken from India is marinated in a wonderfully spiced yogurt sauce (and I might have made it before). Pad Thai from Southeast Asia and Spicy Sichuan Noodles with Ground Pork from China sound good. Ramen Soup! This college student mainstay is discussed at length in the chapter on Japan.
For this blog, I decide to make "Tortilla Soup". It took me awhile to get out of the first chapter, "Mexico"! Over the years, I've saved several tortilla soup recipes, and have probably made some version once or twice. I've never had tortilla soup in a restaurant, so I don't know what traditional tortilla soup tastes like. The recipe in The Best International Recipes is low-carb, and would be no-carb if I left out the tortilla strips. But no! We are past our two weeks of no-carbs, and I will enjoy this soup as it is intended to be made.
I pretty much followed the recipe, although I cut the ingredients in half. My chicken breast was huge, but I liked the amount of meat it yielded. It's important to shred the chicken with a fork and not just cut it into pieces with a knife. I skipped the jalapeno and found the chipotle in adobo sauce to be quite sufficient for heat in this soup. We ate almost all the soup between the two of us, but we had nothing else for the meal – I did not use the soup as a first course. Note that this soup can be prepared a day or so ahead.
(I am not scanning in the recipe for copyright issues.)
Tortilla Soup
serves 2 as a main dish
soup
1 bone-in, skin-on chicken breast (the one I used weighed over a pound)
4 cups chicken stock (I used my homemade broth)
1/2 of a large onion, quartered and peeled
2 garlic cloves, peeled
cilantro, about 5 fresh sprigs (do not skip this fresh cilantro)
oregano, 1 fresh sprig or 1 teaspoon dried
1 tablespoon vegetable oil
1 tomato, cored and quartered
1-2 teaspoons chipotle chile in adobo sauce (this comes in a can)
4 corn tortillas
garnishes
1 lime, cut into wedges (oops! I forgot to add this, but highly suggest the lime)
1/2 ripe avocado, pitted and diced
4 ounces cheese – Jack cheese (diced) or crumbled queso afiejdo (I used Panela cheese)
chopped fresh cilantro
minced jalapeno chile (optional)
Mexican crema or sour cream (optional)
Put the chicken stock, chicken, one quarter onion, one clove garlic, cilantro, and oregano in a pot. Add salt if necessary. Bring to a boil and simmer on low for about 20 minutes, just until the chicken is cooked through. Remove the chicken breast and set aside to cool. Pour the broth through a strainer, keeping the broth and discarding the strained-out solids. When the chicken is cool enough to handle, use a fork to shred it into bite-sized pieces. Set the broth and chicken aside.
Heat the oven to 425 degrees. Slice the 4 tortillas into 1/2-inch strips. Put about 1 tablespoon oil in a sheet pan, then add the tortilla strips and spread them out. Bake, stirring occasionally (and checking often), until crisp and dark golden, 10-12 minutes. (I baked them for 14 minutes and forgot to stir and had to toss a batch that burned.)
Puree the tomatoes, the remaining onion quarter and the remaining clove of garlic, 1 teaspoon chipotle chile, and 1/4 teaspoon salt in a food processor until smooth. Heat about a tablespoon of oil in a sauce pan over high heat until shimmering. Add the pureed mixture and cook, stirring frequently, until the mixture ha darkened in color, about 10 minutes. (I did not cook it 10 minutes; next time I will choose a heavier pan for this step. But, the soup turned out fine anyway.)
Stir in the reserved, strained chicken broth and bring to a boil, then reduce the heat to low and simmer about 15 minutes. The volume should be about 4 cups at this point; my volume was less so I added more chicken stock.
At this point, cool and refrigerate the soup for a day or two, if that is convenient for you. (I did!)
Taste the soup, and add more chipotle chile if you want (I didn't – that stuff is hot!) Add the shredded chicken and heat about five minutes. Serve with the garnished.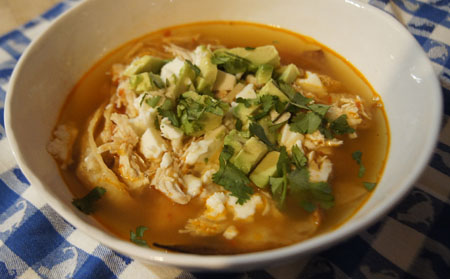 This was delicious! The shredded chicken was the best I've ever made (even before putting it back in the broth). I loved the tortilla strips in the soup. They were the perfect size, and kept a good texture or "bite". I started with my own very good chicken stock, it's a lot stronger in flavor than store bought kinds. I never measured it when I added it to the chicken, that's why I have a note in the instructions to add a bit more at the end if necessary. You want the chicken covered with broth, and you want a lot of shredded chicken in the bowl.
I had both Jack cheese and a Mexican fresh, semi-crumbly cheese called Panela. The Jack cheese melts into the soup, but the Panela gets warm but stays in little flavorful chunks. Try either!