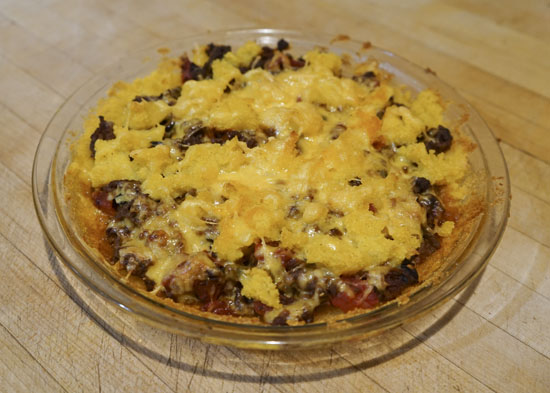 Tamale Cheese Pie is another one of the seven old recipe cards I gathered during an hour of pandemic boredom spent perusing my ancient recipe box. I was making tamale pie way back in my earliest cooking days! It is still one of my favorite casseroles.
Tamale pie was a common type of casserole in the sixties and seventies in Southern California. A can of this, a can of that, some hamburger . . . bake in the oven for half an hour. This recipe, in my own handwriting, lists 15 ingredients, and this list and the directions cover the entire front and back of the card in tiny handwriting. What, did I really used to make tamale pie by consulting this lengthy recipe card? Nowadays I usually make this as a no-recipe recipe.
What's a "no-recipe recipe"? It's when you just cook from memory and substitute ingredients and spices according to your whim of the day. Kudos to Sam Sifton of the NY Times cooking site for labeling this way of cooking. I know I cook this way a lot, now it's nice to know it is "okay"!
Here is my no-recipe recipe for tamale pie. First I cook the meat, sometimes hamburger and sometimes chicken or pork. I add onions and garlic and cumin and chili powder, fresh or canned tomatoes or Rotel, olives if I remember, bell peppers if I have them, maybe a can of green chiles, maybe some corn, and always cheese. I bring some water to a boil and add a half cup of cornmeal, then spread it on top of the meat mixture in a casserole dish. Top with cheese and bake until it looks done. (I might consult the recipe in this 2012 blog post.)
Now that I have my old Tamale Cheese Pie recipe card in hand, I think it will be fun to make it according to this fifty year old recipe. Take care of some more pandemic boredom!
And, maybe I'll learn something!
Tamale Cheese Pie
1 tablespoon oil
1/3 cup chopped onion
1/4 cup chopped green pepper
1/2 teaspoon chopped garlic
1 pound ground beef
1 15 ounce can of tomatoes
1/2 to 1 cup chopped olives
1 to 1 1/2 tablespoon chili powder
1 teaspoon salt
1/2 to 1 teaspoon cumin
1/2 teaspoon ground coriander
1 1/2 cup water (*see note)
10.5 ounce can condensed beef broth (*see note)
1 cup cornmeal
1 3/4 cup grated cheddar cheese
Cook the onions, green pepper, and garlic in the oil until soft, then add the ground beef and brown. Add the tomatoes and their liquid, olives, chile powder, salt, cumin, and coriander. Simmer 20 minutes.
Meanwhile, combine the water and beef broth with the cornmeal and cook 7-8 minutes over moderate heat, stirring, until very thick.
To assemble, spread half of the the cornmeal mixture over the bottom and sides of a 11 3/4 x 7 1/2 x 1 3/4 inch dish. Add the meat mixture and 1 1/2 cup cheese. Top with the remaining cornmeal mixture, then the remaining 1/2 cup cheese.
Bake at 350˚ 40-45 minutes, until cheese is melted and the cornmeal lightly browned. Serves 6-8.
*Note: I don't keep condensed beef broth in my pantry. Instead, I make and freeze my own stocks, and that's what I used when I made this tamale cheese pie. The 1 1/2 cups water plus a 10 ounce can of beef broth is 2 1/8 cups of liquid. I used broth plus water to total 2 1/8 cups.
**Note: Actually, I halved the recipe for the two of us, and baked it in a 9-inch pie pan. Why not? It's Tamale Cheese Pie, after all! A full recipe calls for a pan that is 11 3/4 x 7 1/2 x 1 3/4 inches. Here is a great reference page for pan sizes, that helped me choose the proper size of pan for my modified recipe: Joy of Baking website.
---
Did I learn anything from the recipe card? Yes! We really liked this version of tamale pie. My no-recipe version usually turns out with a lot more liquid, and we both liked it better this new (old) way. I also liked the way the cornmeal mush is on both the top and the bottom of the dish. And, I liked the flavor of beef stock in the cornmeal mush.