Cookbook #7: Elena's Secrets of Mexican Cooking. By Elena Zelayeta, Doubleday & Company, Garden City, NY, 1958. "Authentic Mexican cooking based on ingredients from your nearest supermarket."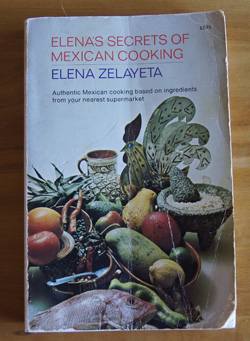 I have been cooking "Mexican" food as long as I can remember. I grew up in Southern California in the 50s, and my mother made tacos, enchiladas, and miscellaneous Mexican-style casseroles quite often. Today I'd classify these as "Tex-Mex" or "Southwestern" cooking rather than true Mexican cooking. They relied heavily on chile powder, green chiles, salsa, taco seasoning packets, onions, bell peppers, sour cream, and lots of jack or cheddar cheese. My own Tex-Mex cooking today is usually put together recipe-free, using past experience to free-form a meal.
Elena's Secrets of Mexican Cooking is likely the first cookbook that I purchased that talked seriously about the roots of Mexican cooking. It's a wonderful and friendly book. In her preface, she discusses the influence of the Aztecs, Spanish conquerors, the European Emperor of Mexico in the 1860s (Maximilian) on the food of Mexico. She talks about different regional cooking in Mexico, and how Mexican dishes common in the southwestern US are little known in Mexico.
Elena herself was born in Mexico, but immigrated to San Francisco as a young girl, where she learned more about the cooking of Mexico from the cooks at her family's inn. Quote: "Because of my many years in this country, I have learned what Americans like to eat. These recipes have been adapted to suit the palates of my American friends."
In the introduction to this book, written by her friend, you find out that Elena became blind when her sons were young. That did not stop her from cooking: she learned how to use knives, blenders, bone chicken, make pastry, and even fry food in hot oil! Amazing, and inspiring.
I'm sure that I purchased this book because I wanted to expand my knowledge of Mexican cooking. And it did just that! Several pages are dirty and it is well-worn. I made notes on the tamales recipe, and tucked the recipe off the back of a Masa Harina package in the book. I also tucked a newspaper page of Mexican recipes in the book, including one for sopaillas.
Today, in 2012, I find this 1958 book useful (and I marked several more recipes to try), but a lot of the recipes use sort of unusual ingredients (pig's head and feet, rabbit), or ingredients I'd rather purchase fresh (canned milk rather than fresh, canned tomatoes and canned tomatillos). One recipe calls for you to cook a bone-in chicken breast, and then bone it. Definitely not something I would do, with today's abundance of boneless chicken breasts. Sliced cooked eggs are added to many dishes. Romano or Parmesan cheese is used often, while cheddar cheese is rarely used. Many recipes call for canned pimento—large red sweet pepper similar to red bell peppers—but I haven't used these in years and don't know if they are still readily available. Happily, taco seasoning packets are never called for. But where is the cilantro, Mexican oregano, fresh garlic, queso fresco, the black beans? Today, that's the sort of ingredients I like in my Mexican-style food.
Today, many, many Mexican ingredients are available in our supermarkets. In 1958, Elena had to direct readers to some substitutions—this is a slight drawback because these substitutions are no longer necessary.
In conclusion, this book is still a pretty good reference for Mexican dishes. And it's delightful reading, so I will keep this book!
I chose to cook "Tamale Pie with Red Chile Sauce". This recipe uses masa, while my old standby tamale pie recipe uses cornmeal. Should be interesting. It also calls for lard. Lard has come back into some favor these days, since it is high in monosaturated fats that some believe have health benefits (google "lard nutrition" for current discussions). Finally, I have some cooked chicken that I need to use.
I know that I stated in my first 250 Cookbooks post that I would follow the recipes I found exactly as written. I realize now that was a bad idea. There is no sense tossing out my years of experience just to follow a recipe as written. So from now on, I'll scan in the original recipe, and then type in the recipe as I actually made it. That way, if I feel that a recipe needs more flavor or whatever, I will do what I think should be done to make the it better. After all, each recipe is not only an experiment, it's the meal I have planned that day for dinner! No sense eating something awful, or tossing it down the garbage disposal. If a recipe totally bombs, I will not type it in, and not include it in my recipe index.
Recipe: Tamale Pie with Red Chile Sauce
The original recipe is below. The "enchilada sauce on page 150" is: Wilt one chopped onion and 1/4 cup chopped green pepper in 1 tablespoon oil, then add 3 cups tomato sauce, 2 teaspoons chile powder, and salt to taste. (I had really hoped that this cookbook would give a recipe for an enchilada sauce that tasted really special. I'll keep looking.)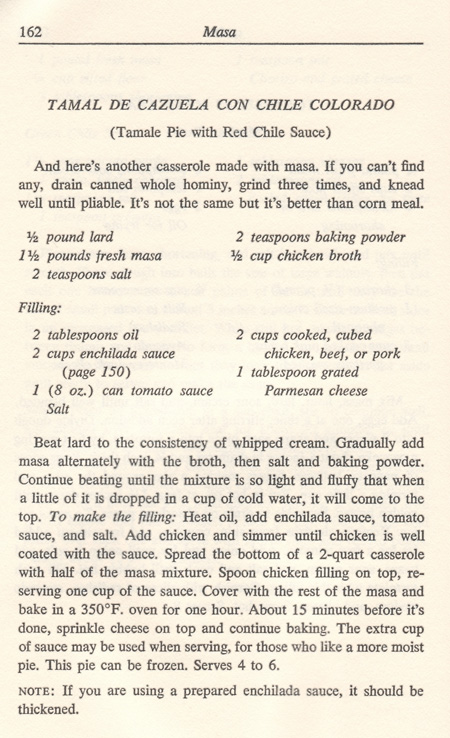 Results
Sadly, this recipe was a bust. I was so hoping it would work! The photo doesn't look so bad, and we were able to eat our meal, but we didn't go back for seconds, savor leftovers, nor will I make it again. The fault is largely my own. The big issue is that the recipe really called for fresh masa, not masa flour.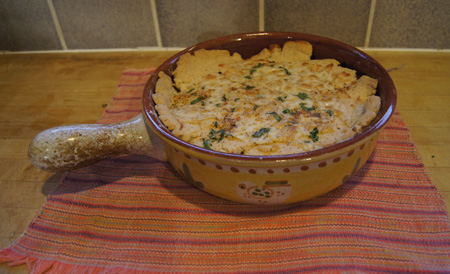 Re-reading Elena's book, I realize that fresh masa is a moist product. I have never seen it in a market. Right in the above recipe, she suggested grinding hominy to make it if it's unavailable. My own notes in her book tell me that I tried making tamales from masa flour using another of Elena's recipes calling for fresh masa, and that I had to add a lot more liquid than called for. I should have read all that before jumping into the recipe!
When I prepared Tamale Pie with Red Chile Sauce as above, I did add twice as much chicken broth to the dough as called for, because it looked dry. I should have added four times as much! The crust tasted okay, but it was heavy and dry. The filling was great, although I strayed from the recipe, adding corn, olives, a fresh tomato, and oregano, cumin, and fresh cilantro.
"I like your regular Tamale Pie a lot better!" said my husband. Me too. Here, I'll share it with you. I've made it many, many times. You could easily substitute cooked chicken or pork for the ground meat.
Tamale Pie
1/4 cup chopped onion
1/2 cup chopped bell pepper
1 pound ground beef
1 teaspoon cumin
1 teaspoon oregano, preferably Mexican oregano
1 teaspoon basil
2 teaspoons chile powder
fresh cilantro to taste
1 15 oz. can (chopped) tomatoes (use fresh tomatoes if you have them)
about 3/4 cup corn, canned or frozen or even fresh
1 small can whole olives (about 1 cup)
1/2 to 1 cup tomato sauce
1/2 cup cornmeal
1 1/4 cup water
1/2 teaspoon salt
1/2 cup shredded Cheddar cheese
Cook the onion and green pepper until slightly soft, adding a little salt to help sweat the onions. Remove them from the pan and save. Brown the meat and drain any fat, then add the cooked onions/bell pepper back to the pan, along with the spices, tomatoes, corn, and olives. Add tomato sauce to your own taste. Simmer for about 10 minutes, and of course, taste it and adjust the seasonings! Feel free to be creative. When it suits your own tastes, spread it in a 1 quart casserole.
Combine the cornmeal, salt, and cold water in a saucepan. Cook and stir until thick, just a few minutes. Spread the cornmeal mixture evenly over beef. (For convenience, as a working person I used to freeze the casserole at this point for baking later in the week.)
Bake at 350° for 40 minutes. Sprinkle cheese over top and bake 5 minutes longer. Serves 3-4.