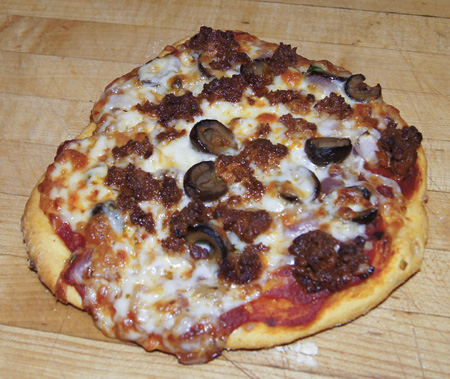 This Mexican Pizza is a bit unusual, in that the dough itself has several flavorings. I clipped the recipe from a magazine decades ago, and made changes over the years as my own cooking methods developed.
For many years, I cooked this as an 16-inch round pizza on either a cookie sheet, a perforated pizza pan, or a pizza stone, baking at 425˚ for 20 minutes. Lately, though, I've been making small, individual pizzas and rolling the dough thinner and baking at 475˚ for 15 minutes. We like it both ways, so I'll give directions for both methods.
Each time I make this pizza, I vary the toppings. Be creative! Chorizo is often one of my choices. It's a Mexican-style sausage. Often local stores carry locally-produced chorizo and every company that makes it seems to use a different recipe. Some are very spicy, some are very fatty. I always cook it first and blot with paper towels to get the fat off. And taste it to make sure it's not too hot.
Mexican Pizza
Full-size baking method
Dough:
3/4 cup water
1 teaspoon sugar
1 minced clove garlic
1/4 cup finely chopped onion
1/2 teaspoon salt
1 teaspoon paprika
dash cayenne
1 tablespoon oil
1 2/3 cup all-purpose flour
1/2 cup masa
1 tablespoon yeast
Necessary toppings:
12 ounce can tomato sauce seasoned to taste with cumin, chile powder, red pepper flakes, basil (fresh is best), and oregano (preferably Mexican oregano) – I like to simmer this mixture for about 15 minutes
12 ounces Jack cheese
4 ounces mozzarella cheese
Suggested toppings:
green onions or cooked red or yellow onions (I like to cook the onions until they wilt, and then add about 1/2 teaspoon each cumin and chile powder)
chopped, canned green chiles
chopped, cooked green or red bell peppers
chopped, cooked tomatoes
chopped cilantro
olives
chorizo or hamburger: cooked and wiped with paper towels to get some of the fat off
Put the dough ingredients in the bread machine. Set the machine to "dough" cycle. (The cycle should knead the dough and then rise it.) Watch the dough carefully during the first five minutes, and add more flour or more water if necessary to make a good ball of dough in the bread machine. (Example photos below.)
(If you don't have a bread machine, knead the dough until it's smooth, then let rise until double in bulk and continue with the recipe below.)
When the machine signals that the dough is done, take it out of the bread machine. Roll into a 16 inch circle about 1/4 inch thick. Lightly oil a pizza pan or a cookie sheet and place the dough on it. Top with seasoned tomato sauce, then the cheeses, then pick and choose from the suggested ingredients (or come up with your own ideas).
Bake at 425 degrees for 20 minutes.
Mexican Pizza
Small-pizza baking method

This baking method is more complicated but we like these personal, crispy pizzas. It's tricky because you need to assemble each pizza on a pizza peel and then slide onto the hot baking stone, and thus can only do one at a time. If you are making small pizzas for more than two people, I suggest you use a parchment-lined half-sheet pan instead of the baking stone. If you have 2 such pans, you could bake all four small pizzas at once.
Preheat a baking stone in the oven at 475˚ for 30 minutes.
When the dough is finished rising, cut it into 4 pieces. Roll each into 7-8″ circle. Sprinkle some corn meal or semolina flour on a pizza peel. One at a time, place the small pizza rounds on the pizza peel. Top with seasoned tomato sauce, then the cheeses, then the vegetables and meat. Transfer to the oven and bake 15 minutes.
My stone fits two small pizzas at a time. You can only prepare one pizza on the peel at a time, so I put them into the oven staggered. Just use a timer and remember which one you put in first. When the first two are done, do the same with the second two.
They have to cool a little before you eat them, and by the time you do eat them, you are ready for seconds and the next two pizzas are done. I always make all 4 small pizzas for the two of us. Yes, we have leftovers. Yes, we eat them cold. And yes, we each try to get to them first. Dibs!
Making small pizzas: photos
First, the dough. I know my bread machine, and usually, after 5 minutes a dough with the correct amount of moisture will begin clumping. Mine had not begun clumping: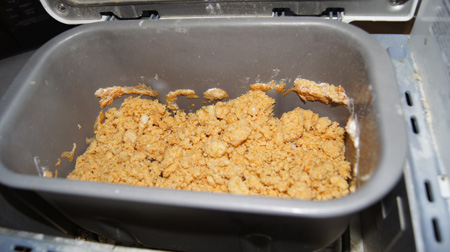 So I dripped in about 2 tablespoons of water, checked after a few minutes, and it looked right. Starting to clump: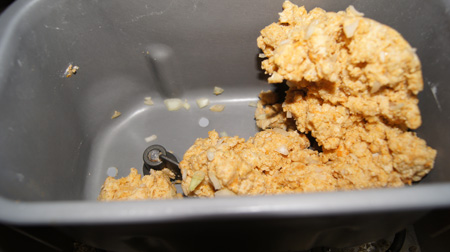 Here it is near the end of the kneading cycle: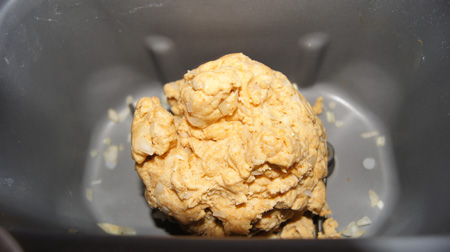 In the photo below, the dough is finished and my sauce (in the pan), cheese, and toppings are shown mise en place. I chose red onions, butcher counter fresh chorizo, whole olives cut in half, and cilantro as toppings – and the jack and mozzarella cheeses of course. I like to saute my onions in a tiny amount of oil, salt to sweat, and then when they are soft, sprinkle with Mexican oregano, cumin, and hot chile powder. I was told in cooking class that one reason to cook onions before using in a dish is to make them more amenable to taking up seasonings. It works: these seasoned onions are very good on their own, and definitely perk up the pizza.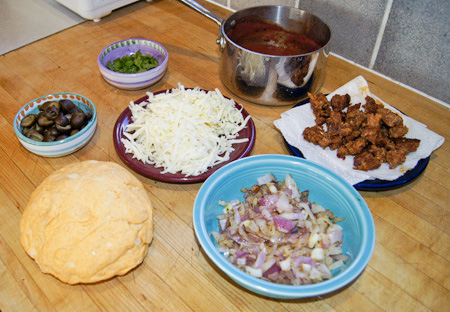 Here is a small pizza on the pizza peel, ready to go into the oven. The cooked pizza is at the top of this page.