Time to write down a recipe for something that I have always cooked without a recipe. It's something that I just "throw together". But this one needs to be shared, it's that good and simple.
I used to take inexpensive cuts of meat and cook them for hours in onions, seasonings, and stock. When tender, I'd stir in a bit of sour cream and serve over noodles or rice. Comfort food. In the last several years, my old method for making this dish gravitated towards the recipe below. Instead of tough meat, I use pork tenderloin. This version only takes about 30 minutes prep and cooking time.
My husband asks: "What is that dish you are making?" and I never know what to call it. It emerged from my repertoire unnamed. Is it a stroganoff? A goulash? A paprikash? I really don't know. All I know is that it's very good, easy, and low-calorie (especially if you use non-fat yogurt).
You might already make something like this, but if not, try this easy recipe. I've named it "Pork with Paprika and Mushrooms".
Pork with Paprika and Mushrooms
9-11 ounces pork tenderloin, cut into 1/8-1/4-inch round or scallop-shaped pieces
1 small onion
1/2 red bell pepper, sliced (optional)
2 teaspoons paprika
2 tablespoons flour
1 cup chicken broth
3-4 ounces mushrooms (about 4 large), sliced
3 tablespoons sour cream or Greek non-fat yogurt
noodles (3 ounces dry will serve 2 people)
Halve the onion, then cut into slices. Saute in a little hot olive oil (add the bell pepper slices too if you are using them). When it begins to soften, add the pork tenderloin and cook a few minutes, until all the pieces are browned on all sides. Add the paprika and flour and stir until the flour is incorporated, then stir in the chicken broth and mushrooms. Season with salt and pepper to taste.
Simmer the mixture, covered or uncovered, for about 20 minutes. While it simmers, cook some noodles. Currently, I like pappardelle noodles. These are wide, long noodles, usually sold dry and nested. Fettuccini would work well too, or short, wide noodles.
When you are almost ready to serve, stir in the sour cream and gently heat for a minute or two. To serve, spoon the pork mixture over the noodles.
Here's how it looks just before you add the sour cream/yogurt. You want a small amount of thick gravy, since the sour cream will thin this sauce.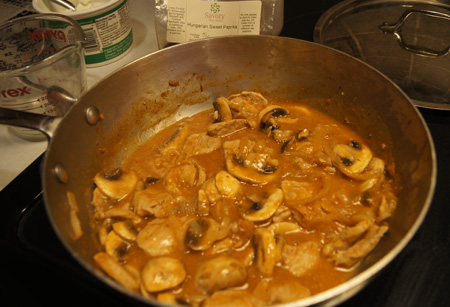 Here it is, plated.