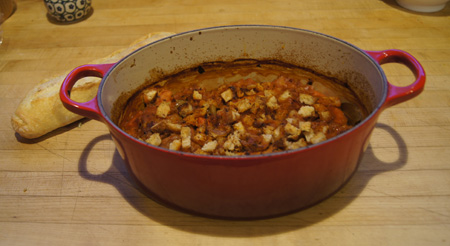 I call this "Botched-up Cassoulet" because I do know that a cassoulet is a famous French entree that if prepared according to tradition, is complicated and takes days to prepare. I have an e-mail from a "fellow food fiend" who describes making this dish:
I have been cooking for three days. First I made a complicated true French cassoulet including sausage, lamb and duck. I even bought these wonderful white beans that I can only get in the Bay Area. When we were there over the weekend I stocked up. I wish you could see these beans, they are so beautiful I can barely stand to cook them. They look nothing like beans in a bag.
I looked up "cassoulet" in my authoritative cookbook, The Best International Recipe (from Cook's Illustrated, Christopher Kimball). Sure enough, a cassoulet recipe is offered: flageolet beans, boneless pork shoulder, garlic pork sausages, and confit duck legs. The duck confit alone takes over a day to make. And the authors admit that even this is a toned down version, appropriate for a home cook. (But we all know, hint hint, that a true cassoulet can only be made by a properly trained chef.)
I offer instead a tasty version that is very good and can be relatively low in fat. While being high in fiber and nutrition. And being very easy to make. The original recipe is from one of my slow cooker cookbooks. I've made this tons of times and included it on the short list of recipes in my 1990s blog. It's yummy, even to my non-bean-loving dining partner.
Botched-Up Cassoulet (crock pot method)

1990s note by me: A true European "cassoulet" is, I believed, baked in a special ceramic casserole under special conditions. I remember reading about it once. It is one of those esoteric topics that true chefs like to go on at length about. Here is my version. Do not be afraid to substitute anything, just keep the total liquid to the amounts specified.
Serves 2-3 people.
15 oz. can navy beans*
8 oz. can tomato sauce
2 carrots cut into 1/2 inch pieces
1 stalk celery, cut into 1/2 inch pieces
1/2 cup chopped onion
1 clove garlic, minced
1 bay leaf
1/2 teaspoon basil (use a tablespoon of fresh basil if you have it)
1/2 teaspoon oregano
1 cup water plus 1 teaspoon chicken bouillon (or use chicken stock)
about 1 cup chicken, cooked or not
about 3/4 cup ham or sausage
Put it all in the crock pot and cook on low 10-12 hours.
*Navy beans are those small white beans, often sold as Great Northern beans. Instead of using canned, you can buy them dry, soak overnight, and boil, with salt to taste, until done.
Non-crock pot method
You might note that the photo at the top of this page reveals that I cooked the cassoulet in a Le Creuset rather than a slow cooker. Sometimes I prefer to cook it this way. Part of the problem is that my current slow cooker is pretty big and a meal for two people gets lost in it. So, the following is my method for baking the cassoulet in a covered casserole. I like to cook the onions first, and the Le Creuset allows me to do that on the stove top and then add the rest of the ingredients for the baking step.
Directions: Use the same ingredients as listed in the slow cooker method, above. Begin by cooking the onions until they are soft, then add the garlic and cook 30 seconds. (If your casserole cannot be used on the stove top, you can skip this pre-cook step.) Combine all of the ingredients in the casserole and cover it. (My choice for chicken is bone-in, skinned thighs. I used three of these chicken thighs along with a half-cup of ham for the two of us when cooking the cassoulet in the photo.)
Bake at 325˚ for two hours. Then, uncover, turn the oven up to 400˚, and cook for about another 20 minutes. Check a couple times during this uncovered baking period; it's time to take it out of the oven when most – but not all – of the liquid has evaporated.
This is extra good with some bread crumbs on top. So if you want to, roughly shred  enough sourdough bread to make about 3/4 cup crumbs. Saute these large crumbs in a small amount of butter. Put on the uncovered casserole in the last 15 minutes of the baking time.
Read the introduction to my 1990s cooking blog for background information.