Cookbook #213: Sunbeam Controlled Heat Automatic Frypan, Sunbeam Corporation, Chicago, Illinois,1953.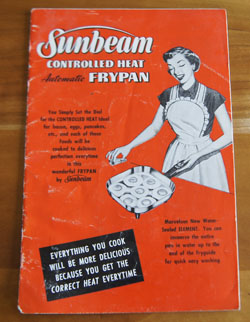 I discussed electric fry pans in Hamilton Beach Automatic Heat Control Appliances, the recipe/instruction book for my fry pan. This booklet, Sunbeam Controlled Heat Automatic Frypan, was my mother's. It must have come with her own fry pan – a Sunbeam model – in 1953. I wrote a note in my database: "I like the photo on the front". Here is a close-up scan of the front cover: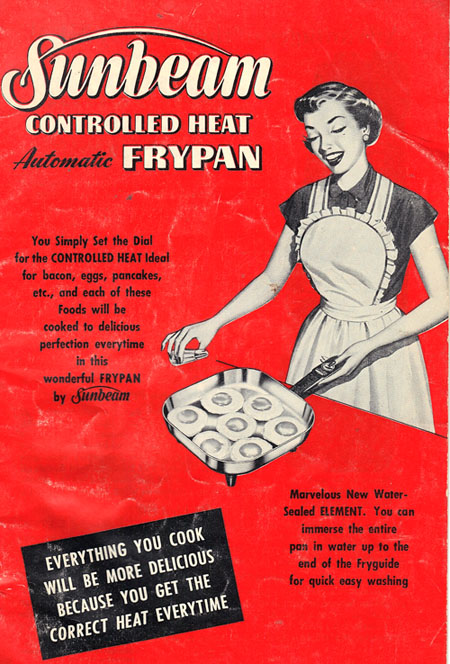 After 5 pages of instructions, there are about 12 pages of recipes. The first section is recipes for "Pan-broiling, Sauteing, Frying and Toasting Sandwiches", including pan broiled steak, breaded steaks, meatballs, hash, lambburgers, salmon patties, omelet, fritters, corn fritters, potato patties, vegetables, and toasted (grilled) sandwiches.
The second section is recipes for using the fry pan with a lid. "Adjust dial to keep liquid just bubbling when light is on, a setting of about 200-240˚." It includes recipes for pot roast, Swiss steak, stews, braised meat chops, veal rolls, chop suey, sukiyaki, meat balls, barbecued hamburger, chicken fricassee, scalloped potatoes, fried potatoes, hamburger macaroni casserole, fried chicken, baked beans, and frankfurter casserole.
All of the above recipes reflect the cooking of the mid-twentieth century. And in fact, many of these recipes are similar to what I cook today. But I fry in a good, heavy (shall I add expensive?) non-stick pan on the stove top, and I braise in good, heavy iron or enameled pots in the oven.
The next section is for baking cakes in the fry pan. No no no, that's not for me. Packaged cake mixes, brownies, coffee cakes in the fry pan – and I really don't think it would be easy to invert the fry pan and get these baked items out cleanly. I'll stick to baking in the oven.
Other uses for the fry pan include popcorn, fudge, frying doughnuts, baked potatoes, cooking vegetables and cereal, heating baby foods, crisping crackers, defrosting, heating TV dinners ("frozen tray dinners"), baking frozen foods (including pizza), as a chafing dish, and for making white sauce. From this wide breadth of uses, it seems that a person could cook just about anything without a stove. This might work for staying in cabins, or for marginal housing arrangements. For us, we could use it in a power outage, since our backup generator gives us good but limited household power.
The back cover: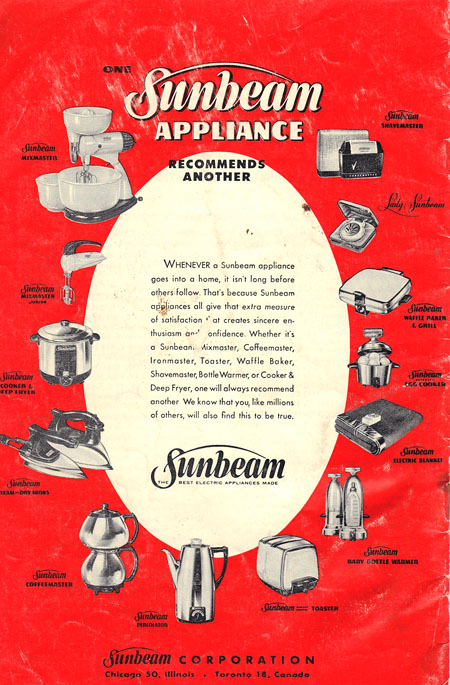 Look at all the Sunbeam appliances! Mixer (see my old Sunbeam mixer post), deep fryer (see my Sunbeam deep fat fryer post), irons, coffee pot, toaster, baby bottle warmer (interesting, since I just did a post on how to feed your baby), electric blanket, egg cooker, waffle maker, Lady Sunbeam razor, and shavemaster.
I am going to keep this cookbook. Not for the recipes, but for the nostalgia. Brings back memories.
For this blog, I will make Corn Fritters.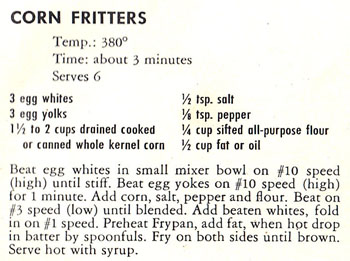 Hey, in the directions they spell egg yolks "yokes!" I almost didn't catch that.
I am making these for just two, so will one-third the recipe. I am not about to get out the big frypan just to make a small batch of fritters! I choose a medium non-stick frypan. I know how big the frypan is, and 1/2 cup oil would cover the bottom, but not fill it to the depth of deep frying, so I adjust my amount of oil by that guideline. Instead of serving them with syrup, I'll have them as a side dish with one of my favorites, Southwestern Chicken.
1 egg white
1 egg yolk
2/3 cup cooked corn (I used fresh corn)
1 1/3 tablespoon flour
salt and pepper
vegetable oil
Beat the egg white until stiff. In a separate bowl, beat the egg yolk on high for about half a minute, then turn to low and add the flour and salt and pepper. Stir in the corn. Fold the egg white into the egg yolk mixture.
Heat a pan to medium hot. Add enough oil to nearly cover the bottom, maybe a couple tablespoons. (You could get by with less when using a good nonstick pan.)
Drop in the corn fritter batter by spoonfuls. Fry on both sides until golden brown.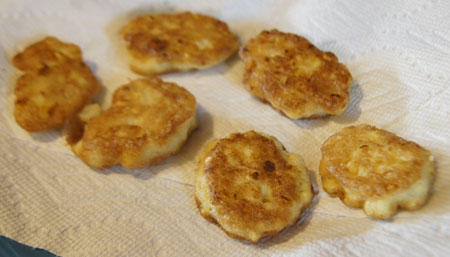 I liked these! But, my dining partner wasn't impressed. The Southwestern Chicken was enough for him. I think these would have been good with syrup, as suggested in the recipe. I would like them fried in less oil than I used. This is a good recipe for very easy corn fritters; I just need to figure out how to include them in a dinner – or breakfast – plan.