Cookbook #27: Pillsbury's 14th Grand National Bake-Off Cookbook. From Pillsbury, 1963.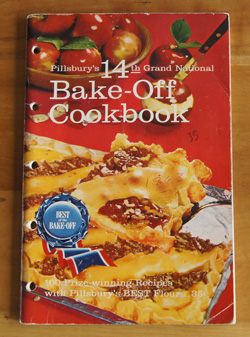 This is another of my mother's Bake-Off Cookbooks. So far I've done two Bake-off years: 1964 (Cookbook #4) and 1959 (Cookbook #10). I refer you to the 1964 blog post for a more thorough discussion of these booklets and an explanation of Mother's rating system for recipes.
In one of the bake-off cookbooks I found a favorite recipe that I had copied for myself after I left home: Angel Squares in the 1964 booklet. And in the odd Spry booklet I found (and scanned) the recipe for Tom Thumb Bars. So as I page through this booklet, I wonder if I will find another old favorite …
Here are the recipes Mother marked as tried: Lemon Luscious Pie, Caramel-Nut Surprise Pie ("kinda rich"), Treasure Chest Bars (with a note to check out the Jim Dandies in the 10th Bake-off), Bake and Slice Chocolate Swirls, Butterscotch Best Cake, Apple-Scotch Cake, English Toffee Cake, Cherry Streusel Special, Sunshine Dream Bars, … Fudge Nut Layer Bars … I know those! Mother called them "Fudge Nut Bars", and they are one of my favorite cookies. I have the recipe on a card! Here is the original: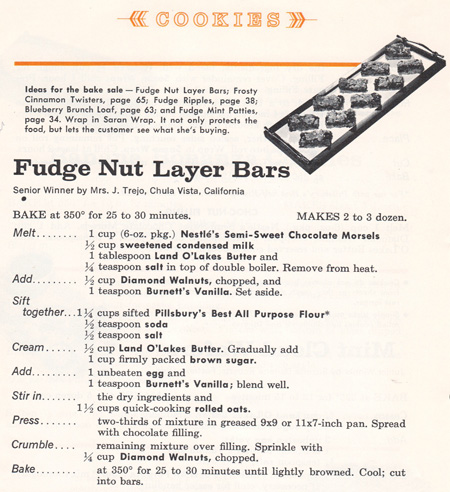 One recipe is marked as double-underlined "delicious!" by none other than: me! The recipe is for "Chocolate Coated Macaroon Bars". I seem to remember making a cookie that tastes just like a Mounds Bar, and I think this must be the recipe.
I'm tempted to try the recipe for "Cheeseburger Casserole". In it a mixture of hamburger, tomato soup, peas, and onions is topped with chunky-cheese-filled homemade biscuits. What great comfort food! Maybe some day when I hanker for a guilty pleasure I'll make it for dinner. But not this week. (Here's an updated version of the recipe below.)
I decide to try the "Bake and Slice Chocolate Swirls". Cookies are a better idea because extras are easy to give away or freeze.
Bake and Slice Chocolate Swirls
1 cup semi-sweet chocolate chips
1/2 cup sweetened condensed milk
1 tablespoon shortening
3/4 cup butter
1/2 teaspoon salt
1 teaspoon vanilla
3/4 cup brown sugar
2 cups flour
3/4 cup walnuts, chopped
Combine the chocolate chips, sweetened condensed milk, and shortening and heat in the microwave (or on the stove top) until the chips melt. Cool slightly.
Cream the butter with the salt, vanilla, and brown sugar. Blend in the flour and mix well. Add a little milk if the dough does not hold together (I added about a tablespoon of milk).
Divide the dough in thirds. Roll each third out on a floured surface to a 10×6-inch rectangle. Spread with filling and sprinkle with the walnuts. Roll up, starting with the 10-inch side. Place the three rolls on a cookie sheet.
Bake at 350˚ for 20-25 minutes until light golden brown. Cool slightly before removing from cookie sheet. Sprinkle with powdered sugar. Cool; wrap in plastic wrap.
To serve, cut into slices about 1/4-inch thick.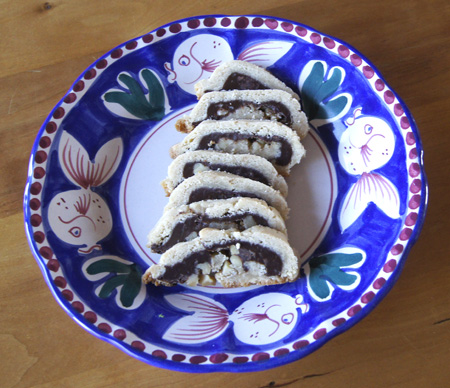 These are indeed, "very good". I'm not surprised: how can you go wrong with cookie dough and chocolate and nuts?
I just have to share one more page from this book. Below is a pie recipe that has a caramel layer topped with a cream layer. My mother says it's "kinda rich". Cracks me up. (I still wonder how she made so many pies and cakes and cookies and still kept her weight down.) Note that in spite of the fact that it's kinda rich, she still put cool whip on top. Ah, those were the days.