Cookbook #28: The Settlement Cook Book. The Settlement Cook Book Company, 3rd edition, Simon and Schuster, NY, 1976.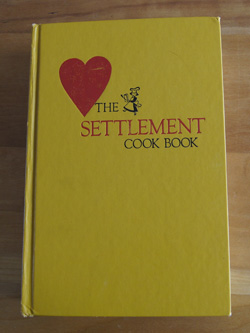 My copy of The Settlement Cook Book is in nearly mint condition. None of the recipes in this book look familiar, or are marked or used (e.g., no food stains). I forget why or when I bought it. Why is it on my shelf, and why have I never used it?
Okay, time to settle in with this Settlement book and figure out what it is about.
I begin with the preface. The Settlement Cook Book "all started in Milwaukee, Wisconsin, around the turn of the century." At that time, "there were vast migrations of people from Europe seeking freedom and a better life…" A group of volunteers organized classes in American life and ways, the English language, citizenship, sewing, and cooking. These classes were held at a neighborhood house called "The Settlement".
Mrs. Simon Kander (Lizzie Black Kander) was in charge of the cooking classes. So that her students wouldn't have to copy recipes from a blackboard, she decided to have them printed. In April 1901, a 174-page book titled "The Way to a Man's Heart . . . The Settlement Cook Book" was produced. The profits from sales of the book were put back into the Settlement House project. Seventy-five years later (1976) one and three-quarters million copies of The Settlement Cook Book in revised and expanded versions had been sold.
This cook book has a ton of recipes. It's long – 757 pages, including an index of about 100 pages. The book has tips on menu planning, illustrations on the cuts of meat, cooking term definitions, weights and measures, and here, on infant feeding:
"Usually a newborn is allowed to rest for the first 12 hours after birth. Then he is offered sweetened water. His first drink is prepared by measuring 3 ounces of water (6 tablespoons) into a bottle. Add one teaspoon of sugar and shake gently to dissolve. Put the nipple on and boil the entire bottle and contents for 10 to 20 minutes."
Well, that's a good illustration of how dated this book is. Following are some more examples of instructions and recipes in The Settlement Cookbook.
"Fried Eggs" tells you how to fry an egg, and the next recipe is how to cook bacon. In a later chapter are instructions on how to make ice cream sundaes and root beer floats. I seem to have been born already knowing how to cook eggs and bacon and make sundaes and floats, and don't need these recipes. Advice is given for serving drinks at midday: drinks notable for their smoothness are Clover Leaf (gin, strawberries, lime, egg white) or Pink Lady (gin, apple brandy, lime, grenadine, egg white) cocktails. If you need to start a wood fire, you can find instructions on page 646. The book also tells you how to wash dishes by hand. And how to arrange dishes on a buffet table.
The entree recipes are typical Americana: lots of casseroles prepared by opening soup, bean, and vegetable cans and mixing with some sort of meat. A "Chicken Stroganoff" recipe is made from cooked chicken, canned mushrooms, and cream of mushroom soup. Boring, and not as good as my own good stroganoff. "Southern Spaghetti" has pasta, bacon, onions, raw beef, kidney beans, peas, tomatoes, mushrooms, green peppers … it serves 15 people! How about a baked trout loaf, or tuna a la king? There are many recipes for cookies, cakes, and pies but they are pretty basic, nothing like the Pillsbury Bake-Off recipes.
This book could be used by someone researching the history of American cooking in the first six or seven decades of the twentieth century. But the recipes hold little interest to me. If this book had been in my family for years, I might be "tied" to it, but that isn't the case. I will take The Settlement Cook Book to a local library or used book store for recycling.
I still need to cook a recipe from this book, that's my "deal" with myself. Page after page I turn, shaking my head at recipe after recipe. I finally settle on a breakfast item: "Gingerbread Waffles".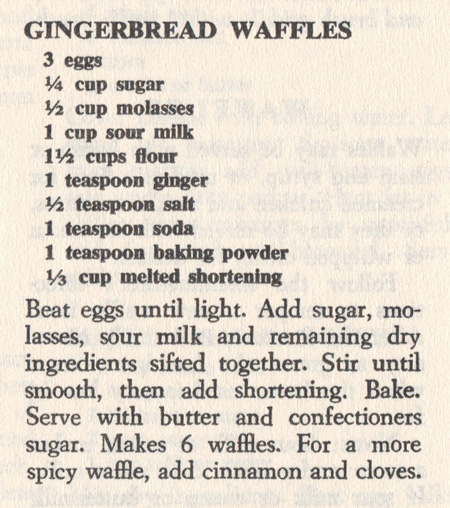 These turned out pretty good. As suggested in the recipe, I added a teaspoon of cinnamon (but not cloves). I used vegetable oil instead of melted shortening. And I served them with maple syrup (and fried eggs) and they were quite tasty. They tasted like, well, gingerbread. But they weren't very light. I won't make them again, and thus I won't enter this recipe into my recipe index.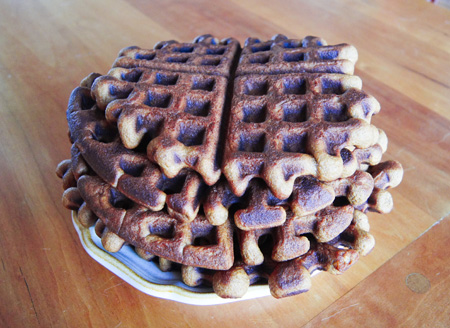 If you want to try the recipe, follow the scanned-in directions (above), but separate the eggs. Put the yolks in the batter with the other liquid ingredients, then beat the egg whites until stiff and fold them in gently at the last minute. "Sour milk" can be made by putting a teaspoon of vinegar in a cup of milk; my suggestion is to use buttermilk instead, and oil instead of melted shortening.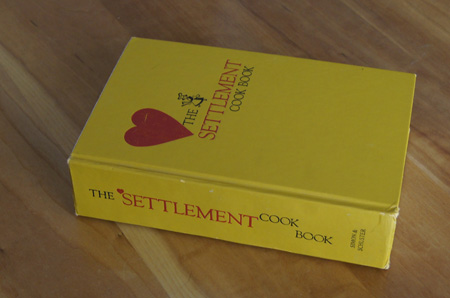 Update May 2013: After I posted about the Settlement Cookbook, a woman from the Jewish Museum Milwaukee contacted me and asked me if I would like to donate the book to their archives. She said "I can promise it will be loved!" So, I sent it off to it's new home, and feel really good about it.