Cookbook #30: The Bread Machine Cookbook II. Donna Rathmell German. Bristol Publishing Enterprises, San Leandro, CA, 1991. (Nitty Gritty Cookbooks)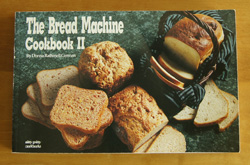 This is a great little cookbook for anyone who has a bread machine. When I first started using a bread machine, I learned as much from this book as I did from the instruction manuals that came with the machines. The first chapters have straightforward instructions and questions and answers about what to watch out for when using a bread machine to make yeast breads; the rest of the pages are recipes for over 100 different breads. This cookbook is especially helpful for making bread from many different types of flours and grains. I am glad that I re-discovered this book for my 250 Cookbooks project!
I cover bread machine basics in my recipe for "My Daily Bread". Just so you know: I use the machine to knead and rise my yeast breads, and then bake them in a conventional oven.
I decided to try "Rye Beer Bread". This particular recipe is half rye flour; my old favorite recipe is only one-third rye flour. That fact and the addition of beer should give this bread a nice flavor and hearty texture. I'm adding caraway seeds too – what's a rye bread without caraway seeds?!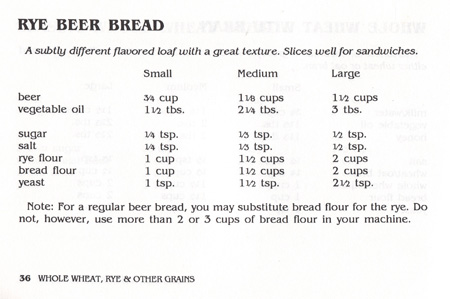 Note how the above recipe simply gives the amounts for different sizes of loaves; I usually begin with about 1 cup of liquid so I chose the middle size. Instructions for using the machine are given in the introductory pages of The Bread Machine Cookbook II and are not repeated in each recipe. The version below indicates how I adapted the recipe for the way I always make bread.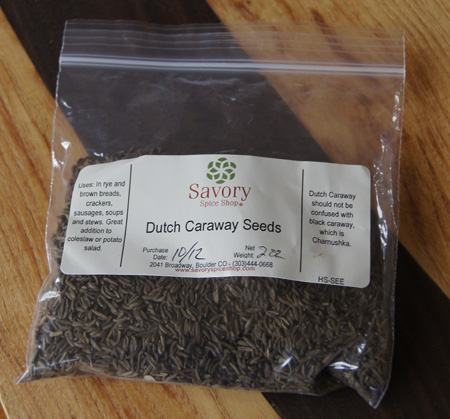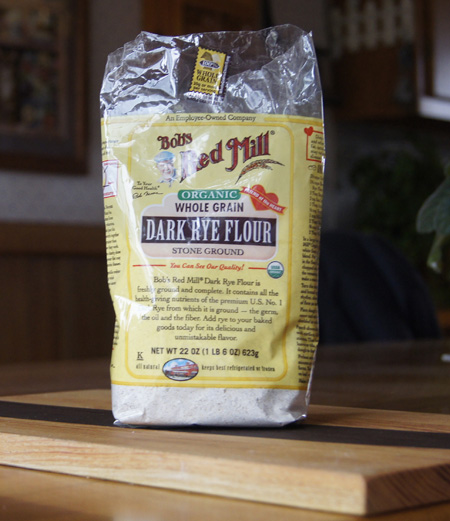 Rye Beer Bread
makes one 8½ x 4½-inch loaf
1 1/8 cups beer (I used a good local microbrewery pale ale)
2 tablespoons vegetable oil
1/2 teaspoon sugar
1/2 teaspoon salt
1 1/2 teaspoons caraway seeds
1 1/2 cups bread flour (8 ounces; I included a little gluten flour)
1 1/2 cups rye flour (6 1/2 ounces)
2 1/2 t yeast
Put all of the ingredients in a bread maker and set to the dough cycle. (Choose a cycle that both kneads and rises the bread.) Watch the dough as it kneads and add a bit more flour or a little water if necessary to have a smooth, non-sticky ball of dough.
When the dough/rising cycle is done, take the bread out of the bread maker and form into a loaf. Place in a small loaf pan (8½ x 4½-inch). Bake at 385˚ for 25 minutes.
My dough was a little sticky, and I should have added a little more flour. This is reflected in the photo of the baked loaf; it fell just a little as it baked, you can see some deep dimples on the top. It was still excellent.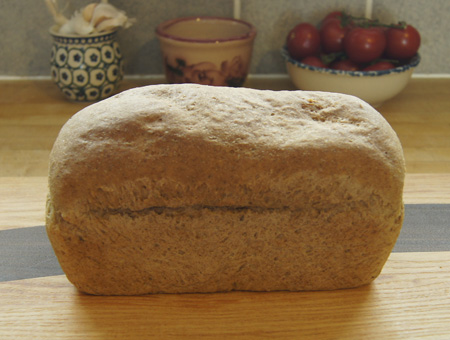 Sliced, the bread looks great. I used it to make corned beef sandwiches for lunches several days in a row.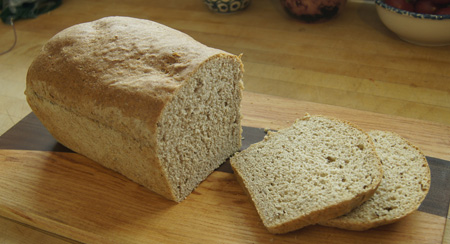 And yes, I am going to keep this cookbook!