Cookbook #35: Woman's Day Encyclopedia of Cookery, Vol. 2, Bea-Cas. Woman's Day, Fawcett Publications, NY, 1967.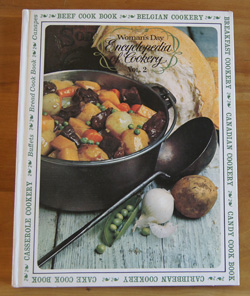 This is the second in a series of 12 food encyclopedia volumes. I discussed the first in an earlier post. Briefly, these cookbooks are interesting sources of information about food items and cooking methods. Sure they are dated, but I always find something in them that is interesting or odd. And a good recipe or two.
The first entry in this cookbook is "Bearnaise". The first interesting entry is "beaten biscuit". I have never heard of these, so I read on:
"This crackerlike Southern bread harks back to pre-Civil war plantation days when kitchen help was assured, for labor, not a leavener, softens the gluten of the flour in these biscuits. They are baked slowly, are of a pale gold color, and have a characteristically dry brittle texture … There were beaten-biscuit machines, consisting of a marble slab or a wooden box with a double roller and a handle to turn. The dough was put through the rollers many times, or until it blistered and became smooth. Beaten biscuits are part of America's food folklore."
Interesting! You can google "beaten biscuits" for updated recipes, if you are interested.
Continuing on to the B's, I find "beef". "Beef is the flesh of an adult animal of the Bovidae family of ruminants which has been killed for food." The section goes on to discuss more beef history, then cuts of beef, cooking times and methods, and recipes. My mother tried and liked the meat loaf recipe, but not the beef with noodles one. At beets, she liked the pickled beets. At breads, she tried "limpa" (a round rye bread) and potato rolls.
The buffets entry is interesting:
"In French culinary language, a buffet indicates a good-size tiered table on which various dishes have been arranged in a decorative manner and, by implication, a restaurant that has such an arrangement. But even in French-speaking countries, the word is also used for an informal restaurant where a quick meal can be found, such as in Buffet de la Gare, "a station restaurant." In America, the word buffet is used as a term for a meal where the guests help themselves from a table on which the foods are placed in a decorative array. Buffet entertaining has become popular in recent years for three good reasons. First fewer people have servants in this modern era … third, informality is the keynote of much of life today … but buffet meals do require careful planning and special equipment."
(Fewer people have servants??)
On to cakes. I have enough cake recipes, but if I ever want to make the Chocolate Charlotte Russe cake, which includes ladyfingers, I'll know that my mother tried and liked it. She also liked the Sweet-and-Sour Red Cabbage.
"Canadian Cookery" is followed by "Candies". I don't make candies anymore, but I'm making a note to myself that in this book, in this section is Mother's divinity recipe that I could never find before! Divinity is a candy made from corn syrup, sugar, egg whites, vanilla, and chopped nuts. I remember divinity from childhood. She clearly used the recipe in this book, as it is marked with her notes. There is also a recipe for penuche, a brown sugar candy, although she did not mark this recipe. I remember penuche, too, from childhood.
Canning, carving, and finally casseroles round out this volume.
I decided to try the "Potato Rolls" from the section on breads. I like that it uses a potato rather than dried potato flakes, and my mother had marked the recipe as "Delicious".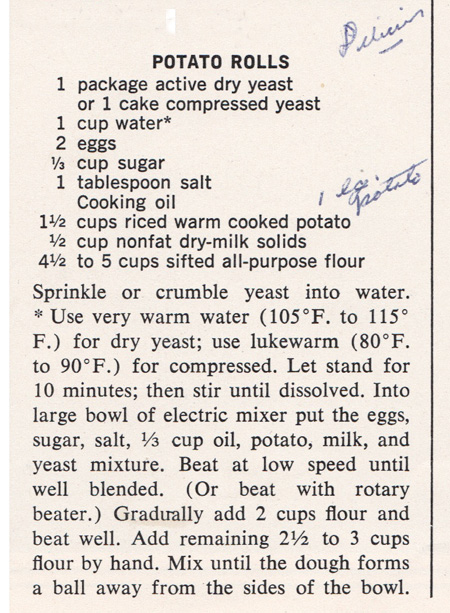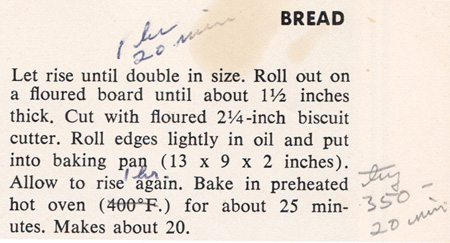 I will make a half-recipe but other than that, I plan no changes to this recipe.
1 1/2 teaspoons yeast
1/2 cup warm water (105-115˚ F)
1 egg
2 1/2 tablespoons sugar
3/4 teaspoon salt
2 1/2 tablespoons oil
3/4 cup riced cooked potato (boil or microwave a medium potato, then skin it and mash it well with a fork or masher or put it through a ricer if you have one)
1/4 cup dry milk
2 1/4 to 2 1/2 cups bread flour
Sprinkle the yeast into the warm water and let stand for 10 minutes, then stir until dissolved.
Put the yeast mixture and the egg, sugar, salt, oil, potato, and dry milk into an electric mixer and beat at low speed until well blended. Gradually add 1 cup of flour and beat well. Slowly add an additional 1 1/4 to 1 1/2 cups flour, first using the mixer, then by hand. Add enough flour so that the dough forms a ball away from the sides of the bowl. You do not need to knead this dough.
Put the dough in a lightly oiled bowl and let rise until double in size (less than an hour in a warm kitchen).
Press the dough out on a floured bread board until it's about 1 1/2 inches thick. You can use a roller, but it's hardly necessary. Cut with a 2 1/4-inch biscuit cutter, re-rolling the dough as necessary. Make about 9-10 rolls. Place the rolls in a buttered 8×8″ baking dish. Let rise again until they puff over the top of the baking dish; this will probably take a little more than a half hour if your kitchen is warm.
Bake at 375˚ for about 25 minutes.
Serve immediately with hot butter!
Comments
These turned out great!
You don't need a potato ricer, I just used one for the fun of it. However, my ricer leaves a lot of un-riced potato stuck in the bottom, so to make the necessary 3/4 cup, I had to hand-mash what the ricer missed. Turns out, my dough looked a little lumpy. I suggest you mash the potato thoroughly with a fork, then mix it well during the blending step in the mixer.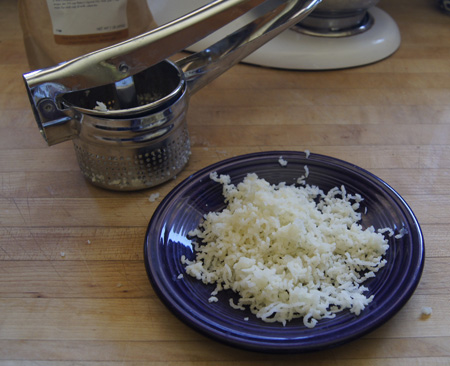 Here is my lumpy, unrisen dough: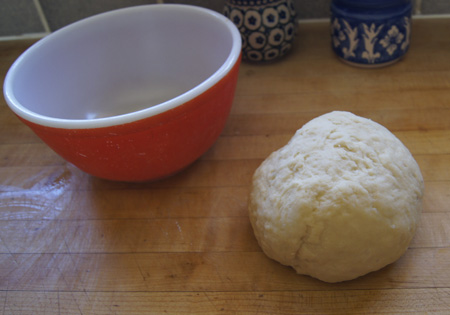 Risen dough: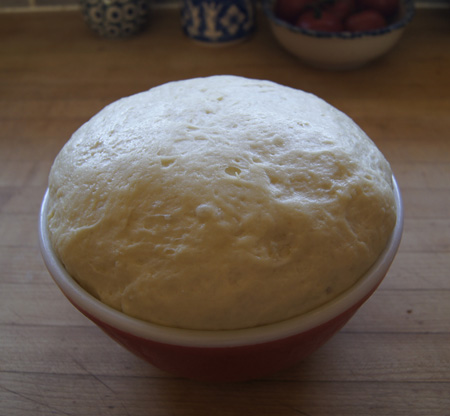 I plopped the dough out onto a floured breadboard. Then I used a roller on the dough and wished I hadn't. After brief rolling, the dough thickness was under 1 1/2 inches, and when I cut out a roll, it smushed down even further.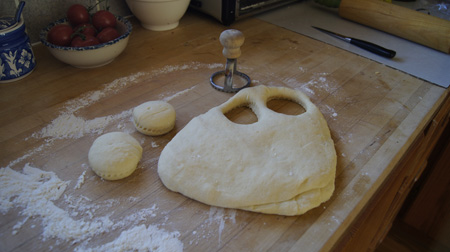 So, I ended up with about 12 rolls, and only 9 fit in the pan. I put the others in a separate pan.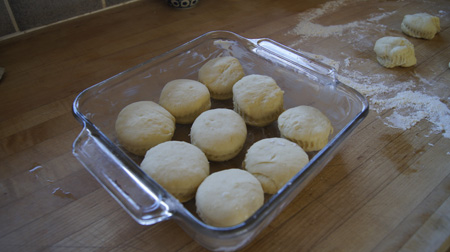 Note that the above nine rolls are not quite touching. By the time they rose for about half an hour, they looked like this: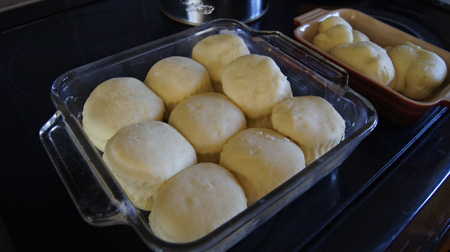 You can see the extra three malformed rolls in the other pan.
After baking, the rolls are golden brown and light and puffy: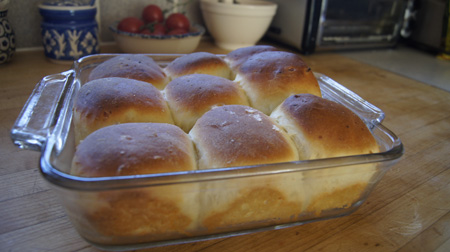 I couldn't resist. I just had to taste one. And they literally sang out butter! I put one on a plate and pulled it apart and put some butter on it. It took a lot of willpower to stop to take a photo before putting this roll in my mouth.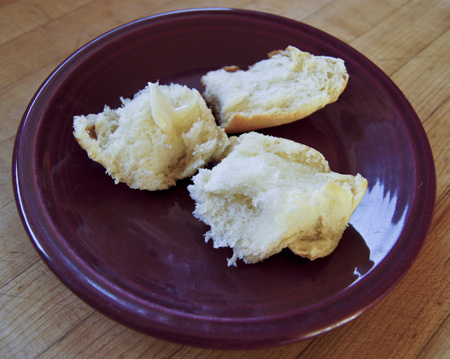 Soft and yummy and as good as the aroma promised. I'll make these again.