Cookbook #42: Cookies, Bars, Brownies (Pillsbury Classic Cookbooks). The Pillsbury Company, Minneapolis, MN, 1994.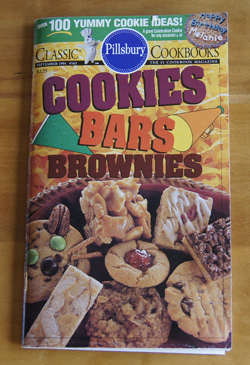 I know why I stopped baking cookies: They just taste too good! I made the Hearty Apple Cookies from this cookbook and ate one and wanted MORE! Now, why can't plain brown rice do that for me? Or carrots? Or tofu? Life's not fair.
I have already discussed Pillsbury cookbooks/booklets in this blog, a few of the Bake-off Cookbooks and one of my favorites, Simply From Scratch. I have over 20 Pillsbury booklets. This particular one I am not going to keep. I had marked only one recipe in it, and this week as I paged through the booklet, only one other recipe stood out as one that I wanted to try: "Hearty Apple Cookies". I like these because they include ingredients that have some nutritive value: whole wheat flour, raisins, nuts, apples, and oatmeal.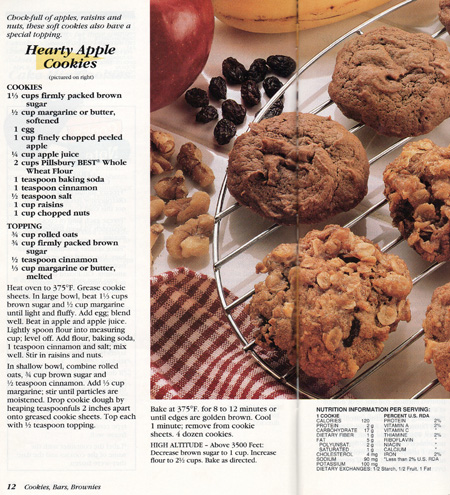 I want to make some changes in this recipe. First, about the "whole wheat flour" called for in the recipe. I keep three types of whole wheat flour in my pantry:
whole wheat flour (traditional, sold my many manufacturers)
white whole wheat flour (King Arthur Flour; sometimes in supermarkets)
whole wheat pastry flour (in supermarkets, sometimes in the bulk section)
I decided to use whole wheat pastry flour in these cookies. Next, I have some great golden raisins or sultans that I bought for the Butterscotch Oatmeal Raisin Cookies, and I want to use these instead of dark raisins. Instead of apple juice, I'll use boiled cider (from King Arthur Flour). This packs a lot more apple punch than mere apple juice. It's great stuff: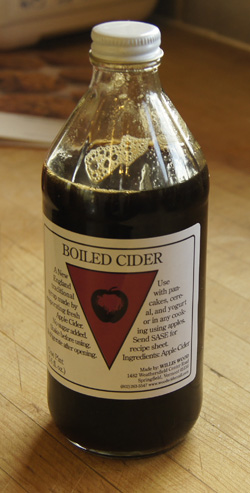 For the oatmeal, I'll use rolled oats from Bob's Red Mill. These are particularly good oats, big and fluffy: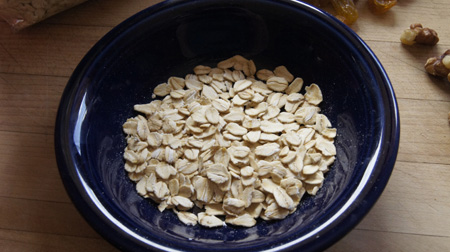 I assembled my ingredients: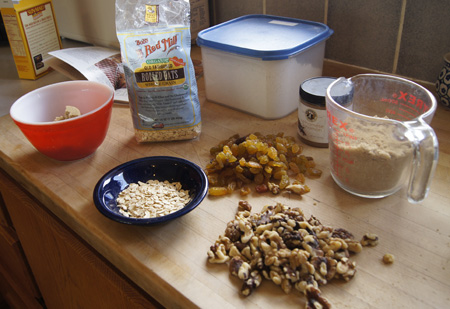 And prepared the cookies as per the above scanned-in recipe. I thought that they flattened out too much as they baked. They definitely looked a lot flatter and more spread out than the photo that is next to the scanned recipe. The reason for this is either (1) type of flour (2) amount of flour or (3) choice of butter over margarine. I tried adding some all-purpose flour to the remaining batter, and it worked. That batch baked up like the cookies in the photo. But both flat and tall cookies taste equally good!
In the recipe below, I include the additional flour so that the cookies look a little better when cooked. I photographed both kinds to let you know what I'm talking about.
Hearty Apple Cookies
makes 4 dozen cookies
1 1/3 cups firmly packed brown sugar
1/2 cup butter
1 egg
1 cup finely chopped, peeled apple
1/4 cup apple juice or boiled cider
2 cups whole wheat pastry flour
1/2 cup all-purpose flour
1 teaspoon baking soda
1 teaspoon cinnamon
1/2 teaspoon salt
1 cup raisins (regular or golden)
1 cup chopped nuts
Topping: 1/2 cup rolled oats, 1/2 cup brown sugar, 1/2 teaspoon cinnamon, 1/4 cup butter, melted
Beat the brown sugar with the butter until light and fluffy; add egg and blend well. Beat in apple and apple juice.
Combine flours, baking soda, cinnamon, and salt, then add to the batter and mix until the flour is incorporated. Stir in raisins and nuts.
Combine the topping ingredients in a small bowl. Drop cookie dough by heaping teaspoonfuls 2 inches apart on parchment-lined baking sheets (or greased cookie sheets). Top each with some of the topping and press gently into the cookie.
Bake at 375˚ for 10-12 minutes, or until the edges are golden brown. Cool a minute on the pan before removing to wire racks.
The original recipe made excess topping so I cut down the amounts in my version of the recipe (above). These cookies are moist and get softer on storage. Next time I bake these I will decrease the brown sugar to 1 cup as suggested in the cookbook for bakers at high altitude (over 3500 feet).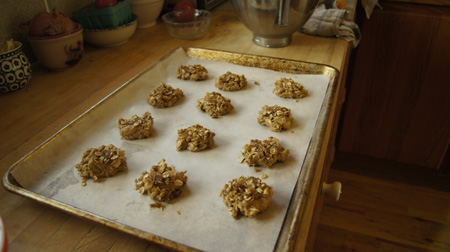 It was a little hard to get the topping to stick to the dough.
Here are the cookies from the first batch, before I added more flour to the recipe. They are pretty spread out and kind of floppy when you pick them up.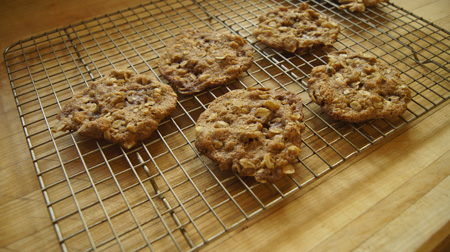 Here's a comparison of cookies from the first batch and cookies baked after I added more flour to the batter. The more-flour cookies baked up taller and smaller and they held their shape when you picked them up. They also stored better: I was able to stack them up in a bowl and they didn't stick together. Both batches tasted the same. Very apple-y and sweet and chewy and yummy!