Cookbook #43: Jane Brody's Nutrition Book. Jane Brody, W. W. Norton & Company, NY, NY, 1981.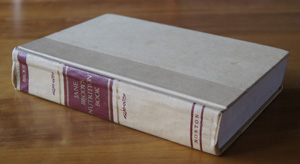 This isn't really a "cookbook", but I entered it into my database, and it does have a few recipes, so I'm calling it part of the "250". You can see both wear and food spots on this cookbook. It's a great reference for an important component of cooking: Nutrition. My goal for years has been to pack as much nutrition as I can stand into the calories I consume. This book helps me with that goal. I used to refer to it all the time, although I've sort of forgotten about it lately.
Granted, this cookbook was published in 1981, and now it's 2013. But I believe that this is still a good and complete reference for basic nutrition facts. If you want to know about vitamins, protein requirements, food additives, salt, or the different types of fats, Jane Brody's book will answer your questions – and countless more. If you want to build a healthy basic diet for yourself, the facts are in this book. A large part of the book is devoted to finding a balanced, low-calorie diet for your family. However, some of the newer topics, like celiac disease, are not covered.
Jane Brody became the author of the NY Times Personal Health column in 1976. Her undergraduate degree is in biochemistry (a chemist like me!), and she backs up her articles with professional journal references. As a science writer, she interprets food and health science for the layperson. When I picked up my copy of Jane Brody's Nutrition Book to begin this blog entry, I had no idea whether or not she was still alive, much less writing. Happily, I found that she still writes the NY Times Personal Health column, and better yet, all the articles are online. In fact, as of today, 3686 of those articles are readily available! Once again, I am very happy that I am doing this blog. I have re-connected to one of my nutrition gurus. Plus she is an exercise nut and now includes many articles applicable to aging (she is about 10 years older than I am).
Here's the link to Jane Brody's articles:
As an aside, I'd like to mention another resource for nutrition fact and theories, a course from the Great Courses called Nutrition Made Clear. I listened to this 36-lecture course while commuting to work a few years ago, and still refer to the pdf course document for specifics on current recommendations for vitamins and minerals.
I decided to try "Potato Kugel" from the "Is it Healthy to be a Vegetarian" section of this book. I have a longing for kugels in general. Way back in college, a friend brought a traditional Jewish kugel to a party. It had noodles and was sweet: I had never had anything like it before and loved it. To this day, I have never made a sweet kugel for myself, but just the mention of "kugel" gets pings of longing zooming around my brain.
This kugel is based on grated potatoes, carrots, and eggs and is baked like a casserole in the oven. Kind of sounds like an easy way to make a potato-pancake-like meal. I am always looking for potato side dishes, as my dining partner (unlike Jane's husband) does not appreciate grain side dishes (bulghur, quinoa, farrow, etc.). I'll cut the recipe in half but otherwise I'll make it as written.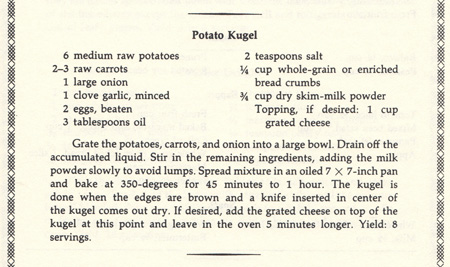 Potato Kugel
serves 3-4 as a side dish
3 medium potatoes
1 large carrot
1/2 onion
1 small clove garlic, minced
1 egg, beaten
1 1/2 tablespoons oil
1/2 teaspoon salt
1/4 cup bread crumbs (preferably whole wheat)
3/8 cup dry milk powder
1/2 cup grated cheese for the top (optional)
Grate the potatoes, carrots, and onion into a large bowl. Drain off the accumulated liquid. Stir in the remaining ingredients. Spread in a non-stick sprayed (or oiled) pan*. Bake at 350˚ for 45 minutes, or until the edges are brown and the egg set. You can put the optional grated cheese on top during the last 5 minutes of baking.
*I used a small LeCreuset pan, about 4 1/2 x 7-inches, it holds 2 1/2 cups.
Comments
I used a food processor for the garlic, potatoes, carrots, and onion. First, I started the chopper blade running, and dropped in the clove of garlic. Then I changed to the larger-sized grater and ran through the potatoes, carrots, and onion.
There was very little liquid to pour off. I briefly put the grated mass in a colander and pressed on it, but I don't think this step is necessary.
It just fit into my LeCreuset pan. To me, it looked like it would serve two people, not 3-4. Here it is before baking: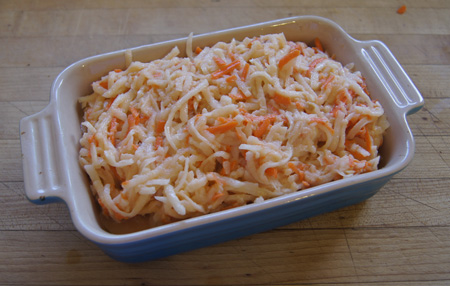 But after 40 minutes in the oven, it had puffed up nicely: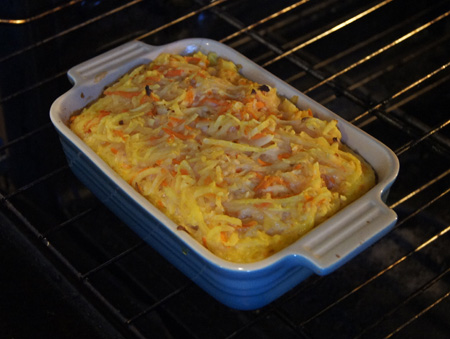 I put some cheese on top and put it back in the oven for 5 minutes, but it looks prettier in the above photo.
This is a dense potato dish, it is much more filling that I thought it would be. I dished up one-third of it to each plate, and it was a lot to eat (as a side dish). It had a good texture and a strong onion taste, both of which I liked. In fact, I could eat this a lot. My dining partner said it was fine – but wasn't interested in having it a lot. He likes my scalloped potatoes better.
So this dish gets a half-thumbs up.