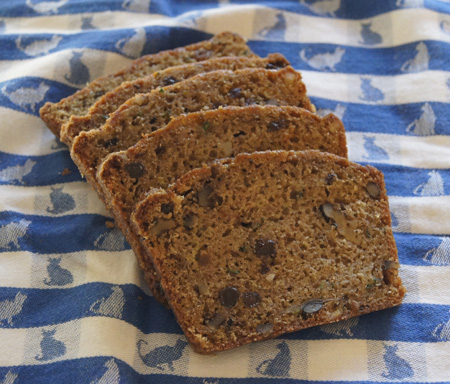 It's late summer, that time when gardeners discover huge zucchinis and plot how to get rid of them. No, I am not a gardener, I was on the receiving end in this monster zucchini transaction. We were headed off for a camping trip and needed a breakfast bread, and I had a hankering for zucchini bread. So both my problem and my gardener friend's problem was solved.
My only zucchini bread recipe was in my dessert document as "Sherry Zucchini Cake". It was cooked in a bundt pan and had an optional thin vanilla frosting. I always thought of this zucchini cake as zucchini bread, since I used to cook it in mini-loaf pans to give away at Christmas time, back in the 1990s. Just to check, I went online and found that most zucchini bread recipes are just like my zucchini cake recipe, but none of them had sherry or lemon in them. They are missing out on all that flavor!
This week, I wanted a more nutritious loaf, so I substituted whole wheat for some of the white flour. I thought brown sugar would make it even better, so I tried that too. I worked out the baking times for loaf pans instead of a bundt pan. So, I think I can call this successful recipe "Patty's Zucchini Bread".
Patty's Zucchini Bread
makes 2 8×4-inch loaves
1 1/2 cups all-purpose flour
1 1/2 cups whole wheat pastry flour
1 1/2 teaspoons baking soda
1 teaspoon baking powder
1 teaspoon salt
2 teaspoons cinnamon
1 cup oil
1 cup white sugar
1 cup brown sugar
3 eggs
2 teaspoons vanilla (use a good vanilla)
2 tablespoons sherry (dry or sweet)
2 cups grated zucchini
1 teaspoon grated lemon peel
1 1/2 cups chopped nuts
1 cup raisins
Grease and flour 2 8×4-inch loaf pans and preheat the oven to 325˚.
Combine flour, cinnamon, baking soda, baking powder, and salt; set aside. Beat together oil and sugars. Add eggs, one at a time, beating well after each addition. Add vanilla and sherry. Stir in flour mixture. Add zucchini and lemon peel, stir to blend. Fold in nuts and raisins.
Turn into the two prepared loaf pans. Bake at 325° 55-60 minutes, or until it tests done with a toothpick. Let stand in pans 5 minutes before removing to a wire rack to cool.