Cookbook #246: The Art of Cooking and Serving with 549 Tested Crisco Recipes, Procter and Gamble Co., Cincinnati, Ohio, 1937.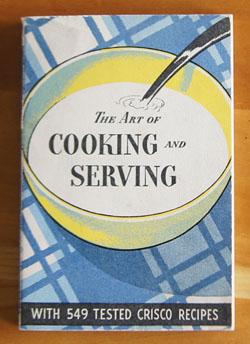 This week is the first time I have read The Art of Cooking and Serving with 549 Tested Crisco Recipes. I know that once I opened it and entered the title and publication date in my database, noting that it "no writing in it; probably is Grandmother's", but I didn't read it.
Today I sit down with The Art of Cooking and Serving, expecting it to be glowing with praise of Crisco, much like my 1942 booklet Good Cooking made Easy, Spry, the flavor saver, praised Spry. But no, The Art of Cooking and Serving is quite different, and I'll get into that later in this post.
My copy of The Art of Cooking and Serving is in excellent condition. I check for copies online, and find a few, all under $15. This booklet is available in 1930 and 1931 editions as well as my 1937 edition. It is not available as full text on my go-to site, the Hathi Trust digital library.
I also learn that Crisco was introduced in 1911 by Procter and Gamble. The brand name is now owned by the J.M. Smucker Company.
Okay, let's peruse this book. It's 252 pages long, paperback bound, and 5×7-inches in size. There are some color photos, and a lot of black and white photos.
The short forward does laud the benefits of Crisco brand shortening, but after that, not much is said about it. In fact, many recipes do not include Crisco at all in the ingredients. Here are the first two paragraphs of the foreword: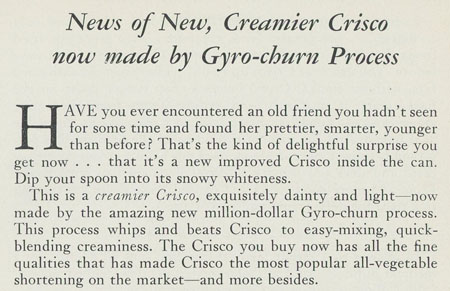 Next come four chapters that discuss the proper way to manage a kitchen and serve food. Transport yourself back 81 years, to the kitchen of my grandmother, to the culture of America in the 1930s. Here is the beginning of the first chapter: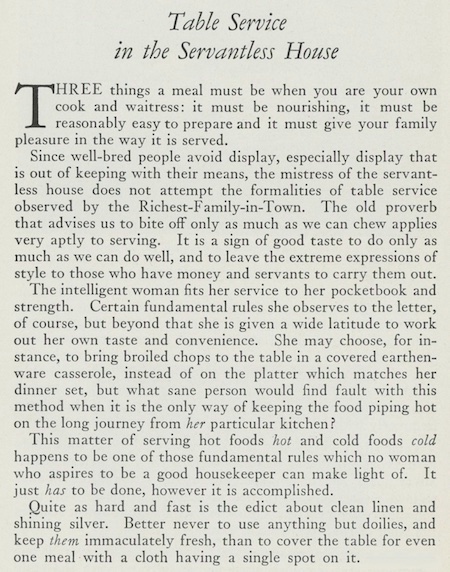 Here is the breakfast table in a house without a maid: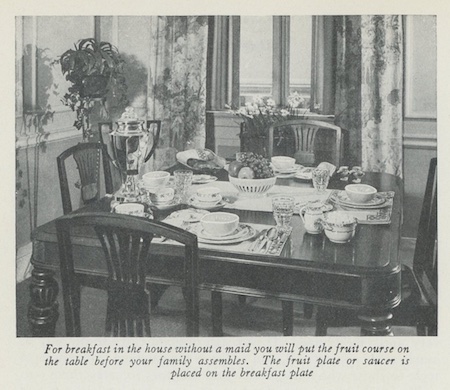 This chapter goes on for 24 pages describing the proper way to serve food in the servantless home. And if you have a maid? That chapter has 9 pages, beginning with these paragraphs: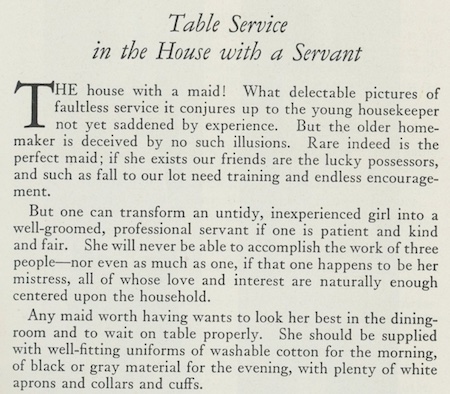 And the uniforms should look like this: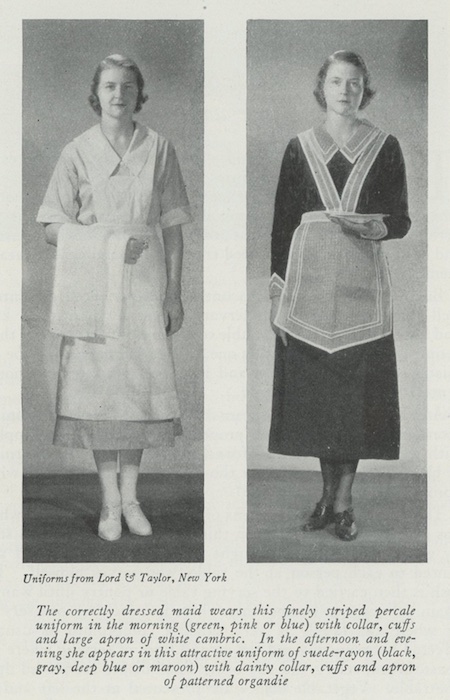 The chapter on "Helpful Cooking Equipment" has several vintage photos. I am kind of surprised that the mixing equipment does not show an electric mixer, since I found that these were introduced to American cooks by the 1930s.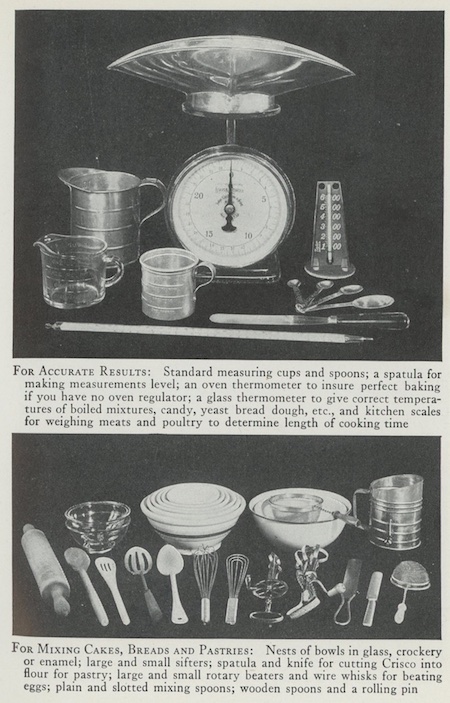 "How to Plan Your Meals" is a short chapter on what foods to include in your diet for sufficient protein, energy (fats, starches, sugars), body regulation (roughage and minerals), vitamins, and water.
Next, sixteen recipe chapters cover deep-fat frying, soups, cereals, cheese, fish, meat, poultry, salads, cakes, cookies, pastry, candy, desserts, and sauces. Below are a few examples from this bounty of recipes.
This excerpt includes a Spanish Omelet, a recipe I almost made for this blog.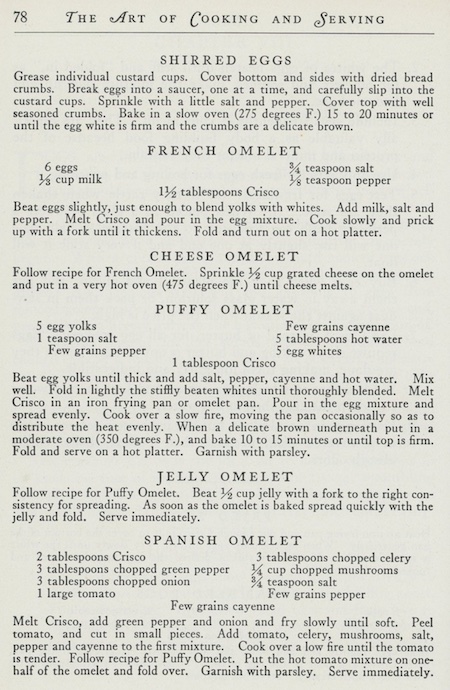 Here is a photo of the omelet: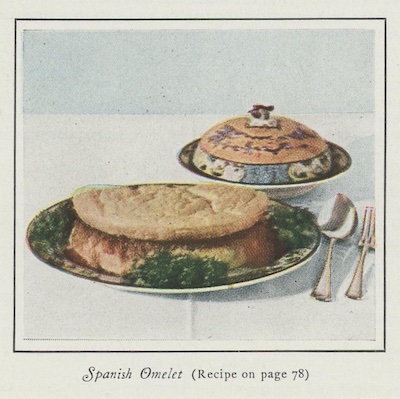 These recipes are for main dishes.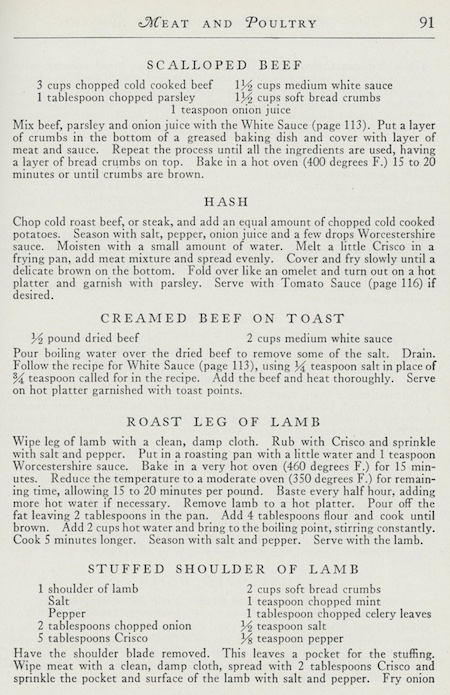 These are classic cookie recipes, especially the Hermits (a dark spice cookie filled with fruits and nuts) and the Oatmeal Cookies.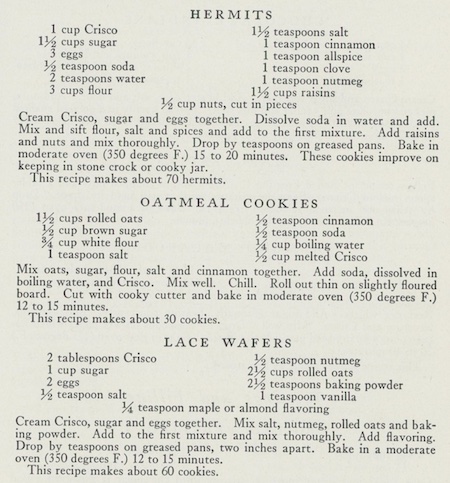 Here is one of the color photos: Thanksgiving Desserts.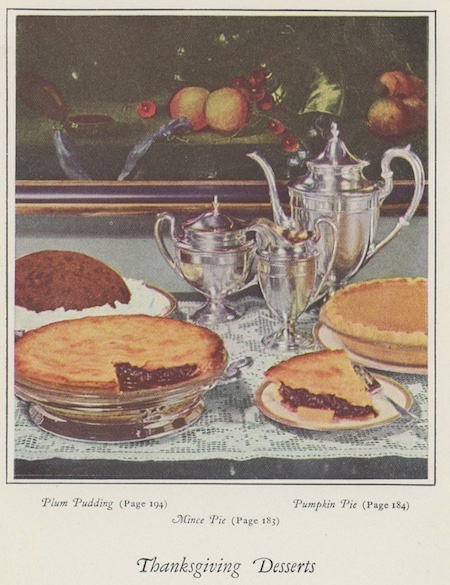 My mother's pie crust recipe is almost just like this one below – except her recipe specifies the amount of cold water. She specified Crisco brand shortening in the recipe I got from her.

And what type of pie to make with the plain pastry crust? Why not old-fashioned Mincemeat Pie, or Mock Cherry Pie: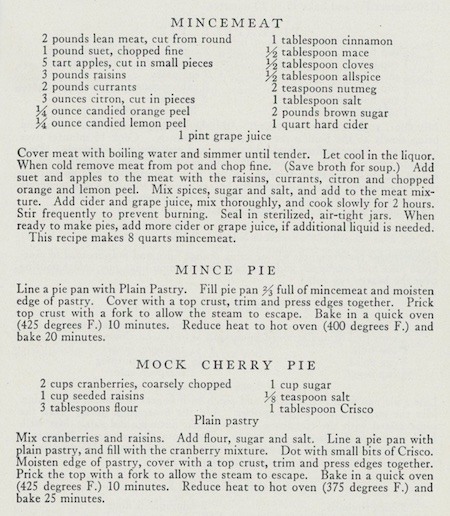 After the recipes, the last few chapters cover large quantity cooking and menus for all occasions and reference tables and charts. And The Art of Cooking and Serving ends with a very helpful index.
There really are a lot of recipes I could choose to try for this blog. So many in this book are good, homey, from-scratch recipes! I decide to make Sweet Potato Biscuits.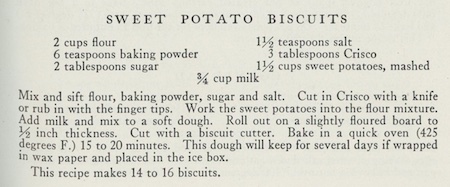 I think this is an amazing recipe. For one, it calls for 1 1/2 cups of sweet potatoes – and that's a lot! And it calls for only 2 tablespoons of sugar and 3 of shortening. I think the 2 tablespoons baking powder might be a bit much, but I stayed with that original amount. I am going to use my immersion blender to mash the sweet potatoes with the milk, and my food processor for the flour and shortening. Otherwise, I am staying with the original recipe.
Sweet Potato Biscuits
makes about 16
2 cups flour
2 tablespoons baking powder
2 tablespoons sugar
1 1/2 teaspoons salt
3 tablespoons vegetable shortening (I use Crisco!)
1 1/2 cups cooked sweet potatoes (I used one huge sweet potato and it was barely enough)
3/4 cup milk
Put the flour, baking powder, sugar, and salt in a food processor. Pulse for about 2 short pulses. Add the vegetable shortening and pulse for 4-6 short pulses. Pour the mixture into a bowl.
Mash the cooked sweet potatoes with a fork enough to measure 1 1/2 cups. Add the 3/4 cup milk. Mix well: I used my immersion blender, but an electric mixer or food processor would also do the trick.
Add the sweet potato mixture to the flour-shortening mixture and stir with a big spoon. This is a soft, wet dough. The next step is to roll the dough out on a floured bread board. I got my hands into the dough mass to make this transfer, adding a bit more flour so it would not stick to my hands. It was a bit messy.
Press the dough out until it is about 1/2-inch thick. I found that I did not even have to use my rolling pin to get it to this thickness.
Use a biscuit cutter to cut out the biscuits. I actually had exactly 16 biscuits! Bake at 425˚ for 15-17 minutes, until lightly browned.
Here are my biscuits ready to bake. I just got new half-sheet pans and my first Silpat® so I am showing them off: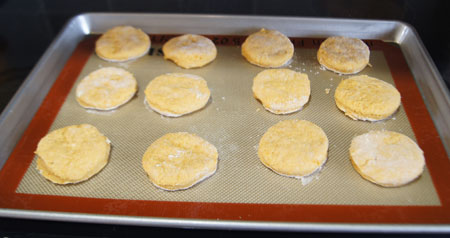 Here they are, baked: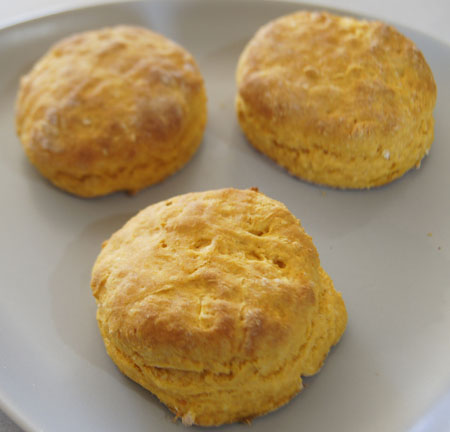 And here is the lovely color of the inside of a biscuit: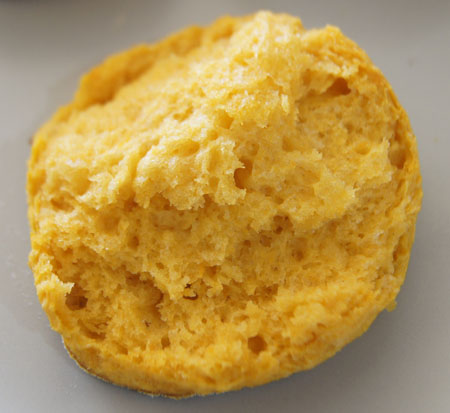 My daughter and I really loved these. Hubby avoided them – he isn't a sweet potato fan. His loss. And more for us! This was definitely a successful recipe.
Sometimes it's a good idea not to throw out those old cookbooks! I had fun exploring The Art of Cooking and Serving.