Cookbook #45: Just Peachy Peach Cookbook. Judith Ann Bosley, L. E. B. Inc., Boise, Idaho, 1993.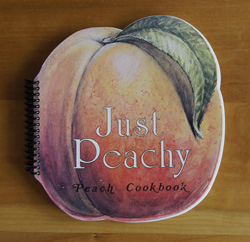 This cute little cookbook is one of my favorites. For the shape and the title and the memories, probably more than the recipes. I bought it at the fruit stand in Lyons back in the 1990s, when there used to be a fruit stand in Lyons. Each July through September, the fruit stand purveyors regularly brought peaches over the pass from their orchards on the western slope (of the Rockies), peaches that were tree-ripened and delicious. Peach varieties ripen at different times, so first we'd get flamin' furies, then redhavens, reginas, rozas, red globes, suncrests, and finally cresthavens. That was the sad time, because it meant the season was at its end.
I love peaches. Mostly I like them plain and natural. So juicy that you have to go outside to eat them. This year, I searched out the best Colorado peaches at county Farmers Markets and natural food stores. My first were in August. They greeted me with their aroma early one Sunday morning: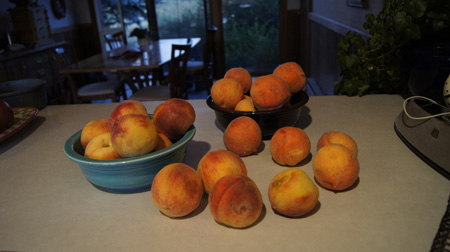 Of course I bought more than we could eat right away (that's just the way I am) but that doesn't worry me. When I get too many, it's time for a peach fest: peaches over ice cream, peach cobbler, peach pie, peach crisp, peach jam, and peach muffins. Thanks to my Just Peachy cookbook, I have added a new recipe to my peach repertoire: Peach Bread. That recipe is below.
Just a few quick notes on the other recipes in this cookbook. Many are for desserts that I probably won't make, but I noted and might try recipes for: coffee cake, oatmeal muffins, peaches and pork tenderloin with cilantro in tortillas, peach glazed cornish hens, peach chutney, and peach butter.
Here is the peach bread recipe that I am basing my own on. This photo illustrates the cute layout of the book: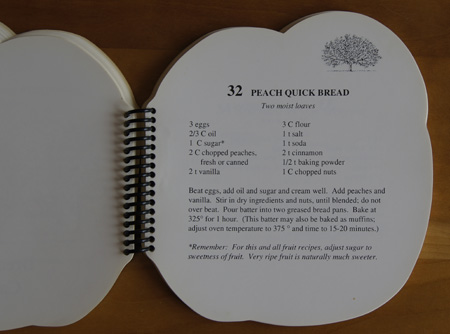 I am cutting the recipe in half, substituting brown for white sugar, and using half whole wheat pastry flour instead of all white flour.
Peach Bread
makes one 8×4-inch loaf
1/3 cup oil
1/2 cup brown sugar
2 small eggs
1 teaspoon vanilla
1 cup chopped fresh peaches (2 or 3 peaches)
3/4 cup all-purpose flour
3/4 cup whole wheat pastry flour (or use all all-purpose flour)
1/2 teaspoon salt
1/2 teaspoon baking soda
1/4 teaspoon baking powder
1 teaspoon cinnamon
1/2 cup chopped nuts
Beat the oil with the sugar a minute or two on high, then add the eggs, one at a time, beating well after each addition. Add the vanilla, then mix in the peaches with the mixer on low.
Stir together the dry ingredients, then add with the nuts to the batter, mixing on low speed and only until all of the flour is incorporated.
Bake in a greased and floured 8×4-inch loaf pan for 1 hour or until the bread tests done. Let cool a few minutes in the pan before removing to cool on a wire rack.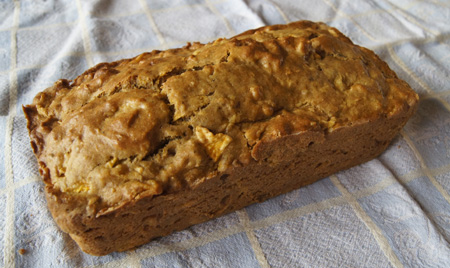 This was excellent . . . enough said.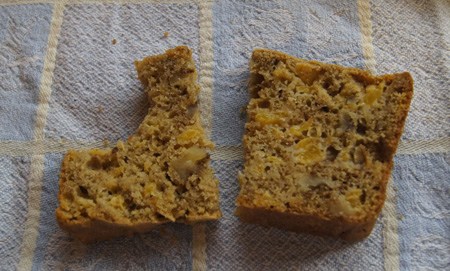 Note added June 2014:
I had some nectarines that needed to be used in cooking. So, I made this recipe for Peach Bread, substituting nectarines for peaches and baking as muffins. It made 8 muffins, and I baked them for 22 minutes at 375. Very good!