Cookbook #48: Country Cakes, A Homestyle Treasury. Lisa Yockelson, Harper and Row, Publishers, New York, 1989.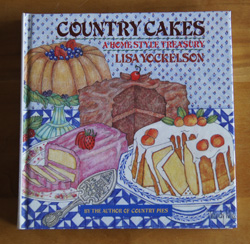 It's good to be back to my cooking blog! The townspeople of Lyons, and myself in the Lyons outskirts included, are beginning to recover physically and mentally from the September flood. Time to again take up my favorite pastimes.
And what a sweet way to do it: Country Cakes! This book was a present from my aunt and uncle to my mother for Christmas, 1989. My mother always wrote these remembrances on the inside cover of her cookbooks. It's almost Christmas again, and I smile thinking of my mother.
I first picked this cookbook from the shelf looking for a recipe for a very rich cake to make on a small scale for one of our good meals during the holidays. You see, both our kids are off in other parts of the world this Christmas, and our own brothers and sisters are in California and Hawaii. So there's just us two. But it's still Christmas, and we can eat something very, very rich on Christmas, that's the rule.
To my surprise, this cookbook does not have many over-the-top rich cake recipes. Instead, it has recipes for a lot of cakes that are right up my healthy alley. Apples, bananas, nectarines, blueberries, sweet potatoes, carrots, raisins, and nuts abound as ingredients in Lisa's recipes. Sure, the cakes are still high in calories, but they pack some nutritional punch. On the downside, the recipes call for butter rather than a "healthy" oil, and are generous with it; they use regular flour instead of whole wheat. On the upside, these cakes will taste great.
Each day, you should eat at least a bite of something that makes you stop whatever you are doing and say "wow!" That's my new year's resolution.
Mother tried and liked "Chocolate Pan Cake with Chocolate Fudge Frosting". This is one of the recipes in the book that is very rich. (But it's not my choice for this blog.)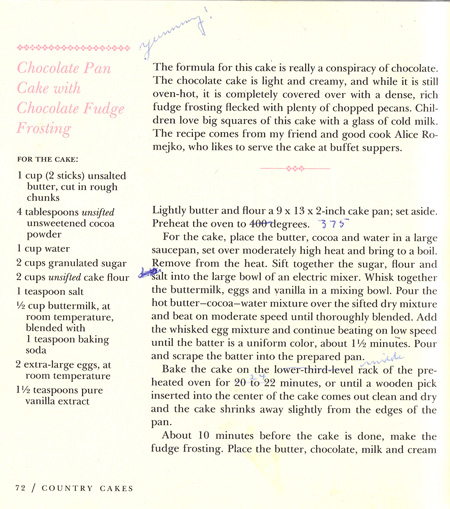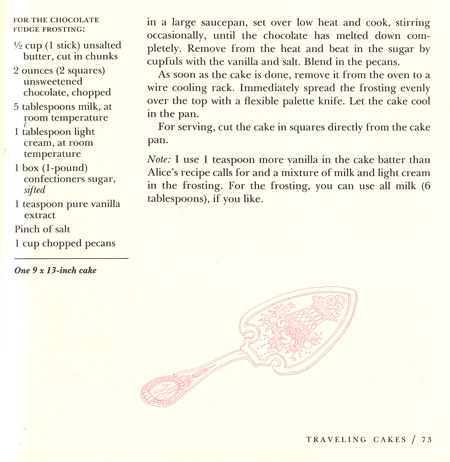 The book has a cute layout, with each recipe covering two pages, decorated with illustrations. Each recipe is introduced with a friendly note.
Almost each cake in this book is made with a basic procedure: "the fat, usually butter, is beaten for several minutes before a measure of sugar is added in stages and thoroughly combined; eggs and flavorings are then mixed into the batter completely; finally, a sifted or stirred  mixture, which contains leavening and salt and any spices being used, is added to the batter alternately with a liquid, such as milk, buttermilk or cream." I learned this method in my mother's kitchen, and every from-scratch cake baker to this day still uses it. Easy as cake!
The categories of cakes in this cookbook include: back porch cakes, coffee cakes, traveling cakes, upside-down, cakes, pound cakes, fresh fruit picnic cakes, little cakes, and cake and ice cream. I want to try the Marbled German Chocolate Cake, Coconut Layer Cake, Peach Upside-Down Cake, Blueberry Gingerbread, Raspberry Coffee Cake, Banana Coconut Coffee Cake – and more!
I had a sweet potato lurking in my potato bin that was asking to be cooked, so I decided to try the "Walnut-Sweet Potato Coffee Cake". Instead of a rich dessert cake, this should be a sweet, moist and fragrant treat for these cold holiday mornings.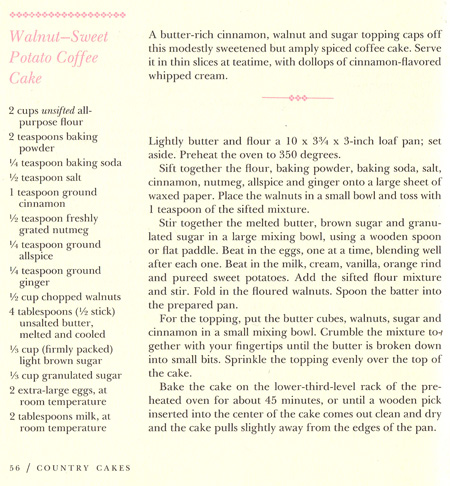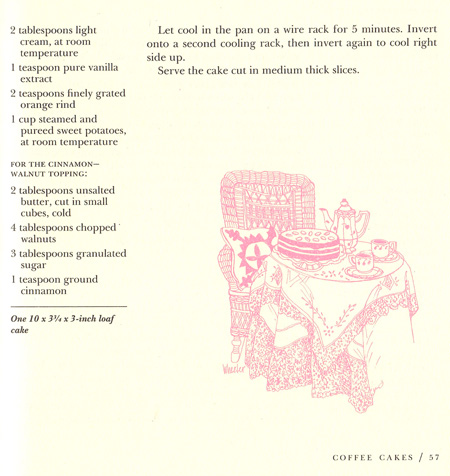 I would call this a "quick bread" rather than a cake. The distinction? In my mind, I think of quick breads as breads baked in a loaf pan and intended for breakfast or snacking. But I won't quibble.
This recipe calls for a 10 x 3 1/4 x 3-inch loaf pan. I have tons of loaf pans, but none that size. I went to a local kitchenware store and couldn't find one there either. A quick web search pulls up only 10 x 5-inch loaf pans. (Why did the author choose such an unusual pan?) So, I did a volume calculation and decided to use an 8 x 4 1/2-inch loaf pan, although I knew this size might be a touch too small.
 Walnut-Sweet Potato Coffee Cake
2 cups flour
2 teaspoons baking powder
1/4 teaspoon baking soda
1/2 teaspoon salt
1 teaspoon cinnamon
1/2 teaspoon nutmeg (freshly grated if possible!)
1/4 teaspoon allspice
1/4 teaspoon ginger
1/2 cup chopped walnuts
4 tablespoons unsalted butter (if you use salted butter, cut the added salt in half)
1/3 cup firmly packed brown sugar
1/3 cup sugar
2 eggs
1/4 cup milk
1 teaspoon vanilla
2 teaspoons finely grated orange rind
1 cup cooked sweet potatoes, pureed (I probably used 1 1/4 cups)
For the topping:
2 tablespoons unsalted butter, cut into small cubes
1/4 cup finely chopped walnuts
3 tablespoons sugar
1 teaspoon cinnamon
Cook the sweet potato and mash or puree it; measure 1 (generous) cup. Lightly grease and flour a 9 x 5-inch loaf pan. Turn on the oven to 350˚.
Sift (or stir) together the flour, baking powder, baking soda, salt, cinnamon, nutmeg, allspice and ginger.
Combine the topping ingredients, crumbling the mixture together with your fingers until the butter is broken own into small bits. Set aside.
Melt the 4 tablespoons butter and place it in a large bowl. Use a spoon or a hand mixer to beat in the sugar and the brown sugar. Add the eggs, one at a time, blending well after each. Add the milk, vanilla, orange rind, and sweet potatoes. Stir in the flour mixture and the 1/2 cup walnuts.
Turn the batter into the prepared loaf pan. Sprinkle the topping evenly over the top, pressing it gently down into the batter.
Bake at 350˚ for about 45 minutes, or until it tests done with a toothpick or cake tester. Let cool in pan at least 5 minutes before removing to a wire rack (see my note on inverting the cake in my comments).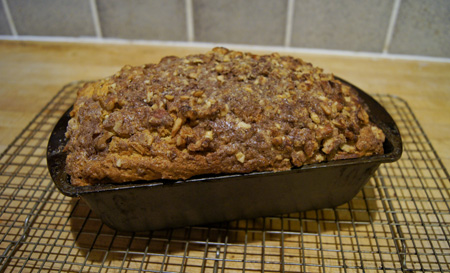 Comments
This coffee cake is delicious. I baked it in a smaller loaf pan, though, and the topping fell off when I inverted it onto the cooling rack. It did not look pretty! In my version of the recipe, above, I suggest using a larger loaf pan and pressing the topping into the batter before baking. And then, after cooking, carefully cover the cake with perhaps foil while inverting it to get it out of the pan.
I might try this in a square pan next time. That way, I could serve it right out of the pan and avoid the inverting step. A crumbly topping is always going to fall off when a cake is inverted! Another option is to skip the topping and cook it in a smaller loaf pan. Tough decision, because the cinnamon-walnut-sugar topping gives a burst of flavor, making me say "wow!".