Cookbook #49: Bon Appétit Best Entertaining Recipes. Bon Appetit, The Condé Nast Publications, Inc., NY, NY, 2004.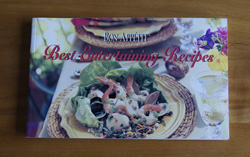 This cookbook came my way because I subscribed to the Bon Appetit magazine for several years. It was probably a bonus book for renewing my subscription.
I'd like to throw this cookbook away. Why? Because the content is such a jumble of types of recipes. "Entertaining" encompasses everything from appetizers to desserts, and every cuisine imaginable. Here's what the authors say in the introduction:
"This collection brings together some of Bon Appetit's very best entertaining recipes, organized by course for easy mixing and matching to help you design one-of-a-kind menus and unforgettable parties."
I'm not a big party or entertaining cook. Most frequently, I'm looking for a "dinner for two" menu. But this cookbook is still useful to me, because a lot of the recipes have a little flare to perk up a Saturday night meal. I still find ideas in this cookbook, so I'll keep it.
Here is a list of recipes in this book that I might try. Pet Peeve Alert! These are many-word recipe titles, yes the descriptions are nice, but I think many-word-titles are pretentious.
Cherry Tomato Polenta Tartlets with Basil Mayonnaise
Roasted Beef Tenderloin Wrapped in Bacon
Mahogany Beef Stew with Red Wine and Hoisin Sauce
Proscuitto-Stuffed Pork Tenderloin with Mushroom Sauce
Julienne of Sesame Carrots and Celery Root
Summer Rice Salad with Feta, Citrus, and Mint
Spinach and Radicchio Salad with Mushrooms and Cashews
There are also a lot of desserts, but I'm pretty happy with my current dessert repertoire.
For this blog, I decide to try "Romaine Salad with Chipotle Dressing and Warm Queso Fresco". I am looking for a tasty and color-contrasting side dish for a Mexican meal. My menu plan includes shredded-beef enchiladas (using my own homemade enchilada sauce) and cheater's chile rellenos. This green salad with a Mexican flare fits the bill.
Here is the original recipe: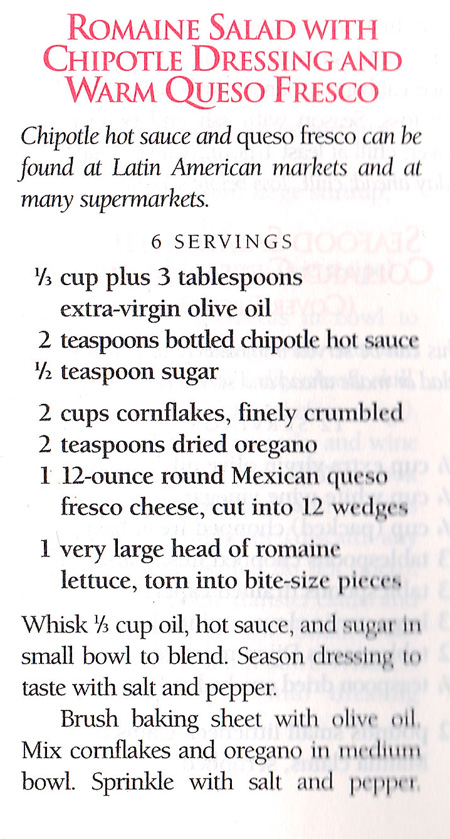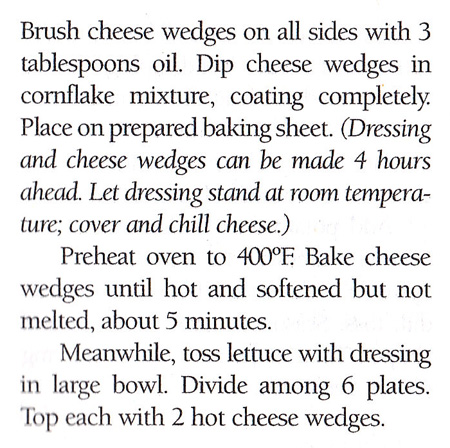 I made a few changes in the original, and am shortening the name. Below is my version.
Romaine Salad with Warm Queso Fresco
serves 2, but easily multiplies
2 ounces Mexican queso fresco cheese, cut into 4 wedges
1/2 cup cornflakes, finely crumbled
1 teaspoon dried Mexican oregano
olive oil for brushing the cheese
2-3 tablespoons extra-virgin olive oil (for the salad dressing)
1 teaspoon bottled hot sauce (I used Cholula)
1-2 teaspoons lime or lemon juice
dash of salt and sugar
romaine lettuce, torn into bite-size pieces, enough for 2 people
optional: tomato and avocado slices
Mix the cornflakes and oregano and season with salt and pepper to taste. Brush each cheese wedge on all sides with olive oil, then roll each in the cornflake mixture, coating completely. Place on a lightly oiled baking sheet and bake at 400˚ for about 5 minutes. The cheese wedges should be hot and softened but not melted.
Meanwhile, whisk together the oil, hot sauce, lime juice, salt and sugar in a small bowl. Toss with the romaine and plate. When the cheese wedges are ready, put them on the romaine salad, along with avocado and tomato slices (if desired).
Note: you can coat the cheese wedges and make the salad dressing ahead of time and pop the cheese in the oven just before serving. This is great if you are entertaining.
My photo of the salad is below. Yes, the plate is half-empty! My hot enchiladas and chile rellenos were still in the oven.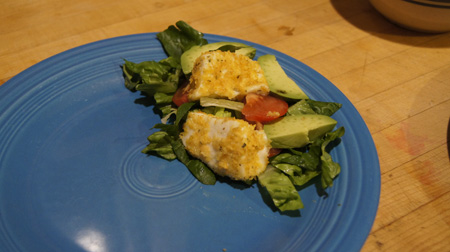 I'll make this little salad again. I like queso fresco, and it's easy to find in most any supermarket these days. It was easy, and added just the flare that I wanted to my Mexican meal.