Cookbook #166: Golden Treasury of Cooking, Better Homes and Gardens, Meredith Corporation, USA, 1973.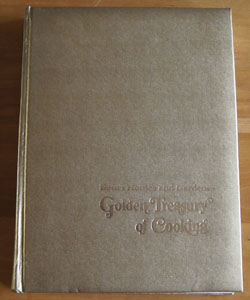 "With one foot planted in the past and one in the future, Americans are propelling themselves forward into the '70s. In all areas of life there is a paradoxical blending of past and future – especially in food. Homemakers are performing a modern juggling act. On one hand, they are using foods that are quick, easy, and convenient. While, on the other hand, they are going back to many of the old, time-tested cooking techniques that their grandmothers used. Out of all this comes such diverse ideas as microwave cooking, making your own breads, computerized meal planning, and organic gardening. What lies in the future? Whatever it is, it's sure to be the best of both worlds – the nostalgic old one of the past and the bright new one of the future."
Golden Treasury of Cooking, page 261

One foot in the past, and one in the future. My cooking philosophy for sure. And the present? That's where I am, thinking about what to learn, to discover, and to cook today.
This week, I decided to take the Golden Treasury of Cooking off the shelf. I've been putting this one off because I know it will take some time. This is a special book, a super-collection of nostalgic recipes, and handsomely illustrated and presented. But more than that, it was given to my mother from my father for Christmas 1973.

The Golden Treasury of Cooking a gorgeous book. Although now faded, the cover is golden, and a little puffy-soft. I am sure it was meant to be a coffee table book. This book compiles Better Homes and Gardens magazine's recipes from 1930 to the early 1970s. It's sectioned into decades: the 30s, 40s, 50s, 60s, and 70s. Each section begins with a bit of history – good Americana. A full page photo of a sample magazine cover graces each historical review, and then a fold-out photo collage of memorabilia from the age. Each decade's recipes are sectioned into representative featured recipes (recipes from restaurants or famous people, or popular trends such as home canning, barbecues, convenience cooking, or natural foods) and then a good collection of recipes from Better Homes and Gardens magazines of the decade.
I spend quite a few hours this week reading this book. I especially enjoy reading each decade's introduction, each along the lines of the quote, above. I think of my grandmother in the 30s, my mom in the 40s and 50s, and me in the kitchen in the 60s and 70s. The 70s is especially fun, with its predictions of the future: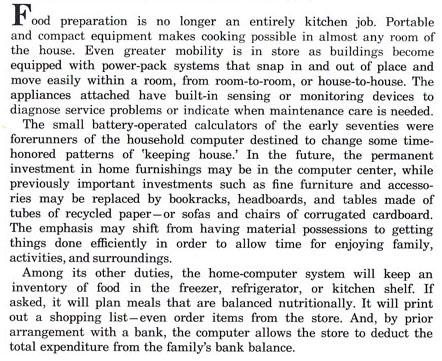 My mother's notes are throughout this book. It's fun to page through the recipes! Some of the recipes that interest me: Daffodil Cake (an angel food and sponge cake all in one), Orange Biscuits, Meatballs Stroganoff, Banana Apricot Bread, Puffy Tortilla Bake (includes crepes), Dilly Bread (a yeast bread with cottage cheese in it), Blueberry Dumplings (stove top blueberries with dumplings), Strawberry Shortcake (a good biscuit recipe), and Pfeffernuesse (old-fashioned anise flavored cookies), Stuffed Date Drops (Mother marked "Delicious!!"), Skillet Enchiladas, and the original Toll House Cookies recipe. I also found a recipe for "Bun-steads". I think these are the baked tuna sandwiches that Mother used to make. They sound weird today, but I used to like them: a tuna and egg salad mixture baked with cheese inside a frankfurter bun.
The Golden Treasury of Cooking is reviewed by The Iowa Housewife. She included some photos and recipes from the book that you might find interesting.
For this blog I decide to make Pineapple Upside Down Cake, from the 40s section. I currently have a recipe in my documents that I cobbled together, but I'd like to try this one.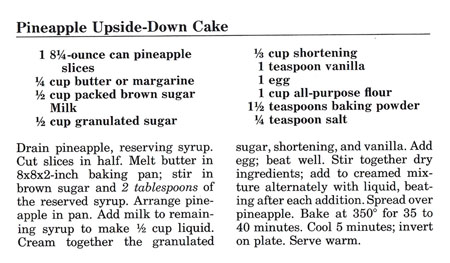 The only change I plan is to keep the pineapple rings whole, and put a maraschino cherry inside each ring.
Pineapple Upside Down Cake
makes one 8 x 8-inch cake
1 8 1/4-ounce can pineapple slices
1/4 cup butter
1/2 cup brown sugar
maraschino cherries
milk
1/2 cup white sugar
1/3 cup shortening
1/4 teaspoon salt
1 teaspoon vanilla
1 egg
1 cup flour
1 1/2 teaspoons baking powder
1/4 teaspoon salt
Drain the pineapple, reserving the syrup. Melt the butter in an 8 x 8 x 2-inch baking pan; stir in the brown sugar and 2 tablespoons of the reserved pineapple syrup. Arrange the pineapple rings in the pan – you might have to cut a few in half to cover the bottom of the pan. Put maraschino cherries into the center of each pineapple ring. Set the pan aside.
Add milk to the remaining pineapple syrup to make 1/2 cup liquid. Cream together the white sugar, shortening, and vanilla. Add egg; beat well. Stir together the dry ingredients; add to creamed mixture alternately with liquid, beating after each addition.
Spread the dough carefully over the pineapple-brown sugar mixture in the pan. Bake at 350˚ for 35-40 minutes, until the cake is turning brown around the edges. Cool 5 minutes and then invert carefully onto a plate. Serve warm with whipped cream.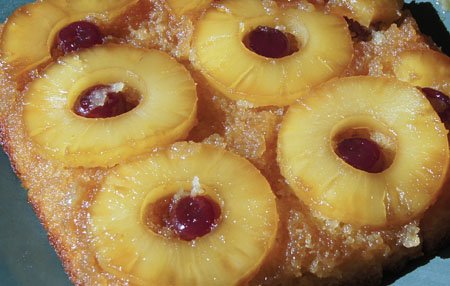 Oh yes, this was good! It has always been one of my husband's favorite desserts. It was rich and sweet and very pineapple-y. Will I make it again, and do I recommend it? Yes to both. But next time I make this cake, I will compare and contrast the above recipe with my cobbled-together recipe. It's almost too sweet, even for my taste!