Cookbook #65: The ABC of Casseroles. Peter Pauper Press, Mount Vernon, NY, 1954.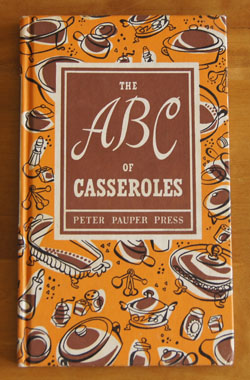 The "ABC of Casseroles" belonged to my mother-in-law. I know this fact only because a phone number and address written in her handwriting is on the inside cover. Other than that and a few food stains on a couple pages, it looks unused.
That doesn't mean that my husband didn't endure a lot of casseroles from his mom's kitchen! Although, it was often his older sisters who did the cooking, since his single-parent mom worked. Tuna fish concoctions are among his worst food memories. The other casseroles – he won't even talk about. During our first years together, I learned to call a dish "hamburger baked with potatoes, vegetables and cheese" rather than "Easy Layered Casserole". I had to teach him that casseroles can be good!
This cookbook exemplifies the bad class of 50s casseroles. The ABC of Casseroles claims no author other than "The Editor". Here is the "To the reader" page:
"None of the recipes is complicated, or too difficult for the inexperienced cook. We have had her particularly in mind in assembling these recipes, since it is she, and not her older and more experienced sister, who usually holds down a job, and cooks too. Many of the dishes can be prepared the day before, and baked at the last minute. And many are quickies that can be both prepared and cooked in an hour's time."
I can't figure out from that paragraph which sister has a job, the older or the younger? Guess the mom refuses to cook. Whatever.
Examples of recipes in this book are Kansas City Franks (hot dogs, canned tomatoes, catsup, frozen carrots and peas), Lamb and Lima Beans, Liver Casserole (bacon, liver, okra, lima beans, apples, "6 cubes apple jelly"), Noodles and Salami (noodles, salami, evaporated milk), and Ragout of Oxtail (oxtails, bacon, carrots, turnips, lima beans). Oddly enough, there is a recipe for Lobster a la Marseilles. Perhaps lobster was cheap in the 50s, or maybe it just wasn't popular yet. The lobster in this recipe is cooked and taken out of the shell, chopped, and then baked with onions, mushrooms, and tomatoes. All of the recipes are in alphabetical order by recipe title; hence the title, "ABC of Casseroles." Kind of ties in with the sisters doing the cooking.
This cookbook is going into the recycle bin. But first, I must find a recipe I can cook for this blog. Since it will be a meal for me and my husband, I want it to taste good. Meaning, I will make a "few" changes to make it palatable for our  tastes.
The recipe I choose is "Turkey Bake".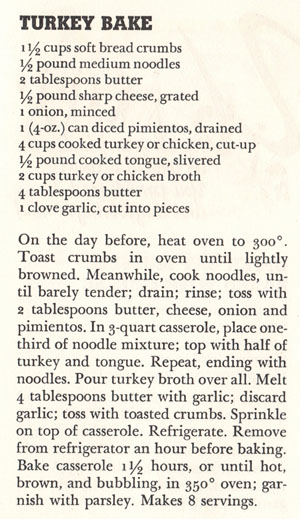 Definitely, the tongue is out! From there, I will substitute fresh red bell peppers for the pimentos and add mushrooms and olives (ingredients in one of my favorites, Chicken Casserole). I have frozen leftover turkey (Thanksgiving, 2013, it needs to be used up!) and actual homemade turkey stock. I will mix the bread crumbs into the noodles, as they will help to thicken the casserole. I do like that this recipe does not call for canned cream of chicken soup.
Let's see if my Turkey Bake Casserole can be a hit.
Turkey Bake Casserole
serves 3-4
This casserole can be made a day ahead (I did!).
1 cup bread crumbs
3 1/2 ounces medium noodles
1 tablespoon butter (optional)
3 ounces cheddar cheese, grated
1/2 of a medium-sized onion, chopped (approximate)
1 clove garlic, chopped fine
1/4 of a red (or green) bell pepper, chopped
1/2 of a 4-ounce can of olives
chopped parsley to taste
about 5 large fresh mushrooms, sliced and dry-cooked a few minutes in a medium hot pan to get some of the water out of them
1 1/2 cups cooked turkey or chicken, chopped
1 cup stock (turkey, chicken, or use a bouillon cube dissolved in a cup of water)
Toast the bread crumbs in a 300˚ oven for 10 minutes, until they are lightly browned.
In a bowl, combine 3/4 cup of the toasted bread crumbs with the noodles, butter, cheese, onion, garlic, bell pepper, olives, and parsley. Combine the mushrooms with the turkey.
Put a third of the noodle mixture in a 1 1/2 or 2-quart casserole. Top wit half of the turkey and mushrooms. Repeat, ending with noodles. Pour turkey broth over all. Sprinkle the remaining 1/4 cup bread crumbs on top of the casserole.
At this point, you can cover and refrigerate the casserole for a day.
When ready to bake, heat the oven to 350˚. Cover the casserole (foil or a lid) and bake for 1 hour. Uncover and continue baking another 10-15 minutes, until it is hot, bubbling, and brown.
Comments
This was good and tasty. I might make it again, and I would certainly recommend it to anyone looking for an easy weeknight meal.
Here are (most of) the ingredients: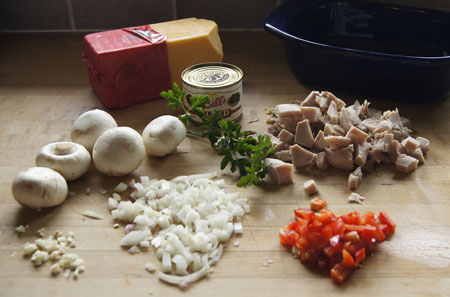 Look at my nice fresh home-grown parsley! I decided to cook the mushrooms a bit so that they did not add a lot of moisture to the casserole. You could probably skip that step.
The noodles and vegetables look pretty: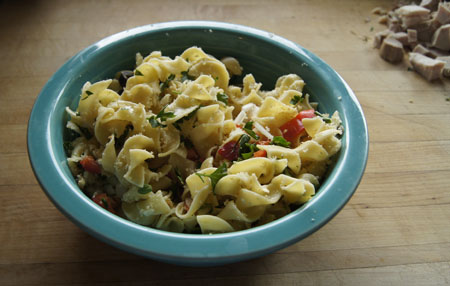 There is probably no reason to layer the casserole as per the original directions, so if you prefer, just mix the 3/4 cup bread crumbs with the noodles and vegetables and turkey and cheese, put in a casserole, and add the turkey broth and top with the remaining bread crumbs.
It cooks up pretty: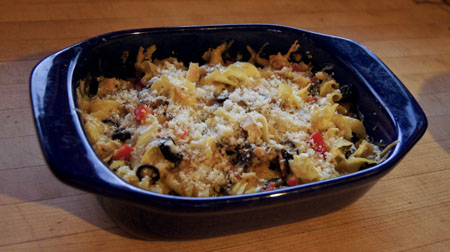 In 2014, I can now call a casserole a "casserole". It took decades, but my husband now brightens up when I tell him I am making a casserole for dinner!