Cookbook #66: Lyons Elementary Cookbook. Lyons Elementary PTA, Lyons, Colorado, 1989-90.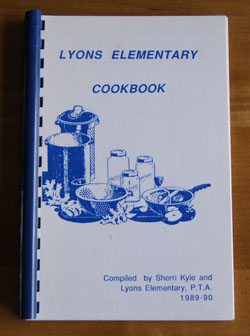 Lyons. My community. We have lived in unincorporated Lyons since 1981. Both of my kids went through grades 1-12 in Lyons, first at Lyons Elementary and then at Lyons Middle-Senior High School. The Lyons Elementary Cookbook was put together by parents and teachers at the elementary school when my son was a student there. And yes! I contributed recipes.
So far, I've covered two other community cookbooks, one from my sister and one from my mother-in-law. I enjoy them as a reflection of how people really cook in their homes as they raise their kids.
Turning the pages of the 1989-90 Lyons Elementary Cookbook takes me back to the sweet days when my kids were young, and all those years in Lyons schools. I recognize so many of the names at the bottom of the recipes! Lyons schools are small, I think there were less than 300 students at the middle-senior school when my kids attended. A lot of the families still live here; our town is like that.
So how did we cook in our homes in the 80s? We were busy, so the recipes in this cookbook do not require a lot of time to cook. Ingredient choices reflect both our hippie influences (whole wheat flour, wheat germ, tofu all that) and our mom's influences (canned soups, seasoning mixes, bisquick and all that). The result, lots of tasty, comforting main dishes. Lots of yummy cookies and quick breads and desserts. This little Lyons Elementary cookbook is a keeper for a lot of reasons!
I could have opened this cook book at random and chosen any of the recipes for this blog. (Well almost, not "Rattlesnake Stew": Remove rattle, cut snake into small pieces. Add remaining ingredients, except rabbit . . . ") My choice is: Banana Chocolate Chip Muffins. A healthy-ish treat for me, on May 11, Mother's Day 2014! And look, right above the muffin recipe is one of my own contributions:
I still make Banana Blueberry Bread regularly (and should enter my latest version into this blog).
The Banana Chocolate Chip Muffins recipe was contributed by Mindy Tallent, who along with her husband Sam now own the Stone Cup in Lyons. Ah, the Stone Cup! A lovely place to meet friends and enjoy wonderful coffee and sweet treats: "made from scratch using only organic and natural ingredients". Just like the muffin recipe in this cookbook!
When the town flooded last September, the Stone Cup was just above the flood level, and Mindy went in early to open up. Soon stranded townspeople came until there was a crowd, and the Stone Cup opened its doors. Thank you Mindy and Sam, for being there for our community when it needed you the most, and for toughing it out through the long weeks when the town was evacuated and the roads closed. Everyone, if you are ever in Lyons, stop by the Stone Cup!
I plan to make these muffins pretty much as per the recipe. I don't have oat bran, but I do have oat flour, so I'll use that. I suggest putting a half-cup of oatmeal in a food processor if you don't have oat flour or oat bran, or substitute with flour or even wheat bran. I think that "2 teaspoons of safflower oil" is just too little oil. There was a phase when we all tried to eliminate all fat from recipes; today I feel like we need a little fat in our diets. And more oil will give these a better texture. As to the directions to use "safflower" oil, well, opinions on the "best" oil to use changes with time; I say, use whatever you have in your cupboard. Chocolate chips – my current crave is for 60% cacao Ghiradelli's chocolate chips. And if a few more chips than called for fall into the batter – well, too bad! These are for my Mother's Day!
Banana Chocolate Chip Muffins
makes 12; downsized from the original recipe that made 18
1 1/3 cup whole wheat flour (I used white whole wheat)
1/3 cup wheat germ
1/2 cup oat bran (see my suggested substitutes, above)
1 teaspoon baking soda
2/3 teaspoon baking powder
1/2 teaspoon salt
1 cup lightly mashed bananas
1 egg
2 tablespoons vegetable oil
1 teaspoon vanilla (my addition!)
1/3 cup honey (4 ounces; and I used local Colorado honey)
2/3 cup plain yogurt
1/3 cup chopped walnuts
1/3 cup chocolate chips (or more!)
Combine the dry ingredients and set aside.
In a separate bowl, use an electric mixer to beat the bananas with the egg, oil, and vanilla until smooth. Add the honey and vanilla.
Mix wet and dry ingredients quickly, then stir in the walnuts and chocolate chips, being careful not to over mix. Spoon into lightly greased muffin tins or use paper baking cups.
Bake at 400˚ for 18-20 minutes. (Test with a toothpick for doneness.)
Comments
Yum! These are perfect. I made them the day before and we enjoyed them for breakfast.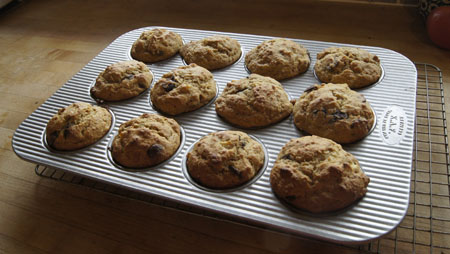 My only dilemma the next morning was whether or not to microwave them briefly before heating. Un-microwaved, you bite down on big crunchy chunks of chocolate. Microwaved, creamy chocolate oozes out. Hmm. Tried them both ways and still can't decide which is best.