Cookbook #67: Bake It Easy Bake-Off Cook Book, 100 winning recipes from Bake-Off® 24. Pillsbury, 1973.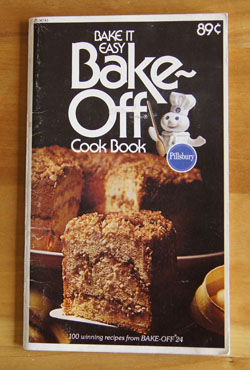 Yet another Pillsbury Bake-Off Cookbook. So far I've done four Bake-off years: 1964 (Cookbook #4) and 1959 (Cookbook #10), 1963 (Cookbook #27), and 1966 (Cookbook #61). I refer you to the 1964 blog post for a more thorough discussion of these booklets. I had to guess at the publication date for this one: I have the silver (25th) anniversary cook-off booklet published in 1974, and this one is the 24th, so I figure it was published in 1973. There is a table in this book listing the winners of the 1949-1973 Bake-Offs. Inflation note: this one cost 89¢.
Was this my mother's? I'm not sure. Neither of us wrote in it.
This 1973 cookbook reflects the influence of the 60s, when recently introduced packaged mixes were the rage, and also the 70s, when hippies and "health food" nuts like me were cooking with whole grains and such. Roughly a third of the recipes in this bake-off cookbook are from scratch (and call for "healthy" ingredients), the rest use hot roll mix, biscuit mix, crescent rolls, or frosting and cake mixes. The oddest recipe is this one for cookies: 1 package Pillsbury Coconut Pecan Frosting mix, 2 cups peanut butter, 3 eggs, 2 teaspoons vanilla, and 1 cup sugar; mix and drop onto cookie sheets to bake.
I was able to find several good recipes in this cookbook. The recipes I like (and noted for future reference) call for ingredients like bananas, apples, carrots, bran (Crunchy Bran Cornbread), whole wheat flour, wheat germ, and yams (Golden Yam Drop Cookies!). I decided to try: Apple-Carrot Quick Bread.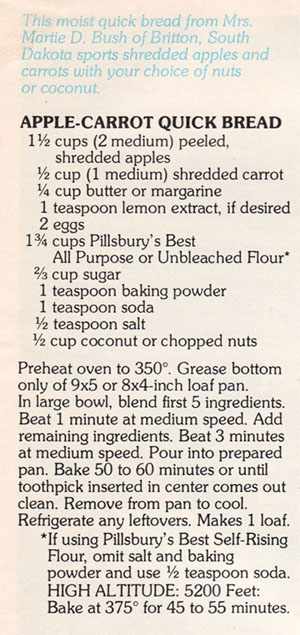 Aren't there just tons of recipes for carrot bread, and apple bread? Always with slight variations. I have my favorites, but sometimes it's fun to try something a little different. Grated apple in a bread gives a different texture than, say, applesauce or apple chunks. Lemon extract? I don't keep that around, so I'll use grated lemon peel (lemon zest). I decide to use coconut (not nuts), and I'll use regular shredded (angel flake) coconut rather than the big coconut slices that I like for granola. I am going to add vanilla, since I like it a lot. But I'll hold off on my usual cinnamon and nutmeg, sometimes it's nice to have a change in spices.
I will use butter in this recipe; if you want to make this "healthier", use a vegetable oil. You could also use whole wheat pastry flour to boost nutrition and fiber. "Whatever you like".
1/4 cup butter
2 eggs
2/3 cup sugar
1 1/2 cups peeled, shredded apples (I used 2 granny smiths)
1/2 cup shredded carrot (about 1 medium carrot)
1 teaspoon lemon zest
1 teaspoon vanilla
1 3/4 cups flour
1 teaspoon baking powder
1 teaspoon baking soda
1/2 teaspoon salt
1/2 cup coconut (you can used chopped nuts instead)
Blend the butter, eggs, and sugar using an electric mixer. Mix in  the apples, carrots, vanilla, and lemon zest.
Stir together the flour, baking powder, baking soda, and salt. Add to the blended mixture and mix only until just blended. Add the coconut and mix briefly.
Grease an 8×4-inch loaf pan on the bottom only. Pour in the batter and bake at 350˚ for 50-60 minutes.
Note: at my 5300 foot altitude, I reduced the baking powder and baking soda to 7/8 teaspoon each, and baked at 365˚ for 50 minutes.
Comments
Yum! This bread is so good. I wanted more, more! I'm glad I used lemon zest, and grated apples. I used it for a morning breakfast bread: I like to think that calories in the morning are worked off, so sometimes I splurge a bit. And this bread packs a few nutrients in it. Bottom line: it tastes great!