Cookbook #68: Ideals Cookie Cookbook. Darlene Kronschnabel. An Ideals Publication, Milwaukee, Wis, 1977.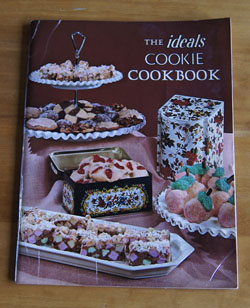 Look at the cover of this cookbook: No author is listed. I only know that the author is "Darlene Kronschnabel" because her name is at the bottom of the brief introduction on the first page. A google search reveals that she authored quite a few cookbooks. She looks like a nice lady!
I had trouble finding the publication date too! It is not printed anywhere inside or on the cover. But the ISBN is, and by following this lead I found that it was published in 1977.
I am not quite sure how I came to own this cookbook, although on the back cover is printed "U. of C. Federal Credit Union". But is that University of California, or University of Colorado? California would mean it came from my mother, Colorado would be my acquisition. Neither of us marked up this cookbook.
This is a pretty good cookie cookbook. If I didn't already have oodles of cookie recipes, this book would be a useful addition to my bookshelves. I like the recipes – they are clear and include reasonable ingredients. I probably will keep this book as a general reference. One recipe I marked to try is the one for Chinese-style fortune cookies. Decades ago I had fun making fortune cookies from scratch and might want to do it again some day, and I have no idea where my original recipe is.
I had no trouble finding a recipe to try. I chose to make an oatmeal cookie. On page 24 is a recipe for the "Best Raisin Oatmeal Cookie" (in the section for flavorful fruit cookies) and on page 39 is a recipe for "Chewy Oatmeal Cookies" (in the section for old-fashioned cereal and grain cookies). The two recipes are almost identical. The chewy ones call for cinnamon and nutmeg, and that swayed my choice. Here is the original recipe: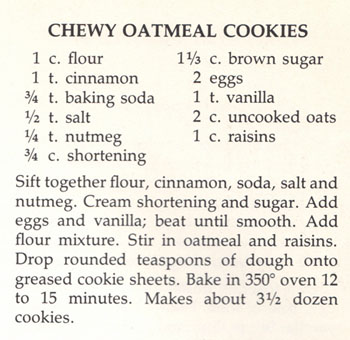 The recipe does not specify what type of oats to use. Old-fashioned? Quick? My guess is that in 1977 most Americans used quick oats. But to make them chewier, I used some quick oats and some whole rolled oats (the kind I use for granola). I like a lot of cinnamon and nutmeg, so if I make these again, I'll use the amounts I list below.
Chewy Oatmeal Cookies
makes about 4 dozen
1 cup flour
1 1/2 teaspoons cinnamon
1/2 nutmeg
3/4 teaspoon baking soda
1/2 teaspoon salt
3/4 cup shortening (5 1/4 ounces)
1 1/3 cup brown sugar
2 eggs
1 teaspoon vanilla
2 cups oatmeal (I used 1 1/2 cups minute-oatmeal and 1/2 cup thick rolled oats)
1 cup raisins
Stir together the flour, cinnamon, nutmeg, baking soda, and salt. Set aside.
Cream the shortening with the brown sugar. Add eggs and vanilla and beat until smooth. Stir in oatmeal and raisins.
Drop rounded teaspoons of dough onto baking sheets. (Used greased baking sheets, or use parchment-lined baking sheets.) Bake at 350˚ for 12-15 minutes.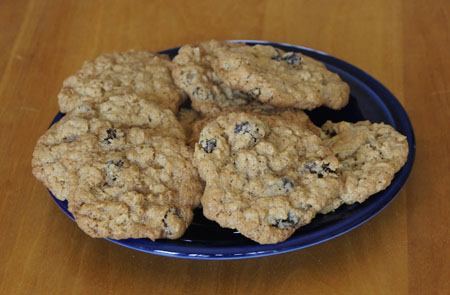 These are good! I used a mixture of sultans and raisins; my advice is to use only regular raisins because they show up better and look nice.
Would I make these again? Maybe. My go-to oatmeal cookie recipe is my very favorite Oatmeal Chip Cookies. That recipe has more sugar and flour, and uses margarine instead of shortening. Plus they have chocolate chips and nuts. Hard to beat, even with these good Chewy Oatmeal Cookies.
oatmeal chip cookies – more sugar/shortening/flour, adds nuts and chocolate chips