Cookbook #69: Better Homes and Gardens. Better Homes and Gardens, Meredith Corporation, U.S.A., 1982. "Courtesy of Holly Farms."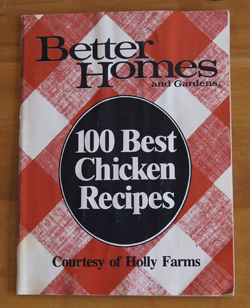 Not sure where I got this cookbook. It's water-warped and stained but not written in. It might have been a freebie booklet that came with a cookbook or a package of Holly Farms chicken. (I still can buy Holly Farms chicken!)
Most recipes in this booklet call for cut-up bone-in chicken pieces or cooked chicken. If boneless chicken breasts are called for, you are directed to bone them yourself. Back in 1982, boneless chicken breasts were expensive! I learned how to bone them to save money. Today, frozen boneless-skinless chicken breasts are easy to find, and not terribly expensive. I love their convenience. Oddly enough, it's hard to find a package of cut-up chicken in stores these days; instead, thighs, legs, wings, and breasts are sold separately. Whatever happened to "pick-of-the-chix"?
I an not entranced with the recipes in this booklet.  Many of them start with chicken pieces that are fried for about 15 minutes, then sauced and cooked to completion. So, when you go to eat, you have to fish the cooked chicken out of the sauce, and away from the bones, and the fatty skin if you are watching calories. I saved a couple of these recipes to try at a later time, and I found one for this blog, but I am recycling this cook-booklet.
The recipe below is #96 of the 100 recipes. (All the way at the end!) It is "Chicken with Walnuts", a stir-fry with fresh ginger and walnut halves and a suggested garnish of kumquats.
Kumquats! We had a kumquat tree in our half-acre yard in Southern California where I grew up. Some years it would be heavily laden with these bright orange oval fruits. Tart! They are almost too much to eat in one bite. A blog entry from Susan Russo sums up the experience: "Then my teeth sunk into the juicy flesh and — POW! — a jolt of tartness hit my taste buds. Involuntarily, my cheeks sucked in, my lips puckered, and my eyes watered."
Kumquats are great for jams and chutneys. My sister recently sent me a photo of a big bowl of kumquats that they were preserving: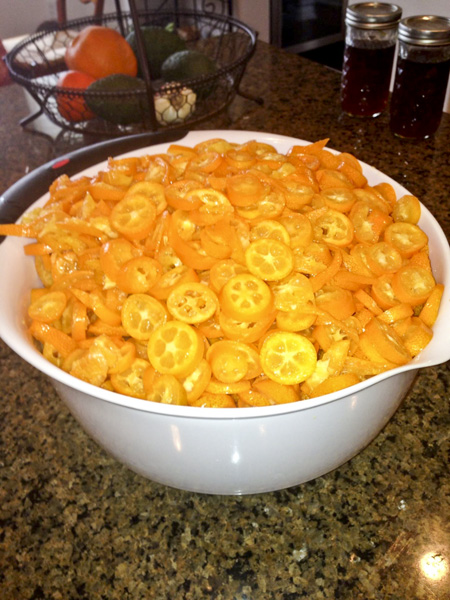 I found kumquats in Colorado at Safeway! In June! Kind of surprising.
Here is the original recipe for Chicken with Walnuts:

The photo below illustrates their suggestion for the kumquat garnish: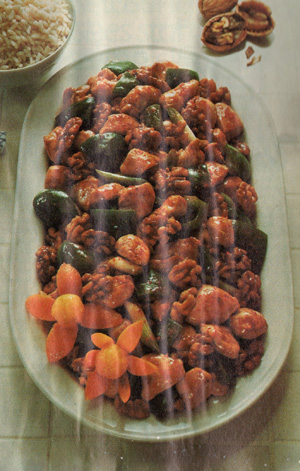 See the two kumquats at the lower left? The peeled back the thin skin of the kumquats so that they look like flowers. I tried that on one kumquat, but didn't quite see the sense in it, since eating a kumquat is all about the explosive flavor of skin and flesh together. Instead, I thinly sliced a couple kumquats and put them next to the chicken-walnut mixture on our plates. We each stirred in just enough kumquat to zing up the taste, without it being overwhelming. I also added a bit of fresh cilantro.
Here is my version of Chicken with Walnuts.
Chicken with Walnuts
serves about 2
9-10 ounces boneless chicken (breasts or thighs), cut into 1-inch pieces
2 tablespoons soy sauce
2 teaspoons cornstarch
1 tablespoon dry sherry
1/2 teaspoon grated fresh ginger
1/2 teaspoon sugar
1/4 teaspoon crushed red pepper
cooking oil and water as needed
sliced red and/or green bell peppers, cut into thin slices, about 1/2 cup total
2 big green onions, cut on the diagonal into thin slices
1/2 carrot, cut into thin slices
1/2 cup walnut halves
fresh kumquats, maybe about 4-6, thinly sliced
a few sprigs of fresh cilantro, chopped
Combine the soy sauce, cornstarch, sherry, ginger, sugar, and crushed red pepper. I added about a half-cup of water to this mixture to make the dish saucier, but this water-addition is optional.
Heat a wok or skillet until it feels hot, then turn the heat to medium-high. Add the walnuts and toast them, watching carefully so they do not burn. Remove them from the wok.
Add a little oil to the wok, then add the carrots and stir fry for a couple minutes. Add the bell peppers and green onions and stir fry another couple minutes. Remove them from the wok.
Add the chicken to the wok and cook 2-5 minutes, until it loses its pink color. Add the soy sauce mixture and cook until hot and bubbly; add more water if you like it that way. Stir in the vegetables and walnuts and cook a minute or two more.
Serve over rice, with the chopped cilantro on top and the sliced kumquats on the side – or mixed in, if you are sure you will like it!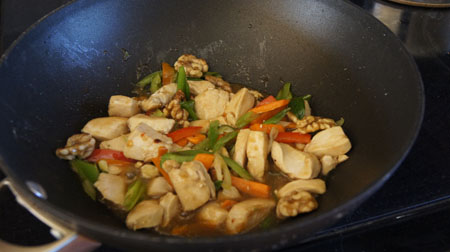 Comments
We liked this, but didn't go crazy over it. I thought the kumquats and cilantro gave it a zippy and fun taste – but I wouldn't want to eat it every day of the week. I liked the walnuts in this stir fry.
But the cookbook? I'm not keeping it.