Cookbook #79: All-Time Favorite Pies, Better Homes and Gardens, Meredith Corporation, Des Moines, Iowa, 1983.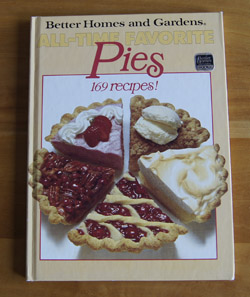 Pies. I love pies but rarely make them because of the calories – I take my baking urges and use them to make breads instead. When I do make a pie, it's usually a fruit pie made sans recipe, or a pie from the large collection of pie recipes on my mother's index cards.
This cookbook has no markings in it, and I don't know how it came to be on my bookshelves. Perhaps I bought it for myself in a moment of pie-longing. A whole clump of pages has come loose from the binding, but there are no food stains in this cookbook.
This week, though, I have and excuse to make a pie. My daughter and her family are visiting!
I open All-Time Favorite Pies and page through. The first recipe I see is the one I want to make! "Apple Crumble Pie" is sort of a French-style pie with a pastry crust, lots of apples, and then a seasoned crumb topping instead of a top pastry crust. I've never made an apple pie exactly like this, and it's my choice for this blog.
But that's not the only recipe I like in this cookbook. Cherry-Almond Tarts, Coconut Cream Pie, Fresh Fruit Tarts, Layered Pumpkin Chiffon Pie, and Fudge Chiffon Pie all look fun to try. All the recipes in this cookbook are they are from-scratch, always my preference. A few recipes call for canned fruits or a flavored jello, but that's the furthest they get from "scratch". This cookbook even includes a recipe for homemade mincemeat!
For the Apple Crumble Pie, I will need to make a pie crust. All-Time Favorite Pies offers a flour-shortening crust recipe, which is almost exactly the recipe I learned make in my mother's kitchen. But I recently adopted a new pie crust recipe. That's the one I'll use in my version of Apple Crumble Pie. I also upped the amounts of cinnamon and ginger and substituted nutmeg for mace (because my little tin of mace was at least 10 years old!).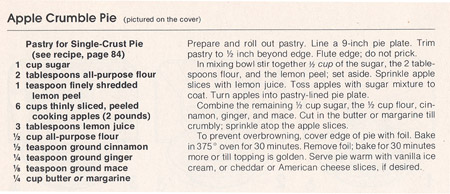 Below is my version of Apple Crumble Pie.
pastry for single-crust pie (use your own, or use mine)
1 cup sugar, divided (1/2 cup for apples, 1/2 cup for crumble)
2 tablespoons flour
1 teaspoons finely grated lemon peel
3 tablespoons fresh lemon juice
6 cups peeled and thinly sliced apples – I weighed out 2 pounds of whole apples and after peeling and slicing, it was indeed 6 cups
1/2 cup flour
1 1/2 teaspoons cinnamon, divided (3/4 teaspoon for apples, 3/4 teaspoon for crumble)
3/4 teaspoon ginger
1/2 teaspoon nutmeg (preferably freshly grated)
1/4 cup butter
Roll out the pie crust pastry and fit it into a 9-inch pie pan. Trim and flute the edges.
Combine the apples with 1/2 cup sugar, 2 tablespoons flour, grated lemon peel, lemon juice, and 3/4 teaspoon cinnamon. Let the mixture stand in a bowl for a few minutes to macerate the apples.
Combine the 1/2 cup flour with 1/2 cup sugar and 3/4 teaspoon cinnamon and the ginger and nutmeg. Using a pastry cutter or even a food processor, cut in the butter until the mixture is crumbly.
Put the apples in the pie crust, then sprinkle the crumb mixture over the top.
Bake at 375˚ about an hour, until it is nice and brown.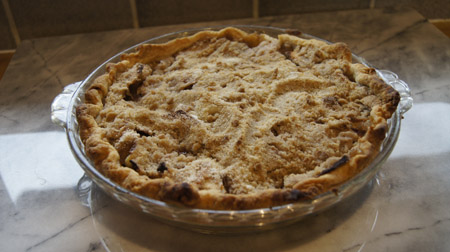 Verdict: This pie is a hit! I served it with homemade vanilla custard ice cream. I loved the hint of lemon in the pie. This apple pie is absolutely yummy.
I did not cover the edge of the pie to prevent the crust from over-browning, as suggested in the original recipe. You can see in the photo that it is not too brown. Whew, I was glad I didn't have to go to that extra step.