Cookbook #85: Hershey's Chocolate Recipe Collection, Hershey Foods Corporation, USA, 1989.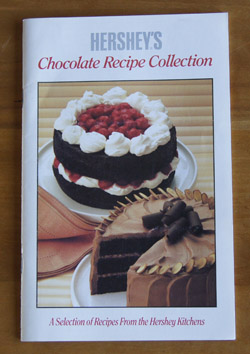 This is a pamphlet with 96 chocolate recipes, each on a "card" that can be torn out of the book along the perforations. The booklet doesn't have an introduction; the last page gives some tips for handling chocolate. This was one of my Mother's cookbooklets. She didn't mark any recipe, nor did she tear one out.
That's it, short and simple.
I love chocolate and though I have decided to recycle this cookbooklet, some of the recipes do tempt me. But not the ones that rely on cake or muffin mixes or purchased pie shells, just the from-scratch recipes. I note a couple recipes that incorporate ideas I came up with on my own over the years, like putting chocolate chips in muffins and quick breads. Yum, this one sounds good: Mini Chips Blueberry Bread. Chocolate Cherry Upside-down Cake would be lovely. Marble Cheesecake, a delicious combination of chocolate and cheesecake. And Chocolate Mousse Pie (with rum cream topping). And the chocolate waffles.
Sigh. If calories were not an issue . . .
Ah, but I have a solution! Lately I have started baking mini-desserts for the two of us. That way, no leftovers! Serendipity brought me to this innovation. First, the Lyons flood in September 2013. I became involved with Lyons recovery efforts, including shopping support at our local businesses, and I discovered Lyons Buttonrock Bakery. I took to buying one of their small fancy desserts – tiramisu, tarts, flourless chocolate cake, eclairs – to split with my husband for Saturday night desserts. One of our favorites is their cheesecake. Ever the cook, I then wanted to make my own two-person cheesecakes.
I found a couple small springform pans in a local store and went in search of a recipe. Online I found a recipe for a 4.5-inch cheesecake on this great site: Dessert For Two. Her Cheesecake with Honey-ed Peaches is fantastic!
So I decide to make Marble Cheesecake from the Hershey's Chocolate Recipe Collection, downsizing the recipe to 4.5-inch pans to make "dessert for two". I'll need to modify both the batter amount and the baking time – I'll use the Cheesecake with Honey-ed Peaches recipe as a guideline.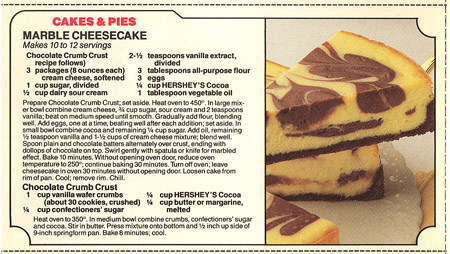 Below is my modified version. I have two 4.5-inch springform pans, so I plan make two small cheesecakes, one for Saturday and one for Sunday.
Marble Cheesecakes in Mini-pans
this recipe makes enough dessert for two people for two nights
Chocolate Crumb Crust (recipe follows)
12 ounces cream cheese
1/2 cup sugar, divided
2 tablespoons sour cream
1 1/4 teaspoon vanilla, divided
1 1/2 tablespoons flour
2 eggs
2 tablespoons cocoa powder
1/2 tablespoon vegetable oil
Chocolate Crumb Crust
1/2 cup crushed vanilla wafers (about 15 cookies)
2 tablespoons sugar
2 tablespoons cocoa powder
2 tablespoons butter, melted (1 ounce)
First, make the crust, since it needs to bake and cool before you fill it. Heat the oven to 450˚. Crush the vanilla wafers and combine with the sugar, cocoa, and butter. Press the mixture firmly onto the bottom and a little up the sides of 2 (or 3, see my notes below) of 4.5-inch springform pans. Bake for 8 minutes and then let them cool.
Lower the oven to 300˚.
In a mixer, combine the cream cheese, 3/8 cup sugar, sour cream, and 1 teaspoon vanilla, beat until smooth. Add the flour and eggs and beat well, but don't go crazy and overbeat it because that can cause the cheesecake to crack when it bakes.
Remove about 3/4 cup of the batter to a small bowl. Mix the 2 tablespoons cocoa with 2 tablespoons sugar, then add to the batter in the small bowl along with the oil and 1/4 teaspoon vanilla.
Spoon dollops of the plain and chocolate batters alternately into the pie crusts, ending with the chocolate batter. Swirl gently with a knife to marble the batters. Swirl enough to get any bubbles out of the batter, but do not overswirl or it will not be marbled.
Place the cheesecake pans on a baking sheet and bake at 300˚ for 40 minutes, until the center is "slightly jiggly but not wet when you lightly touch it." Leave the cheesecake in the oven after the 40 minute baking period, but turn the oven off and prop open the door. After 30 minutes, move the cheesecake to a wire rack on the countertop and let cool another 30 minutes. Then, run a knife around the edges of the pans, loosen and remove the outside rings of the pans, cover the cheesecakes with plastic wrap, and refrigerate at least 5 hours.
Comments
Here are my crust ingredients. The melted butter is in the red bowl. I used real Hershey's cocoa, although I usually keep a fancier version in my pantry as well.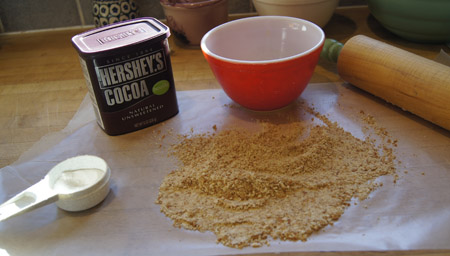 The next photo is a few steps later, after the crust is baked and the filling loaded into the springform pans. The two pans already look too full, in my judgement, and I still have more batter left. I put the extra batter in a small ramekin and baked it along with the filled springform pans. From my calculations, it shouldn't have been too much batter, but it was.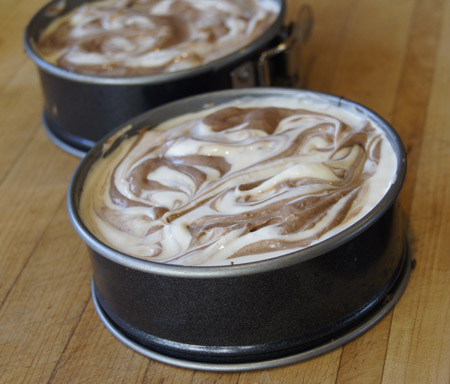 I was not at all surprised to find that the cheesecakes had cracked when I peeked at them after the 40 minute baking period. At first they were really tall; by the time they had cooled, they had fallen a bit. But you can still see the cracks clearly in the photo below.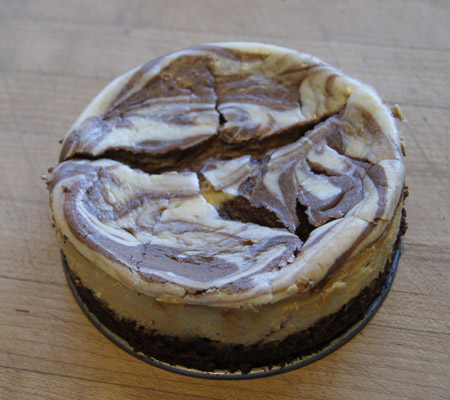 In spite of the cracks, these taste delicious! Yum and yum again! Half of one of these left me wanting more – more! I dripped a small amount of chocolate sauce and put a couple halved-raspberries on each to dress them up a bit. My husband's comment: "These could have come from Buttonrock!"
I definitely will make these again. To keep them from cracking, I will try a couple things next time. Obviously – despite my calculations – there was too much batter to fit into two small pans. Next time I will use three 4.5-inch pans. Also, I forgot to put the springform pans on a baking sheet in the oven. Maybe that will help. I look forward to experimenting again with Marble Cheesecakes in Mini-pans.