Cookbook #91: Eat, Drink and Be Healthy, Agnes Toms, Pyramid Publications, NY, NY, 1971.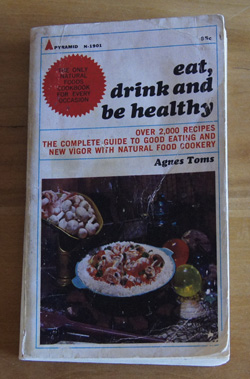 Eat, Drink and Be Healthy is one of the early "health food" cookbooks that fueled my generation of hippies. I probably bought it in a used book store when I was a poor graduate student – my guess is that the word "drink" in the title caught my eye as much as the promise of being healthy. I never used this book a lot and there are few food stains and no handwriting or paper notes in it. I should just toss it now. But . . . a closer look at the publication details reveals that the first printing of this book was in 1963, not 1971. I used to think that my generation invented the "health food" craze, but no, eating natural foods had its seeds in American culture "before the first young man grew his hair long, before the first young woman burned her bra", as I wrote in my blog entry on The Soybean Cookbook. Maybe I should explore this book a bit more before tossing it in the recycling pile.
Searches reveal that the author, Agnes Toms, wrote several other books, including Delicious and Nutritious Cooking: A Book for Students and Others (1956), The Joy of Eating Natural Foods: The Complete Organic Cookbook (1962), and Natural Foods: Meals & Menus for All Seasons (1973).
"The Complete Organic Cookbook"! Toms published a book on organic cooking in 1962! I don't remember hearing much about "organic foods" until maybe the early seventies. Whole grains and nuts and seeds and the like, but not organic.
In her forward to Eat, Drink and be Healthy, W. Coda Martin, M.D., writes "this is not just another cookbook. It is one that fulfills a specific need for all – a way to better health through good nutrition" and encourages "food unspoiled by sprays, additives, artificial coloring or flavoring".
These are not new concepts to today's food culture, but in the fifties and sixties, when home cooks were using a plethora of newly available canned and packaged products, convenience took precedence. Be in the kitchen for the hour it takes to cook brown rice? No, cooks were encouraged to use instant white rice. And so on.
Agnes Toms had a Masters in Home Economics and taught nutrition and prepared menus for a junior high. Her book outlines a nutrition plan that is still sound today. The recipes include ingredients like carob, unbleached white flour, whole wheat flour, a variety of whole grains, brewers yeast, honey, meat and game (even organ meats), sunflower seeds, sesame seeds, home-baked breads, garden fresh vegetables, fruits, sprouts, unsaturated oils, tahini, nuts, and food unspoiled by sprays, additives, artificial coloring or flavoring.
Today we have no problem finding these food items in our huge "health food" stores. But in 1963? No, they were hard to find. I remember those days. Toms addresses this issue in her introductory pages:
"I know it is a real problem for many people to find the food products mentioned in this book. To them, may I suggest some ways to deal with this problem:
Look in the Classified pages of your telephone book for health food stores in your area; or consult the advertisements in health magazines.
Search the shelves of your local market for unsulphured molasses, spray-dried milk, unflavored gelatin, honey, herbs, spices, nuts, vegetable oils.
Look for milling companies in your area and ask them about wheat germ, whole-grain flour, buckwheat, peanut, rice, and other flours. See if they have brown rice and whole soybeans.
Look for a hatchery near you for fertile eggs, or scour the neighborhood for some one who has a flock of chickens on the ground, with a rooster.
Get the health-minded women in your neighborhood together and demand that the local dairy produce raw certified milk; and be sure to ask your dairy where you can procure natural cheeses."
We are fortunate to have such variety in our markets today!
For this blog, I decide to make "Chow Mein".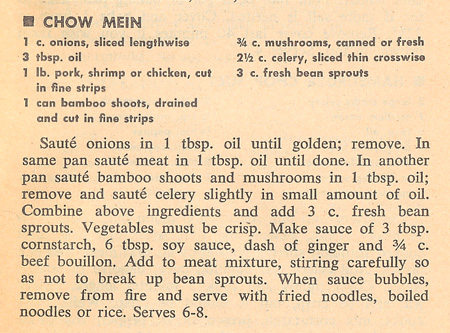 I bought noodles labeled "chow mein"  for this recipe. That's the dry, crunchy noodles sold ready to eat in a plastic bag or in a can. I plan to serve the dish directly over these noodles.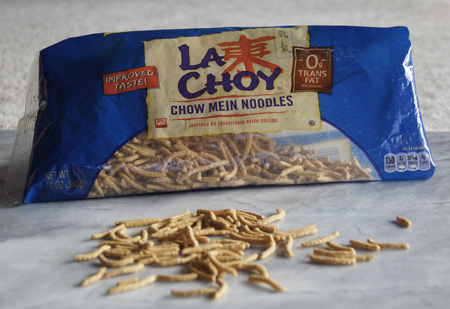 I have always served whet I call "chow mein" directly over these noodles. But when I look up chow mein recipes today, they use fresh egg-wheat noodles, not the packaged crunchy ones. Wikipedia's entry on chow mein states that for crispy chow mein, fresh noodles are stir fried for the dish. AboutFood.com explains the difference between chow mein and lo mein; they too state that chow mein is made from fresh noodles. Even the La Choy website – La Choy is the brand name of the chow mein noodles that I bought – doesn't have a recipe for a chow mein served directly over the crunchy, packaged noodles. They do have the recipe for Haystacks, that classic recipe for cookies made from the crisp noodles.
Consensus? In today's American cooking culture, crunchy packaged chow mein noodles are added to salads, vegetables, stir-fries, and even desserts to give a boost of crunch, but not as the sole noodle ingredient in a dish.
Toms' recipe including the basic ingredients of onions, thinly sliced meat, and bean sprouts in a brown sauce are consistent with traditional chow meins (according to Wikipedia). Here is the version of chow mein that I made.
Pork Chow Mein
serves 2-3 people
1/2 cup sliced onions
8-10 ounces pork, sliced thinly (shrimp or chicken could be substituted)
about 1/2 teaspoon freshly grated ginger
1 cup celery, sliced
5-6 mushrooms, sliced
2 tablespoons corn starch
4 tablespoons soy sauce
1/2 cup water or broth (more if necessary)
1-2 cups fresh mung bean sprouts
chow mein noodles
Cook the onions in hot oil until soft; remove from pan. In the same pan, stir-fry the pork until it loses its pink color; add the ginger to the pork while it cooks. Remove the pork from the pan, then stir fry the celery and mushrooms just until the celery is a little softened. Add back the onions and meat and stir to combine.
Stir together the corn starch and soy sauce and water and add to the pork-vegetable mixture. Heat and stir until it thickens; if it gets too thick, add some water or broth. Add the bean sprouts just a few minutes before you serve the dish.
Serve directly over packaged crunchy chow mein noodles, or over cooked egg-wheat noodles or rice. Your choice.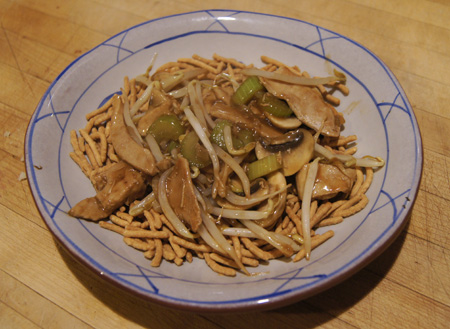 Comments
This was good. I would make it again. But next time I'll serve it over noodles or rice and just sprinkle with the crunchy noodles.
If you read the original recipe, you will note that I changed the instructions a bit. Her version says to use two pans, an unnecessary step, IMHO. The sauce ingredients were not listed with the other ingredients; I put them in the list with the others.
If you make this, feel free to add any vegetables you like. I think some carrots and red bell peppers would make it prettier. As Agnes Toms states in the directions: "Vegetables must be crisp", so don't overcook them. This chow mein goes together fast, yielding a tasty nutritious meal in minutes.