Cookbook #90: The Pizza Book, Evelyne Slomon, Times Books, NY, 1984.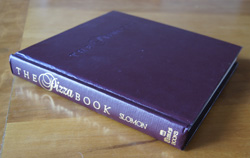 I didn't keep the book jacket, but here is what it looked like: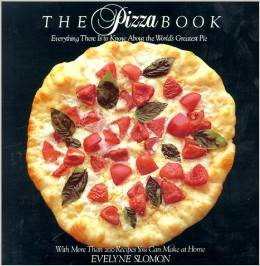 Picture this: Boulder, Colorado, sometime in the seventies. We are enjoying a pizza at Old Chicago Pizza, downtown. Wow, they used fresh mushrooms on this pizza! It was heavenly. I fell in love with pizzas at that point. But not the cheesy-greasy fast food pizzas, the good ones. I started making my own, and bought The Pizza Book in the eighties.
Since we live too far from a town for pizza deliveries, and since I am a cook, it's not a stretch that I began making my own pizzas. I make one about every other week. My favorite crusts have morphed over the years, from a thick whole wheat crust to a thinner beer-based crust to a non-kneaded thin crust. I have tried many toppings, but usually come back to a tomato and cheese based pizza with sausage or pepperoni, mushrooms (fresh!), onions, and black olives. (My Mexican pizza is one of my saved variations.) I have tried several baking methods: cookie sheet, perforated round pan, baking stone, and gas grill.
And you know what? All of the crust and ingredient and baking methods work. Each type of pizza has its place in a sensible pizza-eating plan!
Evelyn Slomon tells us that pizza came to America with Italian immigrants in the late nineteenth century. Too poor to buy bread, the women would pay to bake their own dough in an oven at a bakery. They would often take a portion of the dough and flavor it with tomato sauce and bake it alongside their loaves. "In the old country it was called pizza" according to Slomon. This pizza was done before the loaves and it "appeased the appetites of hungry children."
Slomon continues with the history of pizza in America, then presents a comprehensive guide on how to make pizza. It's a great reference on different types of pizza doughs and the basic skills needed to prepare pizzas. And then there are about 200 recipes to choose from – enough ideas to keep any pizza cook happy. And of course, you are encouraged to come up with your own ideas. Most of Slomon's recipes give a choice of different doughs and toppings and even baking methods.
Even though this book was published thirty years ago, it is still available either new or used. It has stood the test of time – this book is still all you need to make great pizza. I highly recommend The Pizza Book.
I decide to make "Chèvre Pizza". I have the choice of 7 different crusts and 5 different toppings. I decide to use Sicilian-style dough (has a lot of olive oil) and Chèvre Pizza #2: "Herbed Goat Cheese and Fresh Tomatoes". I am going to vary this further by adding prosciutto (from variation #3) and a few fresh basil leaves (from my garden). I'll assemble it on a pizza peel and then bake it in a hot oven on a preheated baking stone.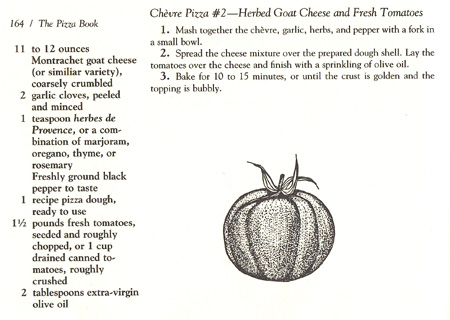 My version is below.
Herbed Goat Cheese, Fresh Tomato, and Prosciutto Pizza
makes two 12-inch pizzas (approximately)
Besides the ingredients below, you will need semolina flour. For equipment, you need a pizza peel and a large baking stone.
Sicilian Style Pizza Dough
3/4 cup water
1 package (scant tablespoon) yeast
3 cups flour (I used bread flour)
1/4 cup olive oil
1/2 teaspoon salt
Put the dough ingredients in a breadmaker and set to the "dough" cycle (including a rising step). Or, mix and knead by hand or in a food processor, then let rise until double in bulk. During the mixing and kneading steps, you may need to add a little more flour to get a soft, smooth ball of dough. Prepare the pizza toppings while you wait for the dough to rise.
Oven
Place a baking stone in your oven 30 minutes before you want to start baking the pizzas. Turn it to 500˚, or as close to that as your oven will go.
Herbed Goat Cheese (etc.) topping
11 – 12 ounces plain goat cheese
2 minced garlic cloves
1 teaspoon dried or 1 tablespoon chopped fresh mixed herbs – I used fresh thyme and fresh oregano
8 ounces grated mozzarella cheese
fresh tomatoes, about 1 1/2 pounds
several thin slices of prosciutto, about 2-3 ounces
several fresh basil leaves, thinly sliced
2 tablespoons olive oil (approximate)
Mix the garlic and herbs with the goat cheese, using a fork to mash them together. My goat cheese mixture was pretty crumbly. Cut the prosciutto into strips.
Peel and core the tomatoes, then chop them into rough dice. Put them in a strainer and let them drain while you roll out the pizza dough.
Assemble and bake the pizza
Note: There are many ways to roll or stretch out a pizza dough. I usually use a rolling pin. But after re-reading Slomon's pizza book, I decided to try chilling the dough briefly before stretching it out. So below is the method I used, but feel free to use another method.
After the dough has risen, divide it into two portions. Flatten each into a disc and cover with plastic. I placed them in the refrigerator for 15 minutes or so. (This should make the dough easier to handle. It is an optional step that I might eliminate next time; see my comments below.) Next, remove from the fridge and work each disk on a breadboard, pushing and stretching into a circle. You can pick up the dough and play with letting it hang down over your knuckles to stretch it out, and even hold it by the edges and let gravity pull it down. The olive oil in this dough makes it easy to work with! I was able to get each portion stretched into a 12-inch circle.
(Is your oven hot? You need it hot before you assemble the pizza, or the dough might get soaked while you wait for the oven to heat.)
Put one of the discs onto a pizza peel that has semolina dough sprinkled on it. Sprinkle the herbed goat and mozzarella cheeses on first, then add the prosciutto and the basil leaves. Put on the tomatoes, then drop some olive oil on top of the tomatoes and on the rim of the dough.
Carefully slide the topped pizza onto the hot pizza stone, close the oven door, and bake for 15 minutes. Get the second half of the pizza dough topped while you wait for the oven, then bake it in the same manner.
I actually made one goat cheese pizza and one with prosciutto, black olive, onion, bell pepper, mozzarella, Parmesan, and fresh tomatoes. I had a feeling the goat cheese one would be "too much" for him, and I was right. I liked both toppings!
Comments
While my dough was rising, I gathered my ingredients. First, the goat cheese and herbs with the peeled tomatoes and prosciutto.
I was glad that I thought to drain the chopped tomatoes. I had some great roasted garlic from a stand in Lyons, so I used some of it on the pizza.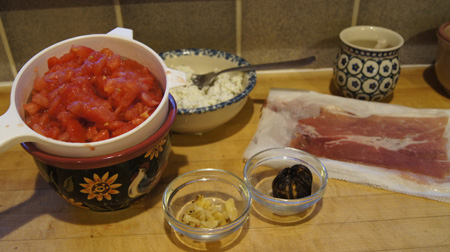 Below is half the dough on a pizza peel.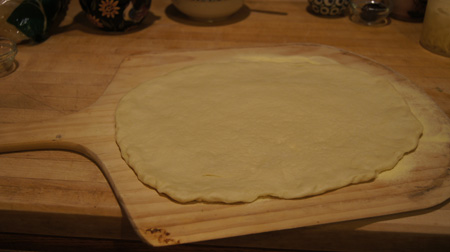 Here is the first pizza, ready for the oven.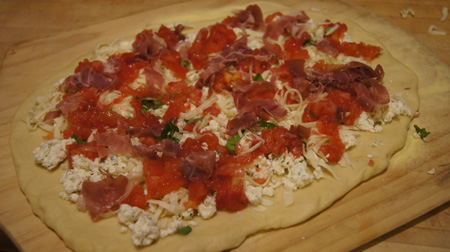 Baked!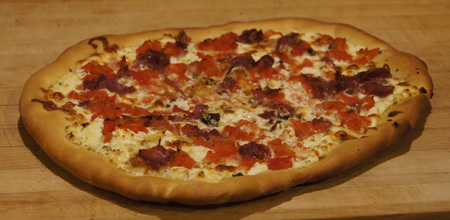 These pizzas were baked to perfection. I really, really like the simple "sauce" of just fresh, non-precooked tomatoes. It's easy and fresh-tasting. Putting the cheese on first keeps the crust from sogging. The prosciutto tucked under the tomatoes keeps it from burning in the very hot oven. The very hot oven makes the crust crisp.
Both of us thought the crust tasted a bit like a big "cracker". This is good or not, it depends on your preference. I will probably use less olive oil in the dough next time and eliminate the chilling step. I think the yeast in the dough didn't have time to warm up and work its magic in rising the baking dough, or perhaps the olive oil inhibited the rising. The recipe is good as written, but . . . tweaking is part of the experiment, and that's what cooking is about!