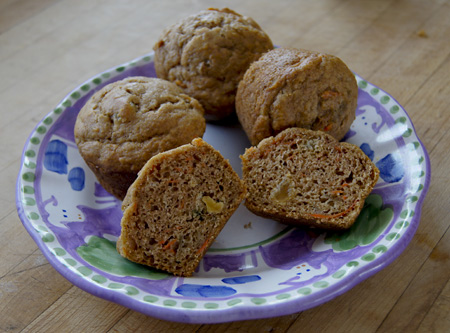 Muffins in the morning! One of my favorite things. These have apples and carrots and raisins and even some whole wheat flour in them. I often use my own homemade cinnamon-infused applesauce in these.
Applesauce-Carrot Muffins
makes 12 muffins
1 cup all-purpose flour
3/4 cup whole wheat flour or whole wheat pastry flour
1 teaspoon baking soda
1/2 teaspoon salt
1 teaspoon cinnamon
1/2 teaspoon nutmeg (freshly grated if possible)
1 egg
1/2 cup sugar
1/4 cup oil
1/2 teaspoon vanilla
1/2 cup milk
1 cup applesauce (canned or homemade)
3/4 cup grated carrots
1/2 cup raisins (I like to use sultans – golden raisins)
lemon zest (about 1/2 lemon rind, grated)
Beat together egg and sugar until light, then beat in oil, milk, and vanilla. Stir in applesauce.
Combine flours, baking soda, salt and spices in large bowl. Stir applesauce mixture into flour mixture only until just blended. Quickly fold in carrots and raisins.
Put into 12 muffin-pan cups. Bake at 400˚ for 15 to 18 minutes until lightly browned.