Cookbook #107: New Creative Crock-Pot® Stoneware Slow Cooker Cookbook, Robin Taylor Swatt, Pascoe Publishing, Rocklin, CA, 2001.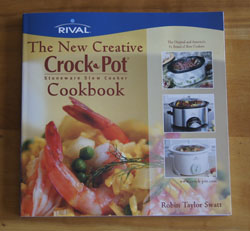 I come in from outside on a cool spring morning and a spicy, beefy aroma sends my senses racing. Ropa Vieja is in the crockpot! I think this is what I like most about slow cooker cooking.
I found the Ropa Vieja recipe in the New Creative Crock-Pot® Stoneware Slow Cooker Cookbook. I have covered other crock pot or slow cooker cookbooks in a few other posts in this blog; some history of crock pots and my opinionated thoughts on them is in this blog post. To find my crock pot recipes, search my website for "crock" or select the category "slow cooker" or go to the recipe index.
The New Creative Crock-Pot® Stoneware Slow Cooker Cookbook is nicely presented and pleasant to leaf through. The introduction is written by the "Rival® Kitchen", and throughout, Crock-Pot is followed by the obnoxious-to-type "®". No introduction is given by the author.
Notes in this cookbook indicate that I have tried several recipes from this book: a tomatillo chicken, beef roast, and a hoisin chicken. I like the section entitled "from around the world", and I appreciate the low-fat section. In my opinion, too many of the recipes call for prepackaged seasoning mixes but other than that, most of the recipes I could try. But I probably won't. I usually cook for just two, and my current Rival® Crock-Pot® is a 3-4 quart cooker, so it makes a lot. And I rarely need the time-saving convenience of a crock pot (a luxury of retirement). These days I mostly use my crock pot for things like pork green chili, spicy pinto beans from scratch, and shredded beef, dishes I usually cook from memory rather than from a recipe. Comfort food dishes I can make a lot of and freeze some for later meals.
But the recipe for Ropa Vieja in the New Creative Crock-Pot® Stoneware Slow Cooker Cookbook could add something new to my shredded beef repertoire. The cut of beef used is flank steak, rather than roast or brisket. This interests me, because flank steak should give nice long "ropes" of shredded beef. (Ropa Vieja does not translate to "ropes", instead, it is "old clothes".)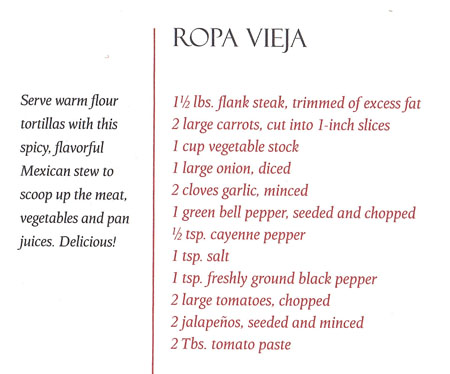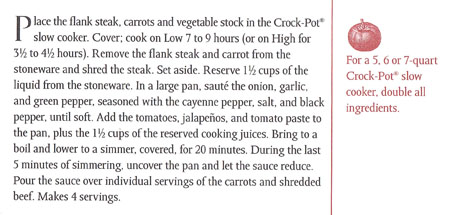 I buy a large (and expensive) flank steak. Instead of vegetable broth, I use my own beef stock. I stay with just carrots in the cooking liquid, although I want to throw in onions and garlic. (I know the carrots will just be mush after 7 hours cooking, but they should add some flavor!) I can't resist adding some spices, like chili powder, cumin, and cayenne. I toss in half a chili pepper that I have in the 'fridge. Instead of making the tomato-chili-broth and serving the dish like a stew, I decide to use the shredded beef sans sauce in burritos.
Okay. I mangled the recipe. But Ropa Vieja gave me inspiration, and often that's all I look for from my cookbooks!
Flank Steak Shredded Beef
serves about 6
 1 1/2 – 2 pounds flank steak
2 carrots, peeled and cut into large chunks
1 cup beef stock
2 teaspoons chile powder
1 teaspoon cumin
dash cayenne
1 teaspoon salt
black pepper
a small fresh chili pepper, or half a larger one (optional and to your own personal taste)
Put the stock and spices (and chili pepper, if using) into a 3-4 quart slow cooker, then add the flank steak. Cook on low 7-9 hours or high 3-4 hours. The shredded beef is done when it falls apart when you grab some with a fork.
Here is the cooked beef: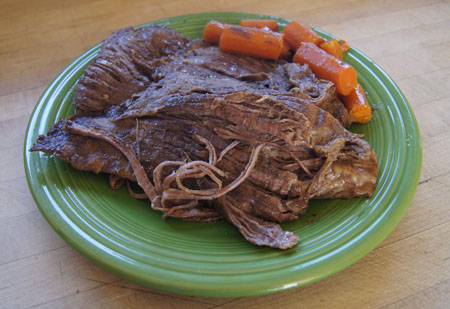 Look at the big ropes of shredded beef! The turned out perfect. It was great mixed with onions and beans and cheese in flour tortillas. I had lots leftover for other meals.
The carrots were as I predicted, mushy like baby food. But the cooking liquid was dark and rich with beef and spice flavors. It would have been good mixed with onions and chiles and tomatoes as in the original recipe, except that it had a layer of fat on top: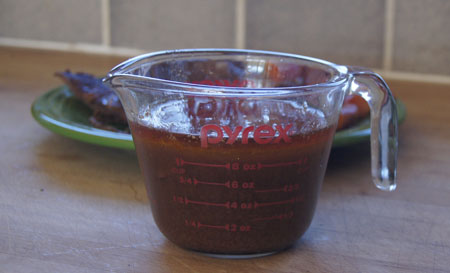 I put the cooking liquid in the refrigerator and a few days later removed the hardened layer of fat. I put it on the stove and thickened it with cornstarch, and mixed it with some of the leftover shredded beef (and olives and onions and cheese) for enchiladas. Yum!