Cookbook #110: Cooking of Provincial France, M. F. K. Fisher and the Editors of Time-Life Books, Time-Life Books, NY, 1968. Foods of the World series; seventh printing, revised 1969, reprinted 1976. (Note: Julia Child is credited as a consultant for Cooking of Provincial France.)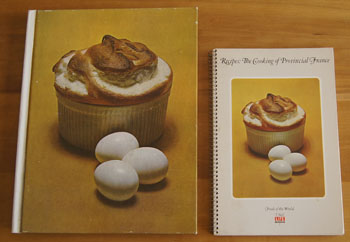 This book is an unexpected pleasure. M. F. K. Fisher turns out to be "Mary Francis Kennedy Fisher". I had never heard of her, so I looked her up online. According to Wikipedia, she was one of the preeminent American food writers of the twentieth century. A website devoted to her life and works is a good online resource for this interesting writer.
My first clue that I will like this writer is her introduction to Cooking of Provincial France. I always associate French cooking with heavy, rich sauces. Apparently Fisher had come up against the same prejudice:
"When I stopped in Scotland with my young children after a long stay in Provence, elderly and rather insular friends exclaimed in wonder at how well we seemed to be, 'in spite of those dreadful thick rich concoctions covering everything and making one bilious, not to mention gouty.'"
She goes on to explain how French provincial cooking differs from grand or haute cuisine. "French provincial" is the cuisine cooked in country kitchens. Fisher writes: "haute cuisine stood or fell upon its essential stocks, and on the five basic warm sauces: espagnole, veloute, bechamel, tomato, and hollandaise." In contrast, "most dishes that come from country kitchens make their own juices, right in the casseroles in which they are cooked and often without any need of the strainings, the additions, the final touches intrinsic to a great chef's unfaltering performance."
Fresh herbs, vegetables, dairy products, eggs, and meats are the mainstay of French provincial cooking. As I leaf through the pages of Cooking of Provincial France, I find myself planning an entire meal to cook. Definitely my type of recipes! (Especially since I recently read The Big Fat Surprise and have been incorporating more butter and full-fat milk products in our diet.)
M. F. K. Fisher
Much like my experience with The Cooking of China, a Foods of the World cookbook I covered in a previous blog post, I have discovered another fascinating woman culinary author from the mid-twentieth century.
Fisher was born in Michigan in 1908 and grew up in Southern California. Her family was "highly literate" and she was writing poems as a young girl. In college, she met Al Fisher; they married and soon moved to France for several years. She learned to love the people's food of France: cooked in home kitchens with fresh ingredients. She loved to write, she loved cooking – so she combined her two passions as a food writer. Her first book, Serve it Forth, was published in 1935. Her last was published in 1992.
From this web site, I learn: "Mary Frances contributed to their income by working in a picture-framing shop that sold pornographic postcards. She read books and, inspired by an Elizabethan cookbook she discovered at the Los Angeles Public Library, she began writing essays of her own on cooking." Also from this web site: "Her first book, Serve it Forth was so unlike other 'women' writers on the subject of cooking that many critics thought it was written by a man."
I like her style of writing, her prose, her sense of humor. Her essays are a mixture of memoir, travel, and culinary tales. I checked out a compilation of her works from the library, "Art of Eating", and am enjoying the read.
(If you like, you can read a few pages of her 1937 book Serve It Forth on Google Books.)
What to cook?
I am caught first by the recipe for French onion soup. I don't believe I've ever made it! Time to try. Fisher's version begins with cooking the onions slowly until they are nice and brown, then adding beef stock. (The recipes in this book for chicken and beef stocks are almost exactly like my own self-evolved stock recipes for the same.) The soup is topped off with a crust of bread, cheese, and a run in the oven.
Okay, soup to start my meal. Now I need something to go with the soup. Luckily this book is brimming with good recipes. I'll make French bread for sure.
Main dish? Something light like fish. But sauced. How about a nice aioli (garlic mayonnaise) over halibut? And a vegetable or two. How about artichokes? I also like the spinach-ham stuffed mushrooms, held together with a bechamel sauce. (The recipe is titled Champignons Farcis, or "baked stuffed mushroom caps".)
For dessert, I choose clafoutis aux cerises, or cherry cake. This is sweet cherries baked in an eggy batter with lots of vanilla.
So I settle in early on a rainy Saturday to begin the bread. I cooked (played?) off-and-on all day on my French provincial dinner. Everything came out perfect.
As my official recipe from this book for this blog, I'll write up only the French onion soup. Here is the recipe: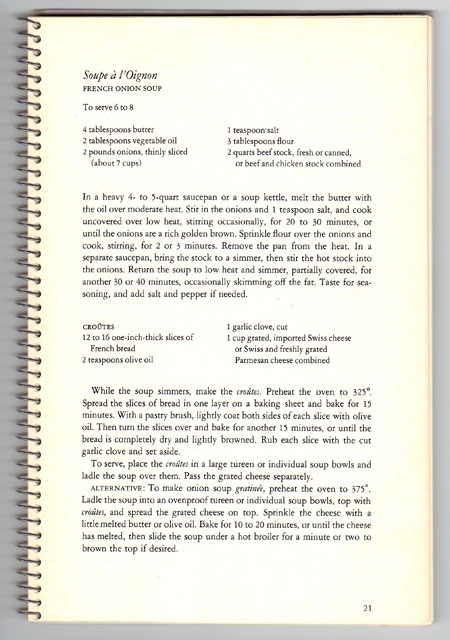 I made it almost exactly like the above recipe, except for downsizing to serve just two people.
Soupe à l'Oignon
French Onion Soup
serves 2
2 tablespoons butter
2 tablespoons oil
1 pound onions, thinly sliced
1/2 teaspoon salt (or to taste)
1 tablespoon flour
up to 1 quart beef stock, preferably homemade
croûtes:
2 1-inch thick slices of French bread
olive oil (to brush bread slices)
1 garlic clove, split in half
1/2 cup shredded Swiss or Parmesan cheese, or a mixture thereof
Melt the butter with the oil in a saucepan. Stir in the onions and salt and cook, uncovered, over low heat, stirring occasionally, for about 30 minutes. They will become a rich golden brown if you have the patience to do this step carefully.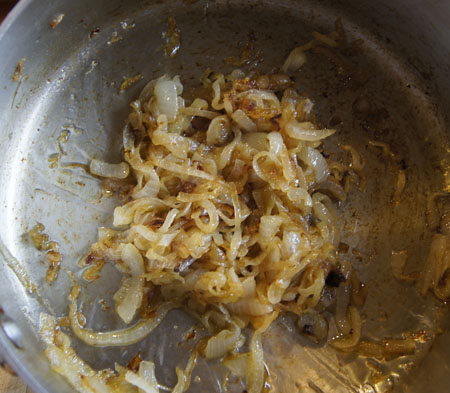 Sprinkle the browned onions with the tablespoon of flour and stir for several minutes. Add about 3 cups of the stock slowly, with stirring. Simmer, covered, for about 45 minutes. Add more stock if the soup is too thick, and adjust the seasonings.
While the soup is simmering, or even earlier in the day, make the croûtes, or toasted bread slices. Put the 1-inch thick bread slices in a 325˚ oven for 15 minutes. Remove from oven and drizzle or brush each side of the slices with olive oil. Put them back in the oven (preferably with the side that used to be up now down) and bake for another 15 minutes, until they are lightly browned. Remove from oven and rub each slice with the cut garlic clove.
Divide the soup between two ovenproof soup bowls. Put a croûte on top of each and sprinkle with the grated cheese. Bake for 10-20 minutes in a 375˚ oven. If you like, as a last step, put the soup bowls under a broiler for a couple minutes to brown the tops.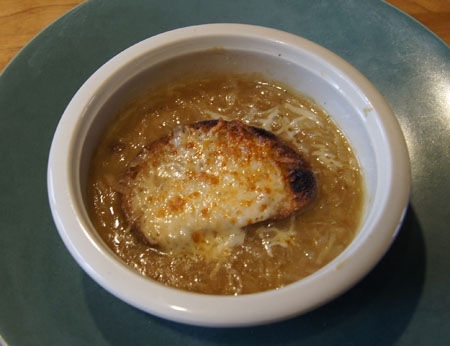 This was yummy. I kept the amount of cheese a bit low and we liked it that way. I'll make it again! Here's a photo of the bread and vegetables I prepared for the second course: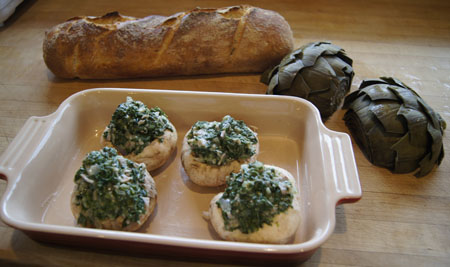 The rest of the meal  – the fish with aioli and the cherry cake – tasted great but were not terribly photogenic.
Bon appetit!