Cookbook #111: Cookies, Brownies and Bars, Classic Cookbooks, The Pillsbury Company, Minneapolis, MN, 1991.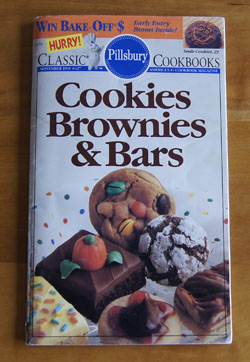 If you have a great memory, you will recognize the photo above. I have already covered this cookbook on this blog. But, that was my copy, and this is a copy that I sent my mother. Since I had entered both into my cookbook database when I stopped at 250 cookbooks, I have to cover it again! My obsessive-compulsive rules, my blog.
I sent this copy of Cookies, Brownies, and Bars to my mother. On the first page, she wrote "from Patty Christmas 1991". Before I mailed it, I hand-wrote "good" and "great" on many of the recipes, and Mother added her own notes. I'm going to hold onto this cookbook just for that. It makes me smile, a little sadly perhaps, and it brings back memories.
For this blog, I decide to make a very chocolate-y brownie: "German Chocolate Saucepan Brownies". I used to make these a lot when the kids were around to eat them. I wrote on the recipe: "DELICIOUS". For me to write in all caps is unusual – it's like shouting – and means these are stupendous brownies!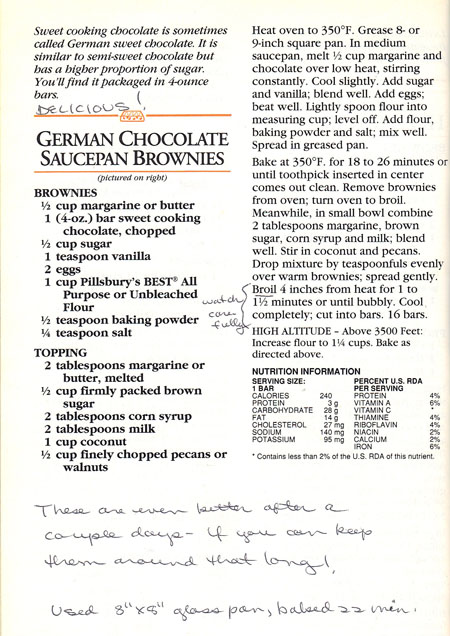 I make these just like the recipe.
German Chocolate Brownies
brownies
1/2 cup butter
1 4-ounce bar of German's Sweet Baking Chocolate
1/2 cup sugar
1 teaspoon vanilla
2 eggs
1 cup flour
1/2 teaspoon baking powder
1/4 teaspoon salt
topping
2 tablespoons butter
1/2 cup brown sugar
2 tablespoons corn syrup
2 tablespoons milk
1 cup coconut
1/2 cup chopped walnuts or pecans
Heat the oven to 350˚ and butter an 8×8-inch baking pan (I use a glass pan).
Melt the butter and chocolate over low heat. Take off the heat and stir in the sugar and vanilla, then add the eggs and mix in well. Mix the flour with the baking powder and salt, then add to the chocolate mixture. Spread into the prepared pan.
Bake at 350˚ for 18-26 minutes, or until a toothpick inserted in center comes out clean. Take out of the oven and turn the oven to high broil (you can leave the oven rack in the middle of the oven).
While the brownies bake, prepare the topping. Mix the butter, brown sugar, corn syrup and milk, blending well. Then, add the coconut and pecans.
Use a small spoon to drop dollops of the topping on the brownies until the brownies are just about covered evenly. Gently spread the topping until the brownies are covered.
Place the brownies under the broiler. Broil for about a minute: WATCH CAREFULLY! The topping can brown pretty quickly, so don't leave the area!
Remove the brownies from the oven and cool. It's best if they are completely cool before you cut them.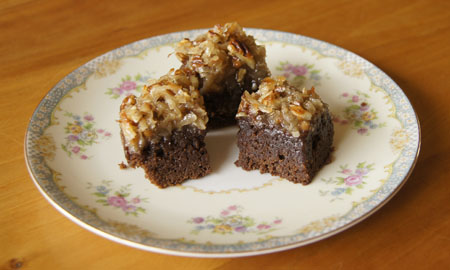 DELICIOUS!