Cookbook #112: Rice – 200 Delightful ways to serve it, Southern Rice Industry, New Orleans, LA, 7th edition, 1937. Prepared by the home economics department of the Southern Rice Industry, New Orleans; recipes tested and approved by the Home Economics Department of Louisiana State University (Director: Beth Bailey McLean).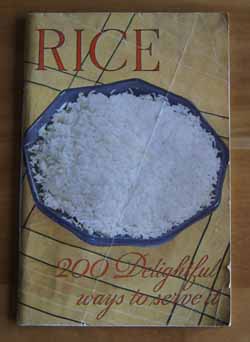 "The set table must appear balanced. Dishes must be so placed that no spot is crowded, no side or end is over-balanced with dishes. All the lines on the table should go across or lengthwise of the table. A diagonal line attracts attention, and should be avoided. Therefore, the handles of dishes, bread-and-butter spreaders, oyster forks, salt-and-pepper sets, must follow this rule. If round doilies are used, the threads should also be placed parallel to the edge of the table, not on a diagonal. All dishes, linen, and silver must be placed to follow this rule, or the effect is one of carelessness."
This is the delightful advice from page 11 of Rice. Yes the book has many recipes for rice, but I enjoy the glimpse into 1930s Americana even more.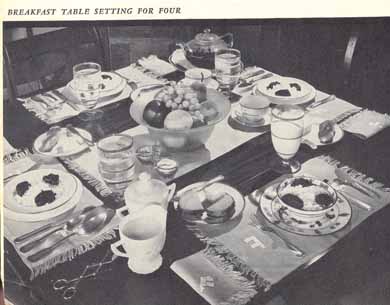 My copy of Rice is almost 80 years old but is in excellent condition. I am not sure whether this cookbook was my mother's, her mother's, or from the "Ruth C. Vandenhoudt" house (relatives of my father's mother). It doesn't look like it was ever used: no writing or food stains.
As the title states, this book contains 200 recipes for cooking with rice:
"For this book, we have selected recipes that are usable in every section of the United States. Some of the rice recipes are excellent for the main dish in the low cost diet. Other rice recipes are ideally suited to the most elaborate menu in the high cost diet."
Rice waffles, muffins, fritters; codfish and rice omelet, rice with poached eggs, cheese soup with rice, cream of rice soup, crabs with rice, Mexican and Uruguayan rice, rice loaves, jambalaya, risotto, baked rice and cheese, luncheon salad, rice pudding, rice and raisin pie . . . and more. The recipes are dated, but I'll be able to adapt at least one of them for this blog.
More Americana, on "Types of Table Service":
"The English, or family type, is the one most suited to the average family where there is no maid or cook. In this service, all the food is served att he table by the host and hostess, instead of being brought in from the kitchen in individual servings. The hostess of today would do better to perfect this type of service, rathere than to attempt the more formal types."
 "Rules for Waiting on a Table":
Food dishes and soiled dishes from the last course must be removed.
Clean dishes and food for the next course must be placed.
This exchange must be done quietly and quickly.
There should be no unsightliness or appearance of great haste.
There should be no display of dishes or silver.
There should be no unnecessary trips to and from the kitchen.
Always consider the comfort of those at the table. Do not make them fear an accident because of the clumsiness or carelessness of the waitress.
I TOTALLY FAIL! If I serve you food, you may be fearing an accident because of my clumsiness!
Okay, enough levity. For this blog, I decide to cook "Stylish Meat Balls".
Tomato soup? Was there really canned tomato soup in the 1930s? Yes, apparently so. In 1897 a a chemist at  Campbell's named Dr. John T. Dorrance "invented" Campbell's Soup as we know it. His idea was to take the water out of the soup, thus selling it in a smaller can and for less money. Here is a little on the history of Campbell's Tomato soup and on the soup can design.
I do keep canned tomato soup in my pantry, but mostly for making French dressing. For Stylish Meat Balls, I want to make my own tomato soup. I consulted Cooks Illustrated, and modified their recipe for "Ultimate Cream of Tomato Soup". Below is my version of this recipe.
1 (28 ounce) can whole or diced tomatoes
1 tablespoon brown sugar
2 tablespoons butter
2 large shallots or 1 small onion, chopped fine
1 tablespoon tomato paste
salt to taste
1tablespoon flour
1 cup chicken stock
Drain the tomatoes; reserve the juice. Pat the tomatoes dry, then place them on a half-sheet pan lined with parchment. Sprinkle the tomatoes with the brown sugar. Bake at 450˚ until the liquid evaporates and the tomatoes begin to color; do not let them char. Remove from oven and let cool.
Heat the butter in a pan and add the shallots (or onions). Cook until they soften, then add the tomato paste and a little salt. Cook a few minutes, then add the flour and cook, stirring constantly for about 30 seconds, until the flour is incorporated. Stir in the chicken broth, the reserved juice from the can of tomatoes, and the tomatoes that were roasted in the oven. Let simmer about 10-15 minutes.
If you have an immersion blender, use it to blend the hot soup. If not, let it cool a bit and then blend it in batches in a blender or food processor. If the soup is too thick for your taste, thin it with water or chicken stock.
The soup is ready to eat at this point, or you can add a few tablespoons of cream. I tasted it without cream and said "yum". But we didn't eat it as soup, I used it in the "Stylish Meat Balls".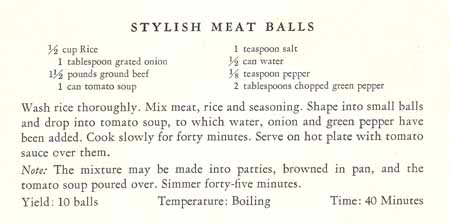 Below is my recipe for Stylish Meat Balls. Note that the original recipe says to shape into "small balls", but also note that it says it makes 10 meat balls. For 1 1/2 pounds of meat, that's 2.4 ounces per meat ball. I consider those large meat balls. When I made the recipe, I made about 16-20 meat balls, and they were bigger than the meat balls I usually make.
Stylish Meat Balls
serves 4-6, depending on appetites
1/2 cup rice
1 1/2 pounds ground meat
1/2 teaspoon salt
1/8 teaspoon ground pepper
Uncanned Tomato Soup (recipe above)
1 tablespoon grated onion (this is very good)
2 tablespoons chopped green pepper
Mix the rice, ground meat, salt and pepper. Form into about 16-20 meat balls.
Heat the tomato soup. (I suggest a very large flat pan, so that the meat balls can rest in a single layer in the pan.) Add the meat balls, cover, and cook over very low heat for about 45 minutes. If you cook this too hot, it WILL stick to the bottom of the pan and burn. Check it frequently as it cooks and add a little water if it gets too thick.
Serve the meat balls – and the sauce in which they cooked – over rice or noodles. I served mine over brown rice with cooked mushrooms and fresh basil: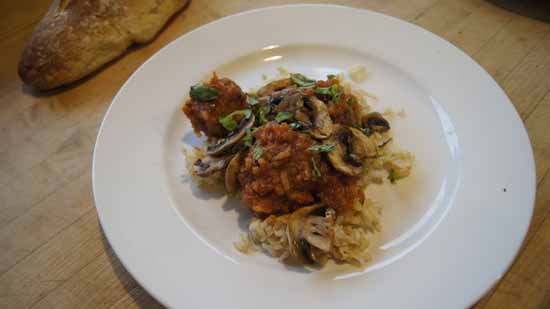 My Stylish Meat Balls got the comment "these are better than your usual meatballs". I liked them too! The rice inside the meat balls keeps them moist. (They are kind of like inside-out Pearl Balls!) They definitely earned a "yum" from me.