Cookbook #103: Crème de Colorado Cookbook, The Junior League of Denver, 1987.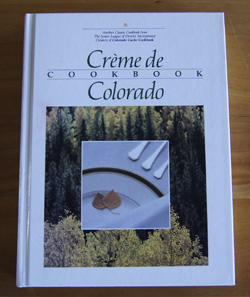 This is one of my favorite cookbooks! I store it in my kitchen cabinet with other cookbooks that I use a lot (like my Joy of Cooking). I rely on it for the Denver Cheesecake that I make at Christmas. I love the Creamy Banana Coffee Cake, with bananas, cream cheese, spices, and pecans, baked in a bundt pan. It's my reference for baklava. I have notes and scrap papers throughout this cookbook.
This cookbook is produced by the Junior League of Denver. To date, they have produced five Colorado cookbooks, and the Crème de Colorado is the second in the series. Beautiful color photos of Colorado landscapes grace the introductory pages of this full-sized hardcover cookbook. John Fielder is the photographer. You can check out his photography on his web page. He used to produce yearly calendars of Rocky Mountain National Park – I bought them every year – but those have been discontinued.
The Crème de Colorado Cookbook is a from-scratch cookbook, with a wide variety of good recipes. Many recipes tend to be high in calories. Butter, cream, and cheese are common ingredients. I use this cookbook more at holiday times than in every day cooking. But looking at the recipes today, I find many that I want to try that either are calorie-appropriate or could easily be made so with a few changes.
I decide to make "Scallop Crepes" for this blog. This recipe intrigues me because of the way the scallops are prepared. Briefly, the scallops are put in a hot stock for a few minutes and then removed. Thus, the scallops do not get overcooked but all of their juices are released into the stock. I have this big bag of scallops in the freezer that I bought on sale, and I have tried cooking scallops from this bag without success: I fried them, and they leaked liquid into the pan and got very tough. I am curious to try the method in Crème de Colorado to see if I can preserve the texture (and flavor) of these scallops.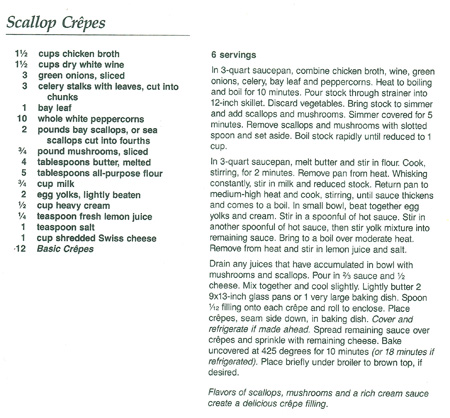 The above recipe calls for whipping cream, and I'll substitute it with milk to save calories. I want to serve these as small, appetizer-sized crepes, so I will make the crepes smaller. I will halve all amounts to serve three instead of six. Other than that, I plan to pretty much follow this recipe.
Scallop Crepes
serves 3 as a main dish, 4-6 as an appetizer
Crepes
1/2 cup water
1/2 cup milk
2 eggs
1/4 teaspoon salt
1 cup flour
2 tablespoons melted butter (optional, leave out for fewer calories)
Combine all crepe ingredients in a blender and mix well. Let stand an hour or so. Make 3-inch crepes in your favorite way. My way is this: I have a dedicated (old) crepe pan, I heat it to very hot, spray with non-stick spray, and immediately pour a small amount of batter onto the pan and roll the pan to distribute the batter. I cook both sides of the crepe about 15 seconds.) Crepes can be made ahead and extras can be stored in the refrigerator for a later dinner (or breakfast!).
Stock, scallops, and mushrooms
3/4 cup chicken stock
3/4 cup white wine
2 green onions, cut roughly
1 or 2 stalks celery, cut roughly
1 bay leaf
whole peppercorns (about 5)
1 pound bay scallops
1/3 pound mushrooms, sliced
Combine the chicken stock, wine, green onions, celery, bay leaf, and peppercorns and heat to boiling. Simmer for 10-20 minutes, then pour through a strainer to remove the vegetables. Put the stock back into the pan and add the scallops and mushrooms and simmer 5 minutes (no longer!). Remove the scallops and mushrooms, either by straining or using a slotted spoon. Reserve the scallops and mushrooms. Boil the stock to reduce the volume to about 1/2 cup.
The sauce and filling
2 tablespoons melted butter
2 1/2 tablespoons flour
5/8 cup milk (1/2 cup plus 1 tablespoon)
1/2 cup reduced stock from the previous step
1 egg yolk, lightly beaten
1 teaspoon fresh lemon juice
salt to taste (about 1/4 teaspoon)
1/2 cup shredded Swiss cheese
Melt the butter and stir in the flour. Stir for a minute or two, then stir in milk and reduced stock, cooking until bubbly. Keep stirring until smooth and a little thick.
Beat the egg yolk with a couple tablespoons of the milk, then beat in a spoonful of the hot sauce. Stir the egg yolk mixture into the hot sauce and heat until bubbly and thick. Remove from heat. Add lemon juice and salt.
Add a little over half of the sauce to the cooked scallops and mushrooms, along with half of the Swiss cheese. Gently mix, then fill the crepes and roll to enclose. Place the crepes in a lightly buttered or non-stick-sprayed pan. Cover with the remaining sauce and sprinkle with the remaining cheese. Bake uncovered at 425˚ for 10 minutes.
These were good! I added a bit more lemon juice to the sauce (and incorporated that change in my version of the recipe, above). I especially like these as appetizers, rather than a full meal, but that's just my preference.