One of my college roommates was Japanese, and she wrote out this recipe for Sukiyaki for me: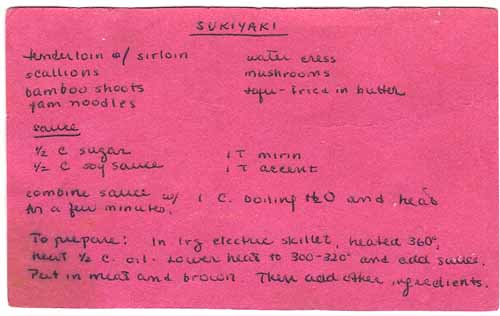 When we cooked in our on-campus apartment, we made this in my electric fry pan. She was a very neat person (I, on the other hand, can tend to be slovenly) and put neat little piles of the different ingredients – meat, veggies, tofu, noodles – in different sections of the pan. I always loved this meal. And the memories of our times together, including visits to her aunt's house in Southern California.
I just re-discovered my electric fry pan and was inspired to dig out my old recipe card. I actually found it! Here is how I prepared Sukiyaki last Saturday, here in the year 2015.
9 ounces beef tenderloin or sirloin, cut into small strips
a couple green onions, cut into 1-inch pieces
bamboo shoots, about half a can
yam noodles (fresh, from an Asian market, or maybe a local supermarket)
water cress (one small bunch; could use spinach)
mushrooms, sliced (I used fresh shitakes)
tofu, about 10 half-inch chunks
sauce: 1/4 cup sugar, 1/4 cup soy sauce, 1/2 tablespoon mirin (rice wine, or use sherry), 1/2 cup water
Heat a large electric fry pan to 360˚ (or use a large, flat skillet on your stove top). Add a few tablespoons vegetable oil and fry the meat until brown. Push the meat to a corner of the pan. Lower the heat to 320˚ and add the sauce. Put the green onions, bamboo shoots, noodles, water cress, mushrooms, and tofu in separate piles in the pan. Continue to heat until all the ingredients are hot. Serve!