Cookbook #115: Pasta, The Good Cook Series, by the Editors of Time-Life Books, Time-Life Books, 1982.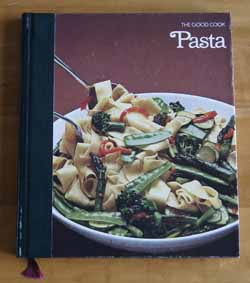 This is a great reference for anyone who loves to make – or eat – pasta. The photos of pasta varieties and preparation are gorgeous and helpful. I am sure I used this book when I was learning the techniques of making fresh pasta. The information is this book is still applicable, and I will definitely keep it!
Recipes in this book? My note to myself about this book is "most of the recipes are rather high calorie, have lots of cream, or include frying". In my older age I am a bit more lax on (good) fats in my diet, especially having just read "The Big Fat Surprise". I will keep this book out for awhile, and explore the recipes I noted before: macaroni and cheese, stuffed pasta, dumplings, gnocchis, pasta pies, fried noodles, and oriental pastas.
The first half of this book is all about making, cooking, and saucing pasta. The second half is an "Anthology of Recipes". I was sort of surprised that this is collection of previously published recipes – not ones developed specifically for this book. The recipes were written by world-renowned chefs or copied from out-of-print or foreign books. It is a very interesting collection to peruse.
For this blog? I'll make one of the macaroni and cheese recipes. I don't make macaroni and cheese a lot. Granted, it's a great comfort food – but it doesn't often fit in my menu plans. We almost always eat meat at dinner, and macaroni and cheese is a bit too rich as a side dish. When I do make it, I make a white sauce plus cheese, then fold in cooked macaroni. A few times I have made the macaroni from scratch using my pasta machine, and it was really delicious. (This was a good main dish when my daughter was in a vegetarian phase.)
The recipe I choose to make from the Pasta cookbook is a baked variety. It is rich with cheese, but not the added butter of a white sauce. The suggested macaroni is whole wheat, so, added fiber and lower glycemic index. I plan a meal of grilled sirloin steak, steamed broccoli, and "Mom's Macaroni and Cheese".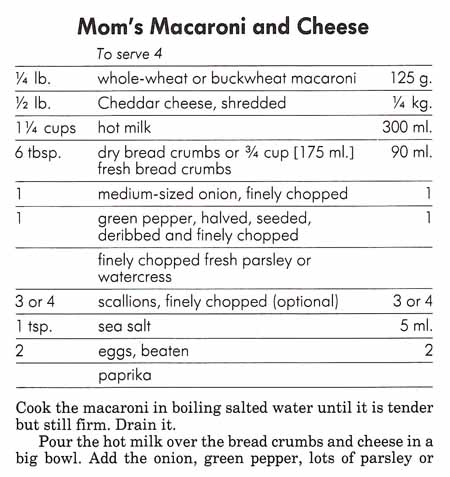 Note the credit for this recipe: "Julie Jordan, Wings of Life". Here is an interview-article on Julie Jordan (Cabbage Town Chef), a woman of about my age who ran a vegetarian restaurant. She mentions "Mom's Mac and Cheese" in the interview. I love the way she writes in the above recipe: "lots of parsley". Yes! Cooking is not about following a recipe to a tee.
Here is the whole wheat macaroni I found in a local store: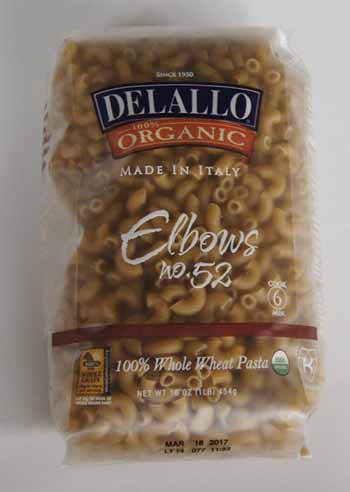 I made a few small modifications. Below is my version.
Baked Macaroni and Cheese with Whole Wheat Noodles
serves 4
1/4 pound whole wheat macaroni
1/2 pound extra sharp cheddar cheese, grated
1 1/4 cups hot milk
1/2 cup bread crumbs (preferably from whole wheat bread)
1 small onion, chopped very fine
2 tablespoons finely chopped bell pepper
parsley (to taste, maybe 1/4 cup chopped)
1/2 teaspoon salt
2 eggs, beaten
paprika
Cook the macaroni according to the package directions. Do not overcook it: it needs to be done but still firm.
Put the bread crumbs and cheese in an appropriately-sized casserole and pour the hot milk over the mixture. Add the onion, bell pepper, "lots of parsley", and salt. Stir in the eggs, then mix in the cooked macaroni. Sprinkle with paprika.
Bake at 350˚ for about 30 minutes, until the top of the casserole is golden brown. Serve!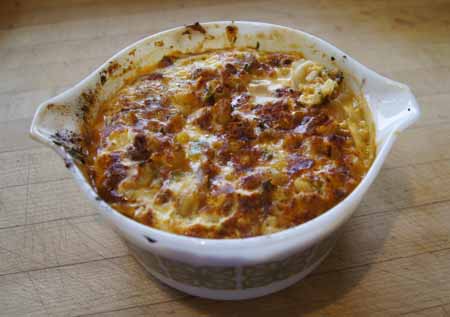 Yum. This macaroni and cheese earned a thumbs up from both of us. I will make it again!