Cookbook #116: Weber Charcoal Barbecue Kettles, Weber-Stephens Procuts Co., Arlington Heights, Illinois, circa late 1970s.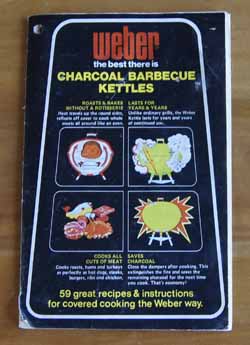 "Pork tenderloin surprise packages on p. 15, but missing that page!" That is what I wrote in my database when I entered this small instruction and recipe booklet. And that recipe is all I think about now when I pick up this booklet to find a recipe for this blog! None of the other (remaining) recipes are anything I want to make.
What are pork tenderloin surprise packages? Well, as I recall, you take some bacon and wrap it around a thick slice of pork tenderloin topped with – something else – and toothpick it all together. You put it on the grill and cook it – at some temperature – until done. Cheese enters the picture at some point. We loved these back in the day but I haven't made them in years.
On a hunch, I googled "pork tenderloin surprise packages" and hit the jackpot. I guess I'm not the only fan of this recipe! I found several very similar versions of the recipe online. Yay!
Here is a photo of the original recipe (1972 edition, not the same as my little booklet) from the Let's Talk BBQ site. Visit that site for great photos of the steps for making Pork Tenderloin Surprise Packages! Cooks.com has a version that is a little easier to read. Saz's site's version suggests mozzarella cheese and specifies "indirect heat" and a cooking time of 55 minutes (not 45 minutes like the original) and a doneness temperature of 170˚. I like this version too; it suggests that you can cook them in the oven.
I am tickled to find the original recipe, but I still have some work to do: I need to work out how to cook these on a gas grill, both time and temperature.
I know that the bacon grease will drip off these little packages – so I begin by making sure the drip pan at the bottom of my gas grill is clean and wiping off some of the chunks of build-up on the inside of the BBQ. My grill top has a temperature gauge; while cooking these packages I will nudge the burners to get it to read 350-375˚. I'll put them over indirect heat. Starting at 40 minutes, I will check the temperature of the pork with an instant-read thermometer. When the temperature is about 160˚, I'll add the cheese to the top and check every couple minutes until the cheese is melted. Ready, set, go!
Here is my version of the recipe.
Pork Tenderloin Surprise Packages
this is written for one; multiply as necessary
These work best with the pork in a thick chunk. Pork tenderloins have both a skinny and a fat end. I found that I could cut a 2-inch thick slice from a skinnier end and flatten it to 1 1/2-inch if necessary.
1 slice of pork tenderloin, 3-6 ounces (depending on appetite); thickness about 1 1/2-inch
seasoning (salt and pepper; but you barely need salt if the bacon is salty)
2 slices bacon
1 slice of cheese: aim for 1/4-inch thick
1 slice of tomato: aim for 1/2-inch thick
1 chunk of bell pepper
1 slice of cheese (I used sharp cheddar)
Cross the two slices of bacon and put the pork tenderloin in the center. Add the onion, then tomato, then bell pepper. Fold the bacon ends in and secure with a toothpick.
Heat your gas grill to about 375˚. I did this by turning on all the burners to get the grill good and hot. Then, on my Weber gas grill with three burner strips, I set the front one to "high" and turned off the other two. I found that this maintained the 375˚ temperature for the duration of the cooking.
Put the pork packets on the grill over indirect heat: on my grill, I put them over the back two unlit burners. Close the BBQ.
After 40 minutes, begin checking the temperature of the pork tenderloin. Cook the meat to 160˚. (Mine took 45 minutes.) Add the slice of cheese to the top of the package and cook only until the cheese melts – about 5 minutes.
Serve!
Preparation steps:
These are really easy to make. I served them with artichokes and fresh sourdough bread.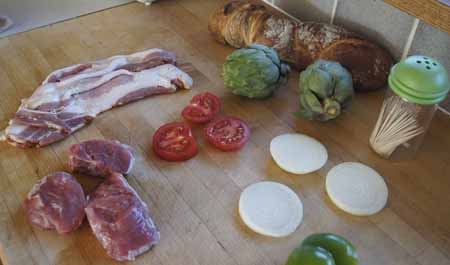 Slice and stack! An X marks the spot.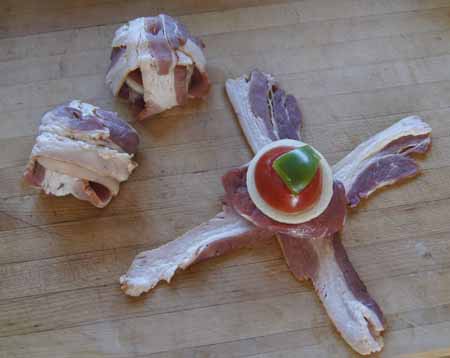 And here is one of the grilled pork tenderloin surprise packages: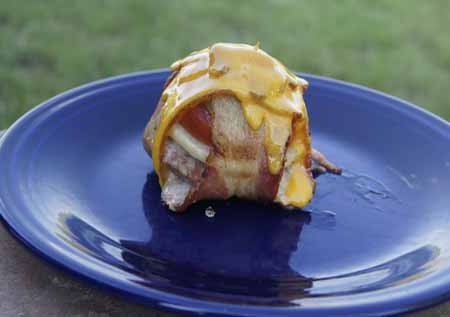 Yes these were fatty but who cares! The onion was soft-cooked, the tomato perfect, and the bacon – well, if you like bacon, you know that bacon makes everything taste great. I'm glad I found my old recipe and made these again. The missing pages from this booklet may show up tucked in one of my other cookbooks, but it doesn't matter anymore, I have the recipe I want. Now I can recycle the remains of this booklet.