Cookbook #124: Hershey's Cocoa Cookbook, Hershey Chocolate Company, Western Publishing Company, Inc., USA, 1979.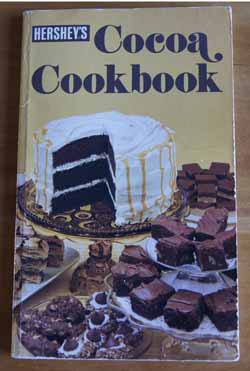 CAN I REALLY HAVE SOMETHING THIS GOOD FOR BREAKFAST? Boy, that was my first thought as I took a bite of Chocolate Banana Bread early this Friday morning. This recipe that I tried from Hershey's Cocoa Cookbook is a definite keeper!
Each and every recipe in this small cookbook features cocoa – the unsweetened powdered chocolate form of chocolate. I think I always passed over this book thinking it's "just another chocolate cookbook". But no, the recipes are all from scratch, and I always have cocoa in my pantry because it keeps so well. And this cookbook has all the basics: cakes (including red velvet cake), cupcakes, cookies (brownies), candies (fudge), pies (cocoa chiffon pie), frostings, sauces (classic cocoa sauce and hot fudge sauce), and beverages (cocoa from scratch). Plus many interesting recipes I've never seen before, like the Chocolate Banana Bread.
The back cover of Hershey's Cocoa Cookbook states that this cookbook was "free!". It probably came with a new box of cocoa. Today, I found it for sale online for about five dollars.
I chose this banana-based quick bread because as so often happens in the summer, I had very ripe bananas that needed to be used. I added the suggested raisins too. Here is the original recipe.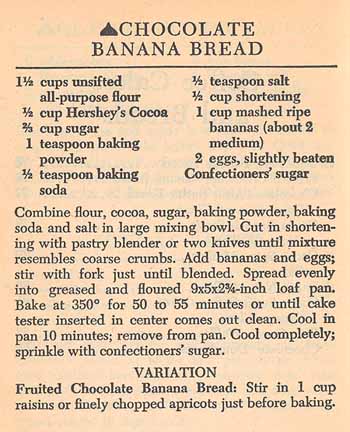 I decided to use unsalted butter rather than the shortening. And I added raisins. I felt that the batter would fit better into an 8×4-inch loaf pan (and I was correct). Instead of cutting in the butter with a pastry blender, I used a food processor. I used an immersion blender to mash the bananas because I like to get them really smooth. Below is my version of the recipe.
Chocolate Raisin Banana Bread
makes one loaf
1 1/2 cups flour
1/2 cup unsweetened cocoa
2/3 cup sugar
1 teaspoon baking powder
1/2 teaspoon baking soda
1/2 teaspoon salt
1/2 cup unsalted butter
2-3 ripe bananas – enough for 1 cup mashed
2 eggs
1 cup raisins
Lightly grease an 8×4-inch loaf pan and heat the oven to 350˚.
Put the flour, cocoa, sugar, baking powder, baking soda, and salt in a food processor and pulse a couple times to combine. Cut the butter into half-inch chunks and add to the top of the dry ingredients. Mix with 6-10 short pulses, until the mixture is in coarse crumbs. Do not overmix.
Mash the bananas by hand or use an immersion blender – whatever is your favorite method. Make sure the bananas measure to about 1 cup when mashed. Add the eggs and mix in well.
Combine the wet and dry ingredients in a bowl and add the raisins. Mix only until blended. Pour into prepared pan and bake at 350˚ for 55-60 minutes, or until it tests done with a toothpick.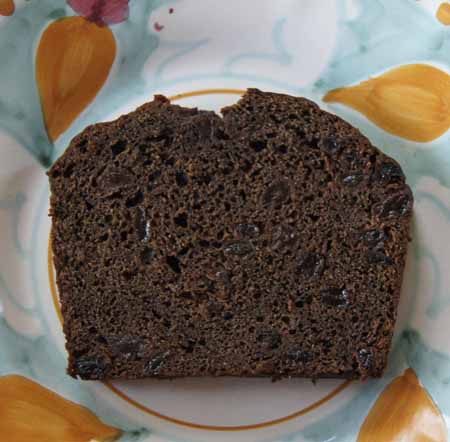 This dense, moist chocolate bread is delicious. It's not overly sweet. The chocolate almost (but not quite) masks the bananas. I really liked the raisins. I really like this bread.
Breakfast though? Yeah, sometimes. It was also really good with vanilla ice cream and a little chocolate syrup for dessert. Yum any way or time you eat it!